Preserving Zucchini
This post contains some ads.
Preserving zucchini makes sure that we have homegrown zucchini all year long!  Not to mention, it is pretty a pretty great feeling to become more self-sufficient by preserving foods that you have grown yourself, don't you think?
Let me share one of my favorite food preservation tips with you!
I've told you about a couple of the things I make with zucchini like zucchini lasagna and zucchini bites (you WANT to check out that recipe…it is awesome).  As it gets later in the fall, if I have surplus zucchini (and let's face it if you have a garden, you HAVE surplus zucchini!), I always freeze it in containers to preserve it for food storage.
Preserving Zucchini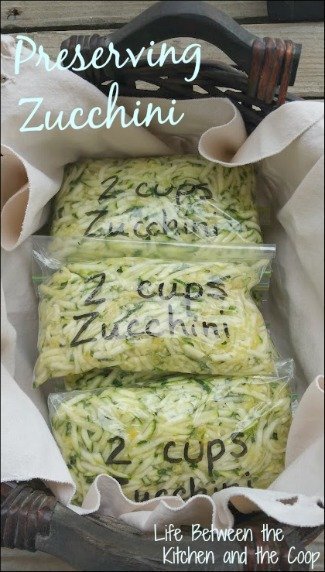 How to Preserve Zucchini
To preserve the zucchini all I do is sit down at the dining room table and grate it in my Salad Shooter.
My mother-in-law got me the Salad Shooter as a gift a few years back. I really love that thing— it's great for grating or slicing zucchini and other vegetables, cheeses, chocolate… whatever!  Such a great tool to have in your kitchen and they are pretty reasonably priced!  You should check it out!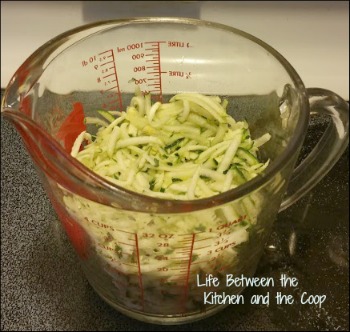 Once the zucchini is grated, I measure it into 2 cup increments and put it into sandwich-size ziploc bags.
Next you pack it tightly, roll the bag to get out any excess air, and then seal the bag shut.
Now just toss the zucchini in the freezer!  Or better yet, vacuum seal it and throw it in the deep freezer for maximum freshness and storage life!
Wasn't that easy?
Preserving zucchini made easy! https://www.lifebetweenthekitchenandthecoop.com/preserving-zucchini/ #DIY #Fresh #Gardening Click To Tweet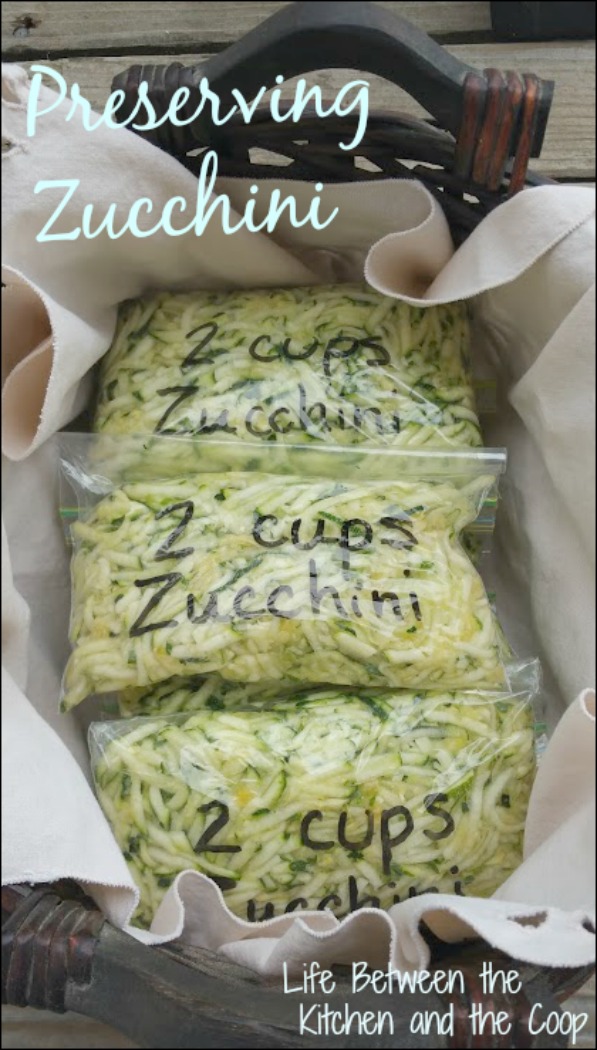 Now you can just take the preserved, grated zucchini out of the freezer and defrost it anytime you want to make zucchini bread, zucchini muffins, quiche or an omelette with zucchini in it, or whatever marvelous zucchini creation!
(When you defrost it there will be a little bit of water in the bag.  Just drain the zucchini  in a colander prior to use.  Voila! You can be using fresh zucchini in January… pretty sweet, huh?)
It's so great having food storage and becoming more self-reliant, right?  So tell me, What have you been doing with your zucchini this year?  I'd love to know!
See you next time!
Deb
Be sure to follow me on Pinterest for lots of other great tips!
P.S.  Check out these other food preservation tips!
P.P.S.  Check out my other posts that use zucchini):
3 Emergency Prep Tips!
I can tell you three things that you can do THIS WEEK to have better emergency preparedness in your home!