Do you have zucchini from your garden sitting on the counter and need to figure out what to do with it? These are the best zucchini bread recipes ever and they are the perfect solution! These recipes are the perfect warm, fall comfort food! There are lots of yummy choices! Whether you prefer classic zucchini bread, chocolate zucchini bread, a touch of cinnamon, or a bit of lemon zest…it's all here!
Once you decide which kind to make first, you can check out my preserving zucchini post and save the rest for a different loaf later!
The Best Homemade Zucchini Bread Recipes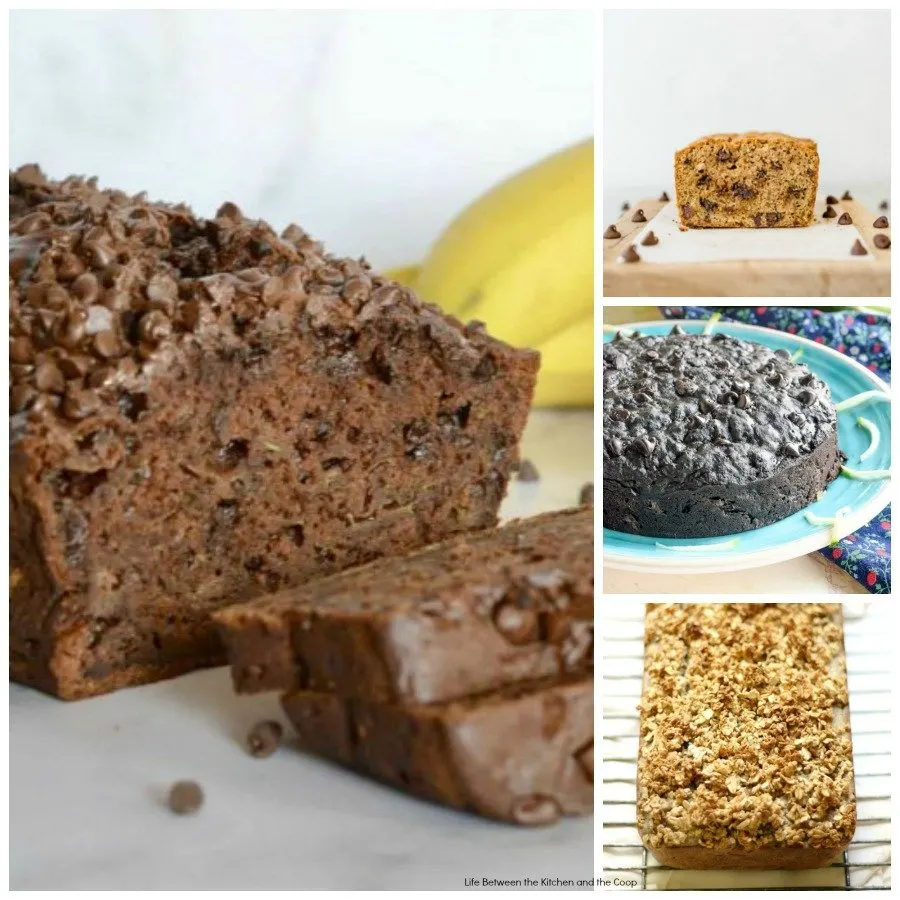 The Best Zucchini Bread Recipes Ever!
It is zucchini season! That means it is time to make some delicious zucchini bread! I collected a variety of zucchini bread recipes from other bloggers and put them all together to share with you! Before you start mixing, remember to drain the excess fluid from the zucchini. You don't want it to be too wet and dense!
Well, let's get started, my friend! Go ahead and check out all of these yummy zucchini bread recipe ideas from across the internet!
As an Amazon Associate and member of other affiliate programs, I earn from qualifying purchases.
Photo Credit: www.sweetandsavourypursuits.com
This delicious lemon zucchini walnut bread recipe has a hint of lemon zest! It's such a nice variation of your typical zucchini bread! If you prefer, you can use pecans or poppy seeds instead of walnuts. No matter which way you do it, you end up with a super tasty loaf of zucchini bread!
Photo Credit: moneysavvyliving.com
Zucchini and bananas make the perfect pairing for this yummy zucchini bread recipe! It's a great way to use up those bananas that are just a bit too brown to eat raw. If you like you can add some walnuts or raisins for even more flavor!
Photo Credit: mygluten-freekitchen.com
If someone you love has to go gluten-free, you will definitely want to try this gluten-free zucchini bread recipe! It has been taste-tested to perfection! If you are never sure which type of gluten-free flour to use, there are recommendations for you in the post!
Photo Credit: www.rebootedmom.com
This chocolatey zucchini loaf recipe takes sweet bread to a whole new level! Sweetened with maple syrup, it's sure to satisfy your sweet tooth. It's the perfect breakfast or afternoon snack!
Photo Credit: www.savoringthegood.com
This savory zucchini bread recipe is another one you will want to add to your recipe collection! This loaf is made savory by the addition of cheddar cheese and chopped red onion and has creamy buttermilk mixed inside. Serve it warm and slather it with butter!
Photo Credit: thisdelicioushouse.com
Even if you aren't an experienced baker, this chocolate zucchini bread recipe is foolproof! With mini chocolate chips on the inside and scattered on top, this loaf is perfect for chocolate lovers! And it has the added flavor of a hint of banana!
Photo Credit: confessionsofanover-workedmom.com
This lemon maple zucchini bread recipe will be a hit! It has fresh lemon zest and real Vermont maple syrup. This recipe even has a gluten-free option if someone you love needs it! If you freeze it, it would make a great neighbor gift around the holidays.
Photo Credit: aileencooks.com
Do you have an instant pot or electric pressure cooker? They make recipes so quick and easy to make. If you love your pressure cooker like I do, you will love this double chocolate zucchini bread recipe! It's pretty enough that you could even serve it as a casual dessert!
Photo Credit: saltandbaker.com
You can use fresh or frozen zucchini in the BEST chocolate chip zucchini recipe! I always shred excess zucchini and store it in the freezer to use for just these sorts of recipes. If you use frozen zucchini, be sure to drain off the extra water after you defrost it. Anyway...this recipe...I think I am in love. Everything is better with chocolate chips, don't you think?
Photo Credit: www.drugstoredivas.net
This yummy zucchini bread recipe has a hint of cinnamon. If you are a walnut fan, you can add the optional walnuts, too! The recipe makes two loaves, so you have one for now and one to put in the freezer for later. Or...if you can bear it...you can give a loaf to a neighbor as a gift!
Photo Credit: www.binkysculinarycarnival.com
Mmmm...do you just love lemon? Add it to zucchini bread and you will be in heaven. It is nice and moist on the inside, but the outside has a little bit of crunch! You will want to be sure to try this lemon zucchini bread recipe!
Photo Credit: www.binkysculinarycarnival.com
Are you looking for a zucchini bread recipe idea that is a little different? This Zucchini Cheese Bread is just the ticket! You can use shredded cheddar or any other hard cheese you happen to have on hand. This would be so good to go along with dinner tonight!
Are you looking for a healthy zucchini bread option, but you don't want to sacrifice flavor? Give this healthy and delicious zucchini bread recipe a try! It would make a great after school snack for the kiddos (and let's face it...you can enjoy nibbling on it while they are at school!).
Photo Credit: strengthandsunshine.com
Check out this gluten-free zucchini bread recipe option. This one is topped with a scrumptious maple oat crumble! Just imagine how good your kitchen will smell while this is baking! A slice of this warm zucchini bread with maple oat crumble is comfort food at its best.
[bctt tweet="Check out these yummy zucchini bread recipes! Perfect to use up the #fresh #zucchini from your #garden! #zucchinibread #zucchinibreadrecipe https://www.lifebetweenthekitchenandthecoop.com/zucchini-bread-recipes/" username="KitchenNTheCoop"]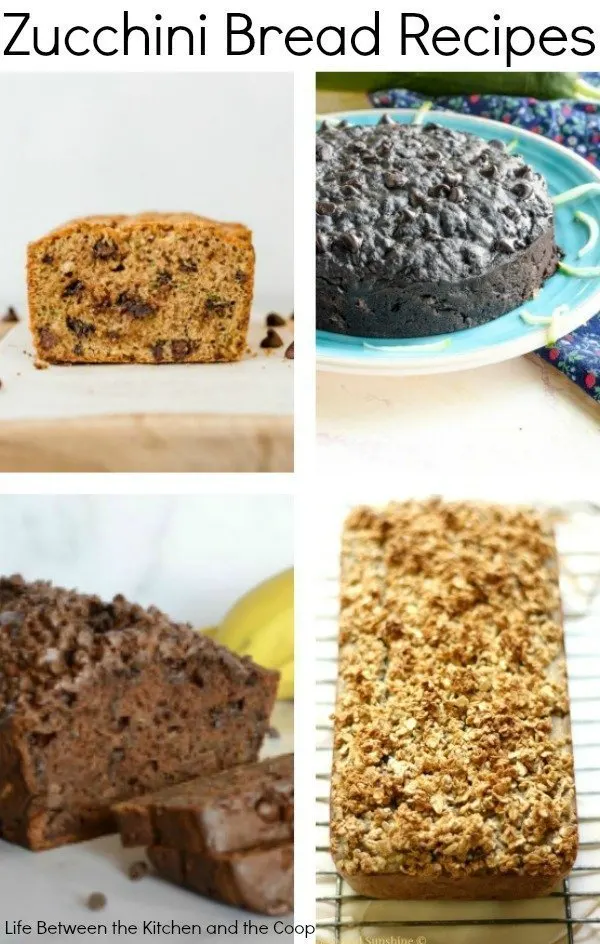 I hope you enjoy these zucchini bread recipes!
If you are looking for more zucchini recipes, be sure to check out these posts:
Yummy Zucchini Marinara Meat Sauce
See you next time!
Deb