Let me tell you about my parmesan asparagus recipe. I love fresh asparagus and hadn't had any in a while, but I wanted to do something more interesting than steaming it. The result of my experiment was delicious—-Parmesan Asparagus. It's a delicious side dish with only 5 ingredients and it was packed with flavor! A couple of weeks ago when I made Quick and Easy Stuffing-Stuffed Chicken with Mushroom Sauce for dinner, I decided to experiment a little on the side dish.
Parmesan Asparagus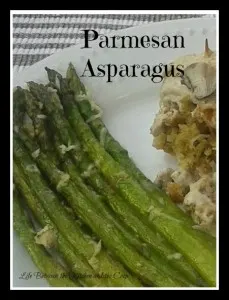 *affiliate link
When I make things like this, I know it's time to get out one of my Farberware non-stick pans. My mother-in-law got me a set for Christmas a couple of years ago and I just love them! They have glass lids so you can see what is going on with your food without having to take the lid off and releasing heat, which is a great feature. My favorite thing, however, is they are SO EASY TO CLEAN! Here's a link if you want to check them out!
Parmesan Asparagus
Ingredients
4 Tbsp butter
1 bunch of Asparagus Spears (about 24)
1/2 c grated parmesan cheese, divided (and don't use that powdered garbage!)
Pepper and Garlic Salt to taste
Directions
In a large frying pan, melt the butter over medium heat.
When the butter is mostly melted, add the asparagus. Spread them out in a single layer so that they cook at the same speed. While they are starting to saute, sprinkle HALF of the parmesan cheese over top of the asparagus.
As the asparagus starts to get a little soft and tender, sprinkle with garlic salt and pepper. Gently continue to saute the asparagus until it reaches the desired tenderness. When it does, sprinkle the other half of the parmesan cheese evenly over the top of the asparagus. Remove the frying pan from heat, put the lid on the frying pan and let it sit for one to two minutes (to melt the remainder of the parmesan cheese a bit).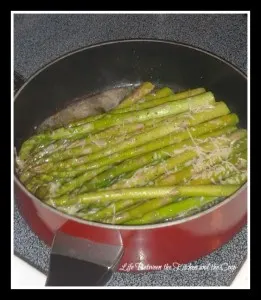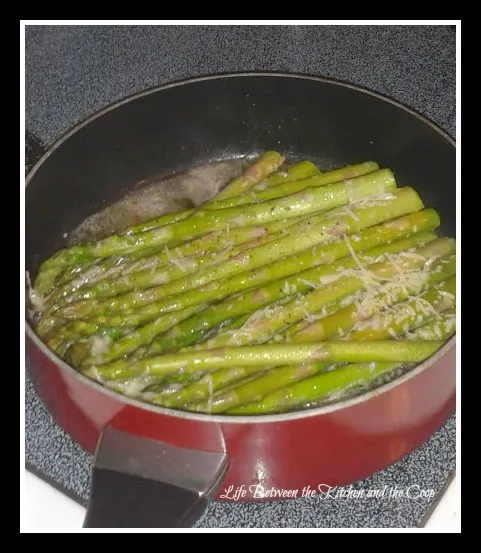 Serve without stirring (so that the parmesan will stick to the asparagus). The carmelized, garlic-salted parmesan cheese on the asparagus is quite heavenly! Enjoy! 🙂
See you next time!
Deb