I am going to treat you to one of my favorite recipes today – yummy Homemade Chicken Bacon Alfredo Pizza! This is a favorite at our house! I usually make chicken with alfredo sauce and pasta early in the week and save the leftover chicken and alfredo sauce to make the pizza later in the week. (I also usually make BLT's earlier in the week and throw the leftover bacon in the fridge and save it to make this pizza.) I love using leftovers to make other things, because I swear half the leftovers get tossed otherwise! Plus, using leftovers makes the pizza-making really FAST! You can use jarred sauce if you want to, but I like…no, I love…homemade alfredo sauce. (Hint: If you want to make homemade alfredo sauce and don't have a recipe, I really like a recipe called Olive Garden Alfredo Sauce that I found on Pinterest which comes from the blog FabulesslyFrugal.com.) 🙂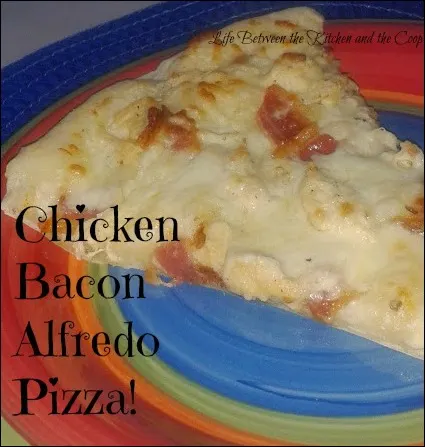 This post contains an affiliate link to one of my favorite things!
Ingredients
Pizza crust (homemade or store bought)
Alfredo sauce (homemade or jarred)
7 slices cooked, chopped bacon
2 Tbsp butter, melted
2 c chopped or shredded cooked chicken (if it's not shredded, I recommend warming it, otherwise since pizza's don't take long to cook the chicken may not warm all the way through!)
1 tsp minced dried onion
1/2 tsp garlic salt
Pinch of pepper
1/3 c grated parmesan cheese
1/3 c grated cheddar cheese
2-3 c. shredded mozarella cheese
First, mix the dried minced onions into your alfredo sauce while it is warming on the stove.
While that is warming, you can prepare your crust. Now I make my own pizza dough in the bread maker. If you do that, you will obviously need to start the dough a couple of hours ahead of when you will need it! If you don't want to do that, you can buy pizza crust OR get a loaf of Rhode's frozen bread dough and let it defrost (which will also take a few hours – do not let it rise).
Preheat your pizza stone at 400 degrees for 20 minutes. After it is preheated, lightly sprinkle it with flour so that the pizza does not stick to the stone. Next, roll your dough out in a circle the size of your pizza stone. (If you don't have a stone, you can use a cookie sheet…but I am telling you…you NEED a pizza stone. They make the bottom of the crust a little crispy and wonderful!) I love my Pizzacraft 16.5″ Round Cordierite Baking/Pizza Stone – PC0101
🙂
Once my pizza dough is ready, I roll it out directly on the stone because transferring it to the stone after it is rolled out can be difficult, BUT if you do that BE CAREFUL NOT TO BURN YOURSELF! Also, before you set the dough on the hot stone to roll it out, I recommend pressing it into a smallish circle using just your hands first. Once it hits the hot stone it will start to cook, so keep that in mind!
While the pizza stone is warming, roll your pizza dough out. Melt 2 Tbsp of butter and brush the butter around the crust edges with a pastry brush, then sprinkle the crust edge lightly with garlic salt. Next, spread on a layer of alfredo sauce. After the sauce, add your chunks of chicken. I like to also grab a little pinch of pepper at this point and sprinkle it around the pizza.
After the chicken & pepper, sprinkle on the parmesan cheese, then cheddar cheese, and the bits of bacon. Finally, top the pizza with a layer of mozzarella cheese.
Now it's ready to bake! Bake it at 400 degrees. My oven takes 8-10 minutes, but it always cooks things more quickly than recipe directions say to cook them. Just bake it til then cheese is getting golden…you know what pizza looks like after it's baked!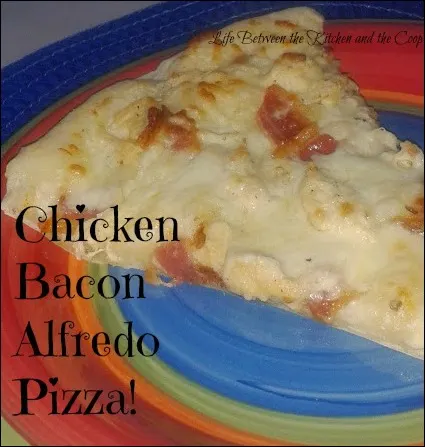 I hope you love this Chicken Bacon Alfredo Pizza recipe as much as I do. If you try out a pizza stone, let me know what you think! I love how it makes the bottom of the crust a little crispy!
See ya next time!
Deb