Today I want to show you my "recipe" for how to preserve strawberries using a food dehydrator. I recently made them for the first time and they were delicious! So sweet!
When you dehydrate, it is important to use fruit (or vegetables) at their prime (translation: not over-ripened) to get the best flavor from your dehydrated product. Fruits and vegetables should be washed and patted dry before they go in the dehydrator. Patting them dry with a paper towel helps reduce the drying time needed in the dehydrator.
How to Preserve Strawberries Using a Food Dehydrator
Many vegetables and also some fruits with skins require blanching to soften the skin and allow the moisture to escape more easily in the dehydrator. You should avoid water-blanching because you will lose water-soluable vitamins that way. It is better to blanch them by steaming them or you can do it in the microwave.
Some recommend blanching your strawberries before dehydrating them. Don't waste your time. It is totally unnecessary.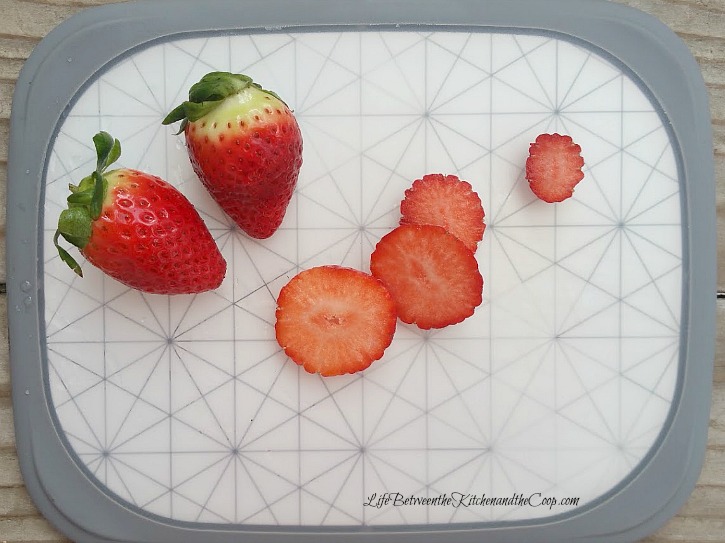 When slicing the strawberries, the slices should be as uniform in thickness as possible so that they dry evenly. The slices should be about 3/8 inch thick and should not be placed so that they overlap or are too close together on the dehydrator trays to allow air circulation. You should leave at least 1/4 inch space around the food pieces.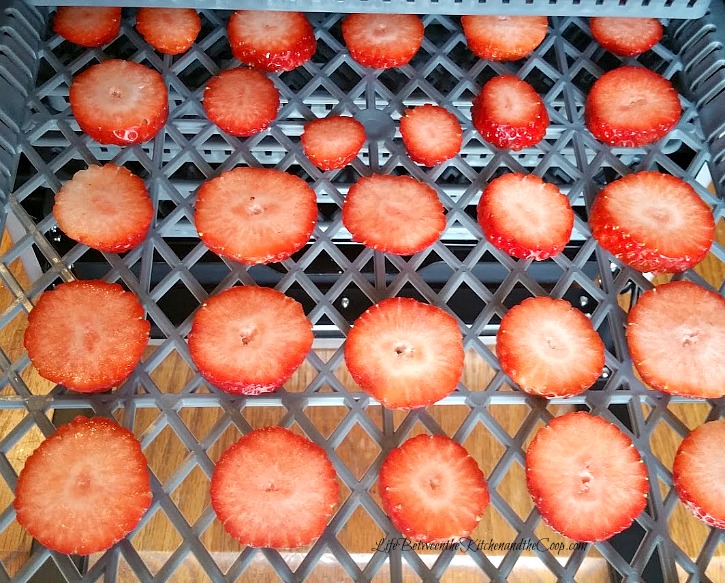 You will notice in the picture above that I put the slices of strawberry directly onto the tray. If you're using fruits or vegetables that are too small and will fall through the slats of the tray, most food dehydrator companies have optional mesh inserts that you can buy to put underneath your fruits or vegetables to prevent them from falling through.
An example of something that you would want to use a mesh tray for would be small vegetables and fruits like peas or blueberries. If you are dehydrating a small food like that, I would recommend checking the website of the manufacturer that made your food dehydrator and ordering mesh trays.
To reduce fire risk, make sure there is nothing in the 12 inches surrounding your food dehydrator when you are getting ready to turn it on. Then turn the power on your food dehydrator on and set the heat for 135 degrees. Allow the dehydrator to dehydrate the strawberries for 6-10 hours (mine took 8 hours).
How long it needs to run will depend on how well water was blotted off of the strawberries before they were placed in the dehydrator and how thick the fruit slices are. Thicker slices will obviously take longer to dehydrate. I started checking them hourly after six hours.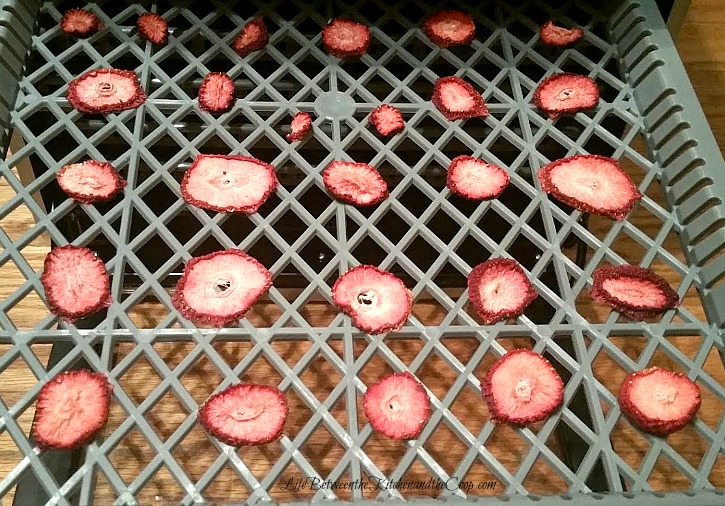 If your slices aren't perfectly even in thickness, you may find that some strawberries dehydrate faster than others. Just remove the ones that are finished and keep dehydrating the ones that are not.
When they are done, you will have dehydrated strawberries which are (in my opinion) the BEST dehydrated fruit ever. I was shocked how sweet they are. I wish that I had made a lot more than I did. They were gone the same evening that I made them!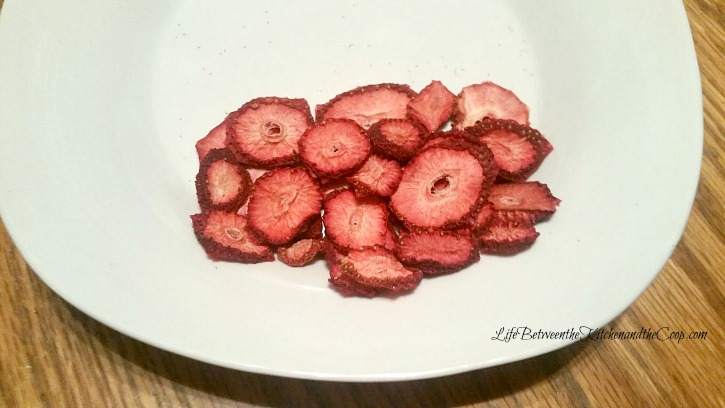 Do you have a food dehydrator? If you don't, you really should look at getting one. It's such an easy way to make healthy snacks! I found an affiliate link on Amazon for a good one for you, if you are interested: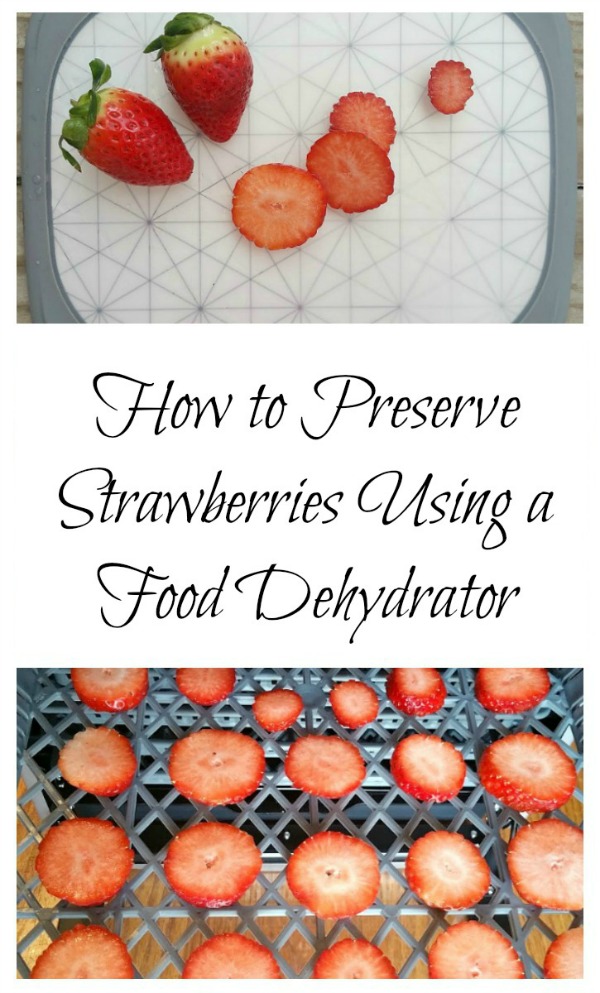 See you next time!
Deb
P.S. We all like saving money by preserving our produce before it goes bad, right? You might also be interested in my post about preserving zucchini-you should check it out!