I think we all have things that we have no interest in learning how to do, don't we? For me, it would be things like changing the oil in the car, learning how to sew (ok…I sort of know how…but I have no talent and don't care to develop it), and canning. When I was a kid I can remember the parents canning tomatoes. Who got stuck with the nasty pots with a film of tomato gore? Me. And my dad was not the type to believe in letting things soak. No, no, no. The kitchen needed to be cleaned immediately after the mess was made…unless there was no kid home…then somehow the mess could wait for that. So anyway, as an adult I had no interest in learning to can. Why should I when I can buy canned food at the store that worked perfectly well, right?
Well, as I have mentioned previously on this blog, this year my husband decided that he wanted to garden. He wants us to be more self-sufficient (hence the surprise chickens I got last year!). Anyway, It's not a huge garden, but he did a great job with it and I have been amazed with how things have grown and how much food we have gotten out of the $20 worth of starter plants we bought. As summer winds down, we get daily hauls of produce from the garden. Although we love to eat it, it is difficult to get it all eaten when things spoil before you can get to them. Well, throwing away produce is just wrong. That stuff is too expensive at the store and I don't throw away money, so I resigned myself to the idea that I need to learn to can. I had a hard time working up enthusiasm for it, but I knew I had to do it. My husband bought a hot water bath pot and a canning book for me.
Canning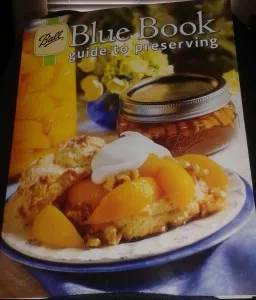 The first chapter had lots of helpful information about the basics of canning. It also has a lot of canning recipes. I studied hard and got ready for my "final exam". 🙂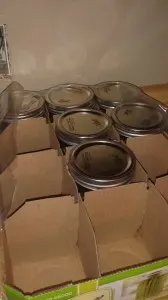 Last weekend I made my first attempt at canning. Since I was new at this, I just used a seasoning packet my husband bought at the store made by Mrs. Wages.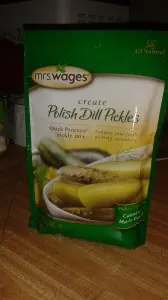 With my husband's help, we canned 6 pints of pickles. I was surprised that it took only about an hour!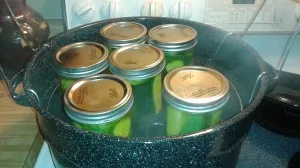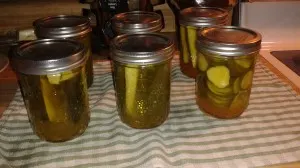 They turned out pretty good, too, but the liquid was yellow and I didn't know if that was natural or some artificial coloring. I decided with the next batch of cucumbers that I wanted to try an actual recipe. I went on Pinterest (really…what did we DO before Pinterest?) and found a recipe for dill pickles that had 47 ratings and was rated 5 stars. Sounded pretty safe, so I decided to go for it. I printed out the recipe, went to the store for a couple of ingredients that I didn't have, and I was all set.
The second batch made four pints and turned out well…but again the flavor is not quite what I was going for. Truthfully, my favorite dill pickle is Vlassic. There has to be a copycat recipe out there and I am going to find it. In the meantime, it was really fun to put those jars of pickles on my food storage shelf knowing that they came from our own hands. Self-sufficiency feels good! We are almost ready for the zombie apocalypse!!! 😉
Since we have had such good success with our little garden and canning, next year my husband plans to double or triple the garden size. Sounds like I am going to get good at this canning thing!
See you next time!
Deb
Edit (2+ years later!): Let me share more in-depth tips with you about how to hot water bath can to build your food storage and you can experience real, self-sufficient living?
Follow me on Bloglovin'!