How to Make Homemade Applesauce in the Pressure Cooker
This post contains affiliate links which help support this site.
This week I have been canning homemade applesauce.  I have a sweet neighbor who has an apple tree and every fall he gives me lots of apples for FREE!  I love being able to build my food storage and having it not cost anything!  Last year I used the apples he gave to me to can some easy apple pie filling, so this year I decided to make homemade applesauce.  I know applesauce is a yummy treat, but did you also know that you can use applesauce in place of oil when you bake cookies and cakes?  You can!  Applesauce is valuable stuff to have in your food storage!
Homemade Applesauce Made in the Pressure Cooker

So far this year my neighbor has given me two full crates of apples!  (One crate had over 200 apples!)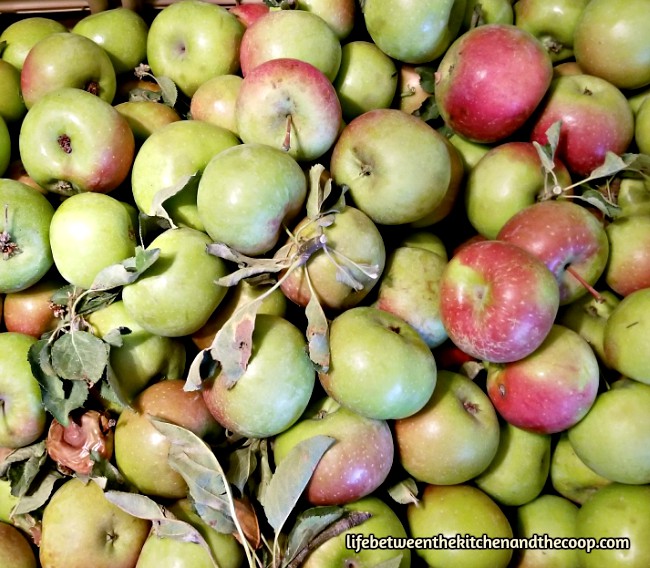 I don't want those babies to go bad, so I got to work right away.  You won't believe how easy making homemade applesauce in your pressure cooker is!
How to Make Homemade Applesauce in Your Pressure Cooker or Instant Pot
First, you need to peel and slice your apples.  I used 40 small to medium-size apples per batch.  I was VERY glad I had an apple peeler/slicer/corer on hand.  It made that process fairly quick.  Once the apples are all peeled and sliced, put them in the pressure cooker pot.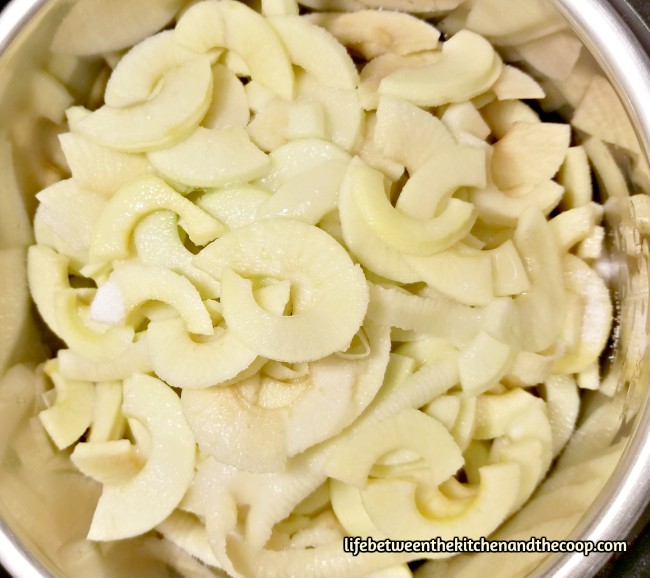 Add 1/3 cup of water and 1 cup of sugar, close and lock the lid of the pressure cooker.  Make sure the vent is closed.  On the manual setting, cook at high pressure for 7 minutes.
When the seven minutes is up, wait for the pressure to release completely.  After all of the pressure has released completely from your pressure cooker, open the lid and it will look something like this…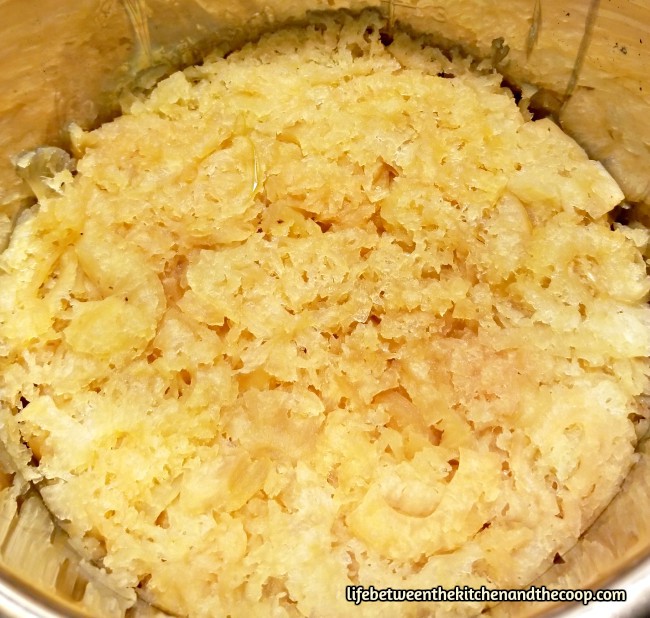 The apples are very soft at this point, so you can use a potato masher (that's what I use) or an immersion blender to blend it.  Now you have homemade applesauce!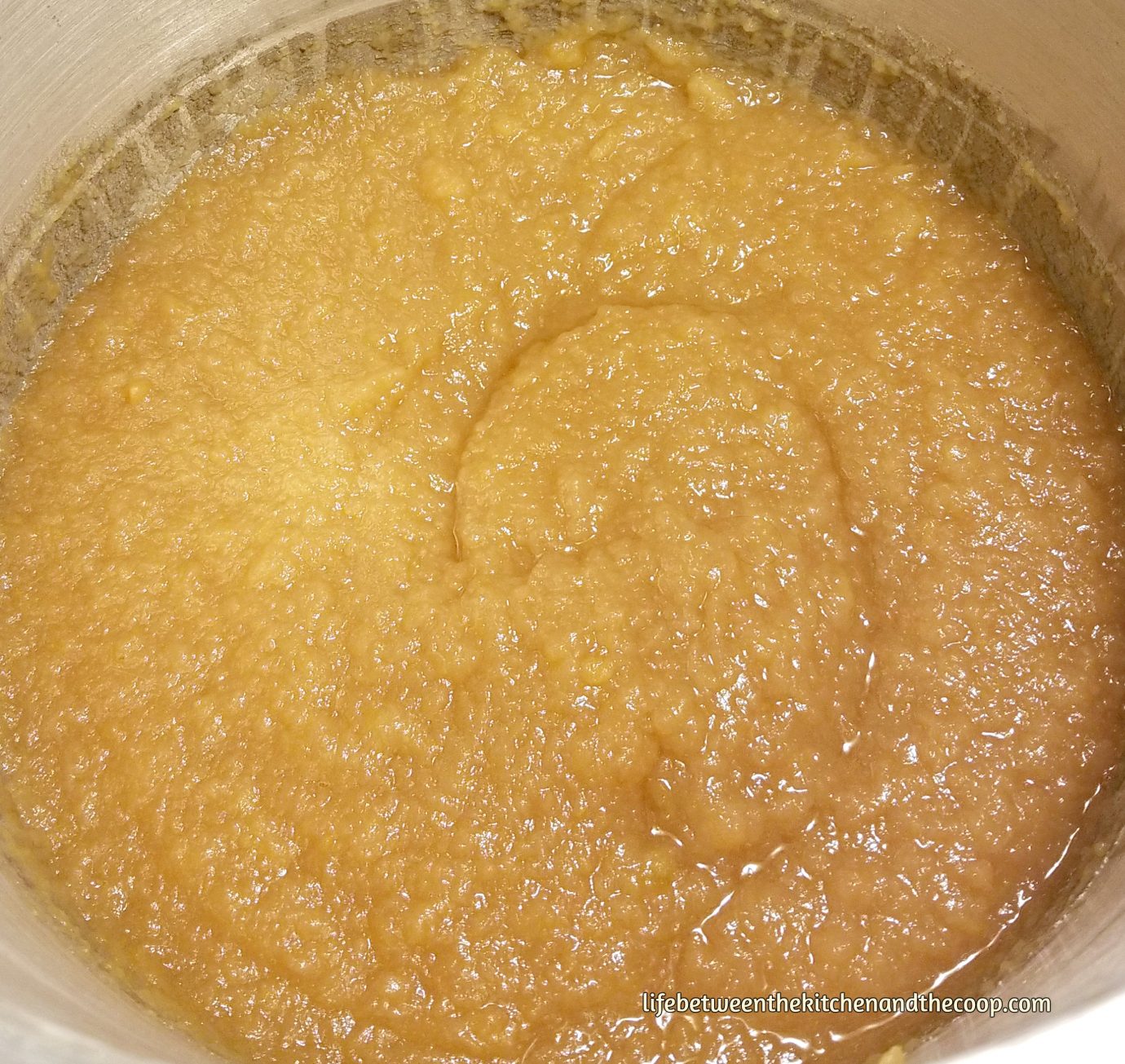 How to Water Bath Can Homemade Applesauce
I made four batches of this recipe in my pressure cooker, so I had a lot of applesauce!  Because of that I wanted to can it for food storage.  I put all four batches in a large pot and heated it, then I canned it.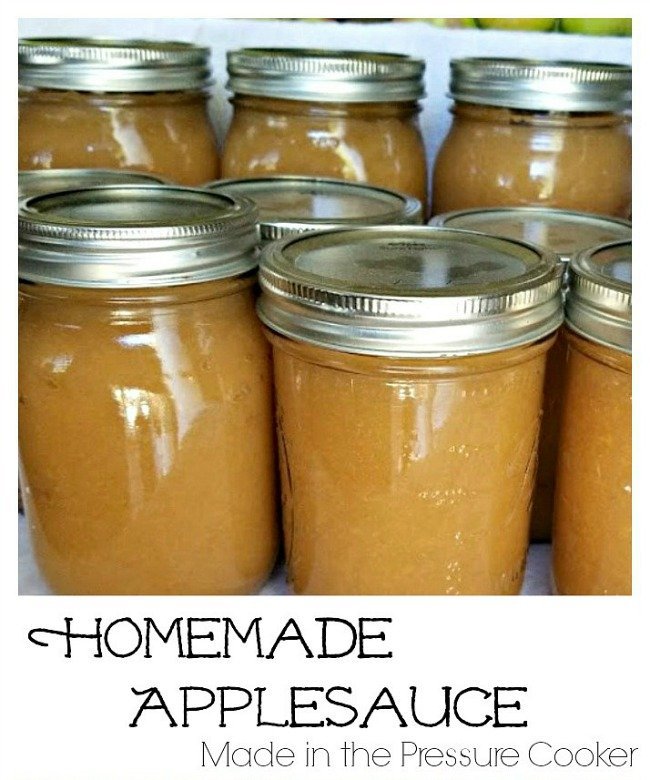 If you want to water bath can your applesauce after you have made it, you can follow the canning directions in my Apple Pie Filling post.  Remember to make sure the bottles, lids, AND the applesauce are all hot at the same time.  Cold jars in hot water bath=broken bottles!
Well, my peeps.  I still have a crate of apples left.  Today I am going to can cinnamon applesauce and apple butter!  I can't stand to see all of those apples go to waste and I just love all of those pretty mason jars of food on my food storage shelves!
See you next time!
Deb
Make yummy #homemadeapplesauce in your #pressurecooker! #homemade #applerecipes #apples #instantpot
Click To Tweet
3 Emergency Prep Tips!
I can tell you three things that you can do THIS WEEK to have better emergency preparedness in your home!