This post contains affiliate links (which means I may receive a small commission, at no additional cost to you, on purchases made through links on this site).
I started looking for organization apps a couple of months ago and I found one that I am really loving. It was always a struggle for me to feel organized. I just never was on top of things like I wanted to be. Like a lot of moms, I always have so many balls in the air and things slip through the cracks. The must-have organization app I settled on is called Cozi and it has helped me to get on top of things and keep my brain and my family organized. I thought I should tell you about it in case this is something that you struggle with, too!
My Must-Have Organization App – Get Cozi!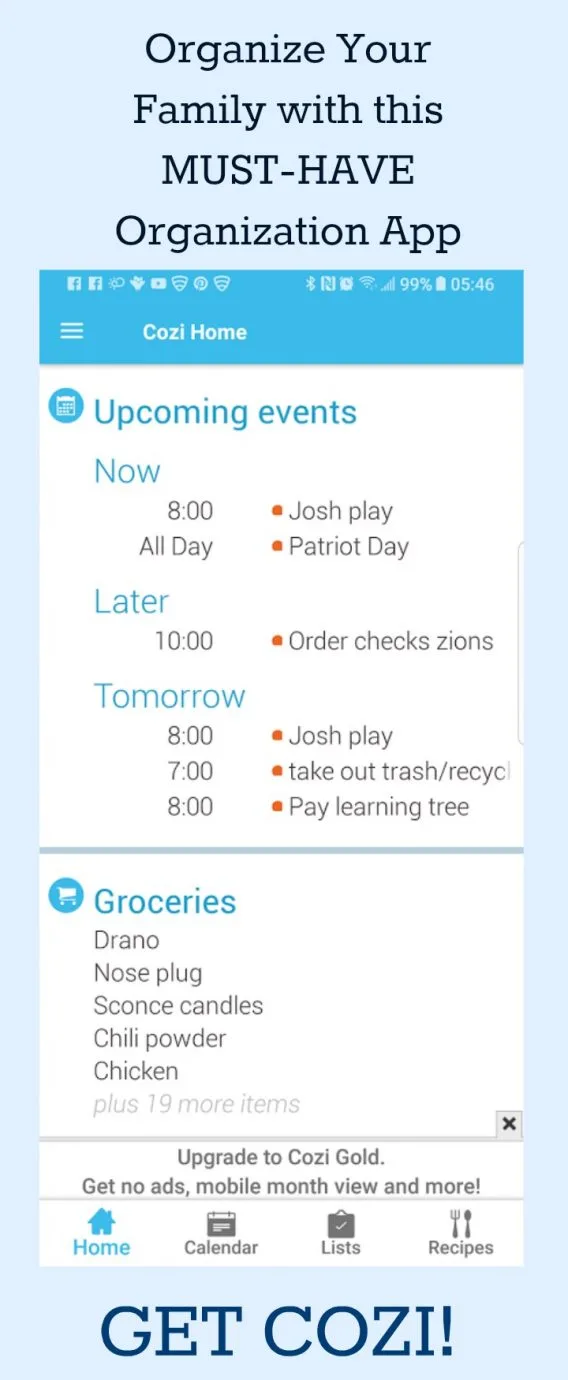 One of the things I love about Cozi is I can use it on the go on my phone or when I am home I can use my laptop to update it. (Don't you just love "the cloud"?) Here's a peek at what Cozi can do to help you get a handle on your hectic life (I'm sharing some screenshots from my Cozi so you can see first-hand what it does):
The Family Calendar
You can coordinate family events and even send email invites to your spouse. It also assigns colors to family members to make it easy to see to who a particular event belongs. You can also filter activities by individual and set reminders that will send a push notification so you don't forget an important event (handy for doctor's appointments, kid's sports games, or anything that is time sensitive).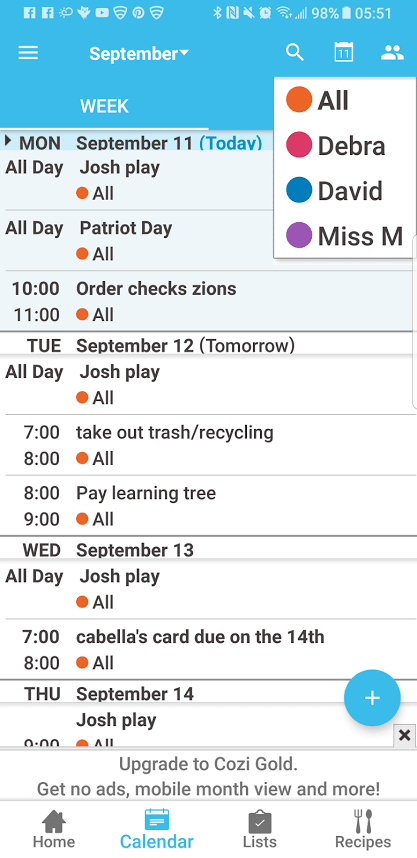 You can set Cozi up to email you a weekly agenda, too!
Cozi Lists
My favorite thing about Cozi is being able to access all of my lists, no matter where I am. With Cozi, you can create shopping lists, to-do lists, and any other kind of list imaginable. You can even drag and drop things on your lists to prioritize them. If you shop at more than one store, you can make a list for each store. Then, you can email your grocery list to your husband if he is going to stop at the store on his way home from work! The lists feature also lets you make a chore list and assign your kids to the list. If your kids don't have smartphones, no problem! Cozi will let you print out chore lists, too. 🙂
(Pssst…another list I always do in my phone is what I am getting everyone for Christmas! Cozi can do that for you, too!)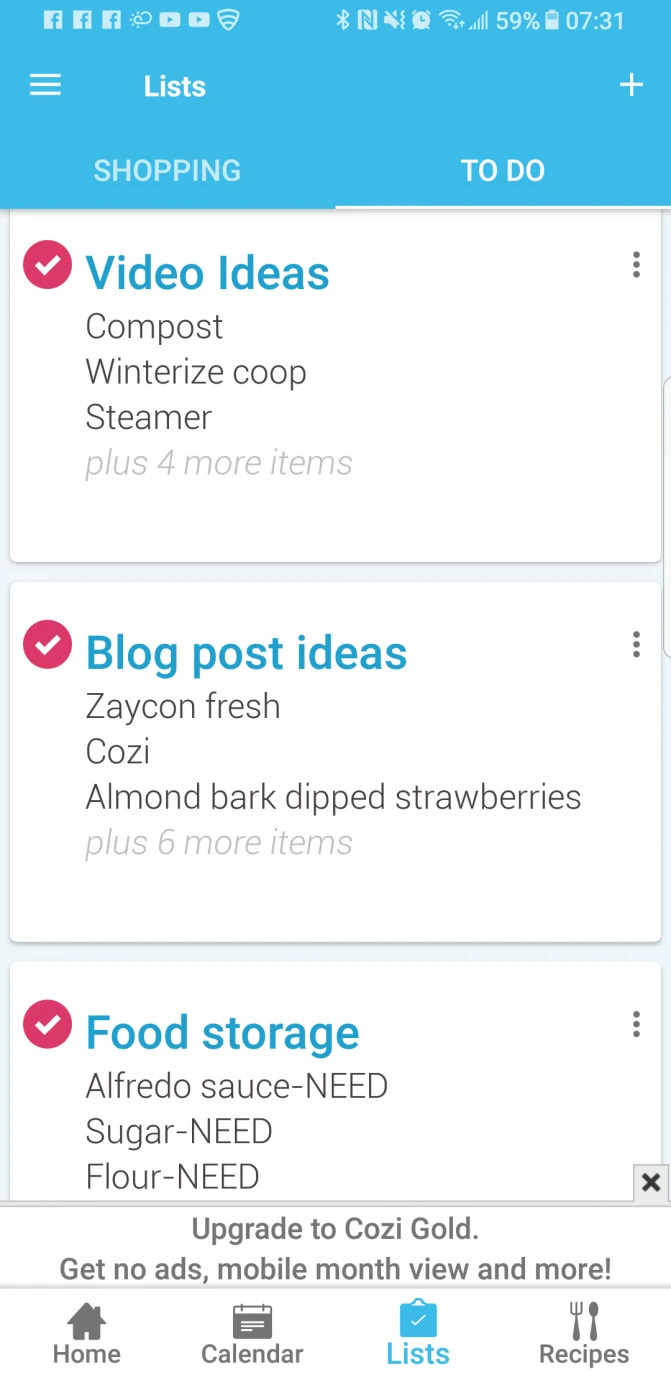 Recipes
You can select online recipes that you want to make and add them to your family recipe box. Then Cozi lets you select items off of the ingredient list to add to your grocery list. How handy is that??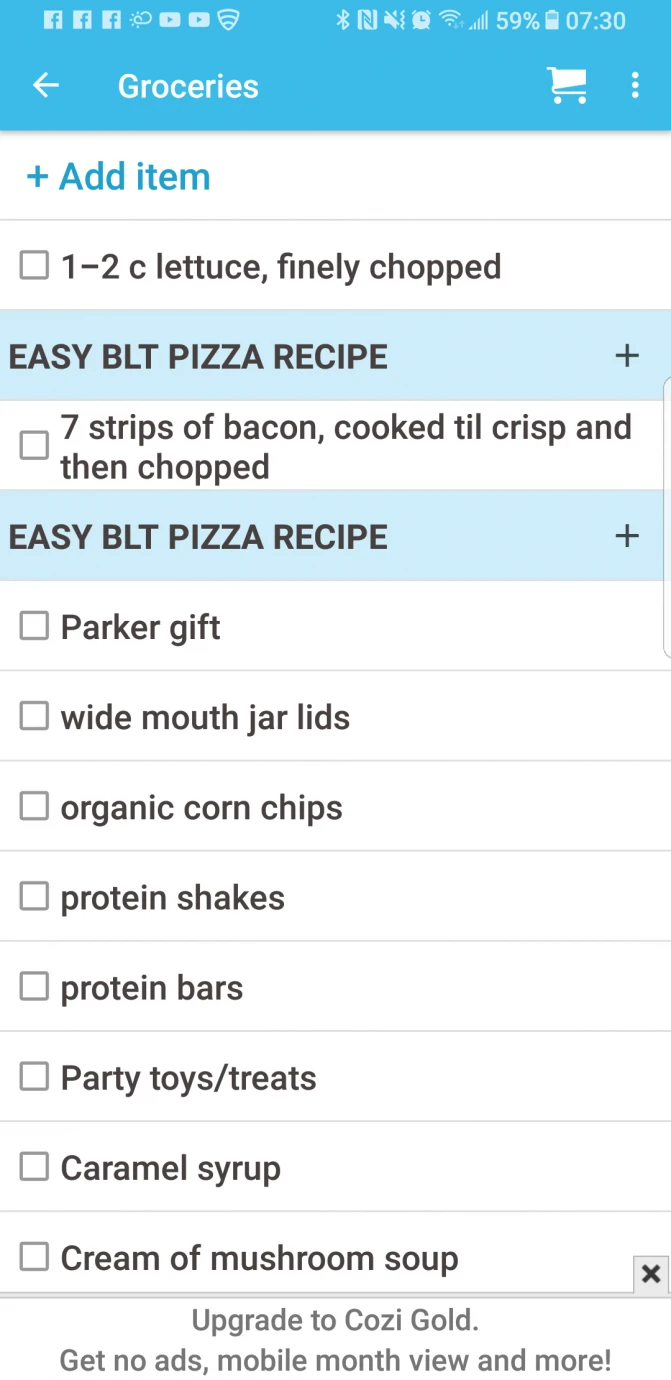 No more last-minute "what am I going to make for dinner?" panic! And when you set Cozi in Cooking Mode, your screen will stay lit (rather than turn off due to inactivity), so you don't have to touch your phone when you have food on your hands.
Here's a shot of my Family Recipe Box that I put together myself. It has lots of our favorite recipes, all in one place!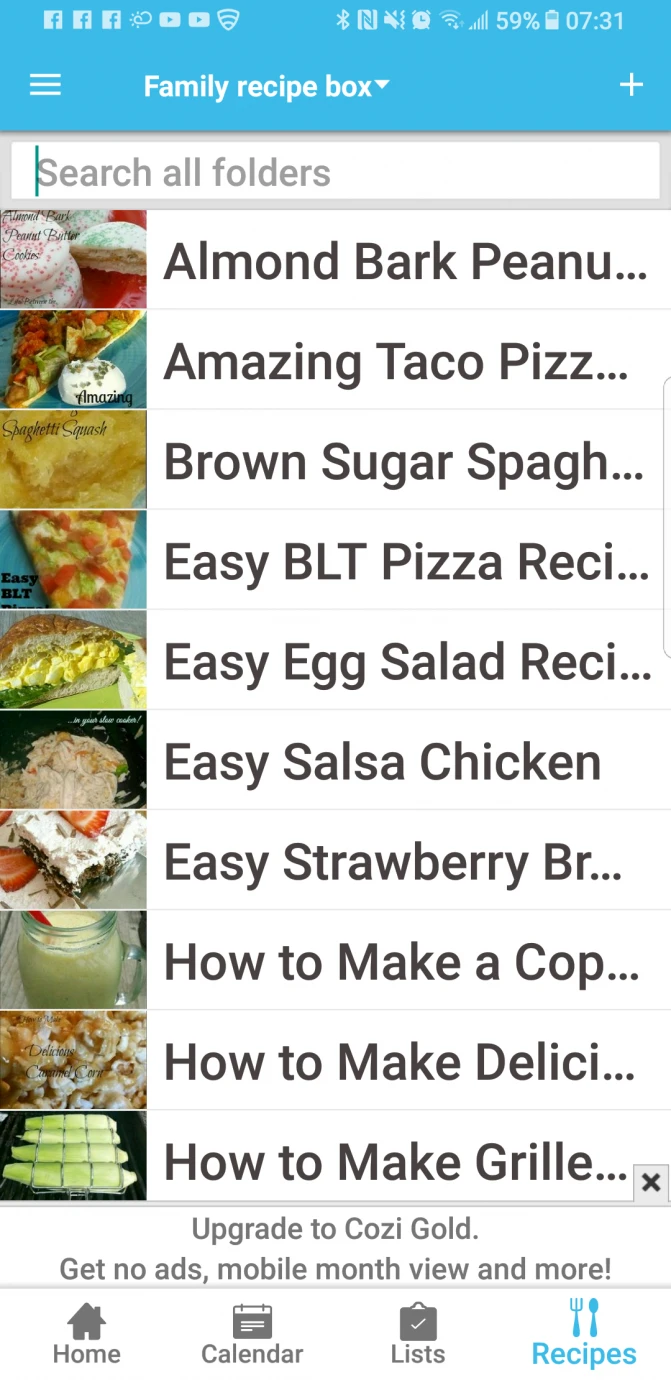 New to cooking or tired of making the same old thing all the time? Cozi also has some built-in recipe collections you can click on if you need ideas for dinner! Just choose a collection and start looking at recipes!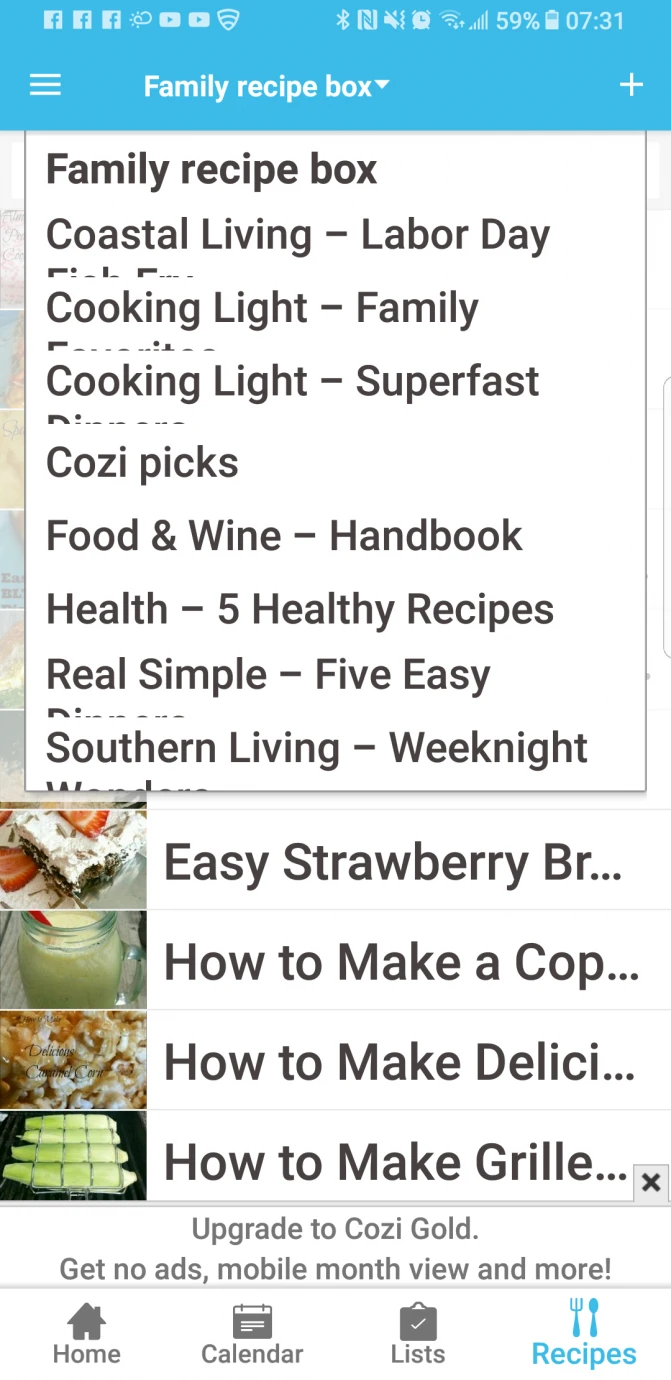 To give you an idea, here are some recipes included in the "Cozi picks" collection: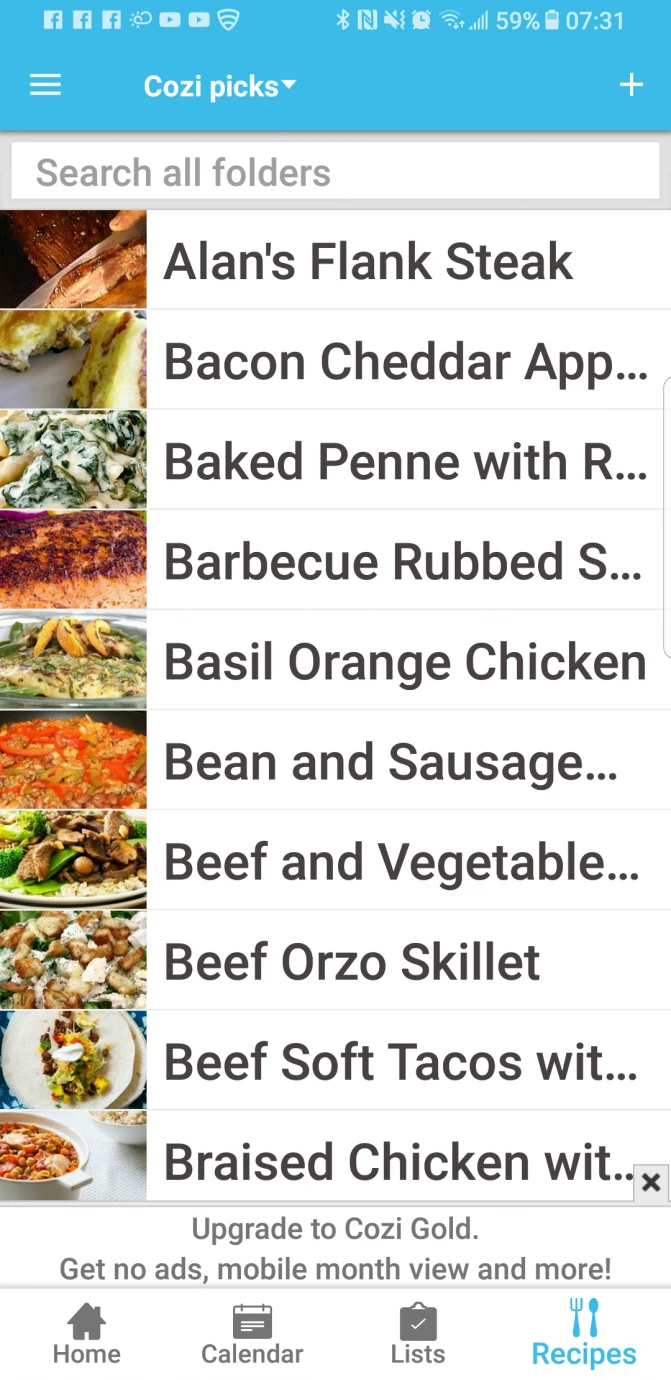 Family Journal
The family journal feature is such a cool one. You can make quick journal entries to share photos, stories, pictures of schoolwork or awards, anything related to your family that is special to you. If you don't want to bombard your Facebook friends with lots of stuff on a Given day, but still want to share it, you can just email the journal entry to Grandma or whomever else you think should see it!
One of my daughters just had a birthday. Here is my journal entry of birthday highlights. 🙂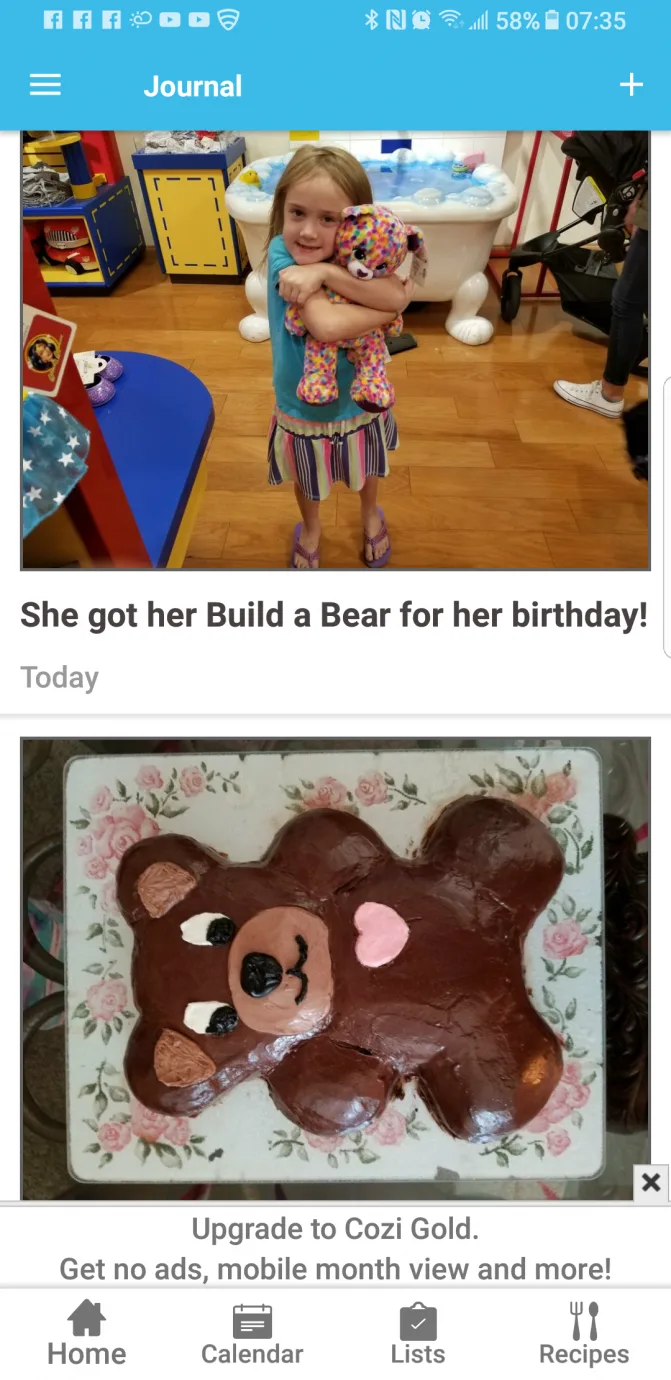 This feature summarizes your agenda for the day.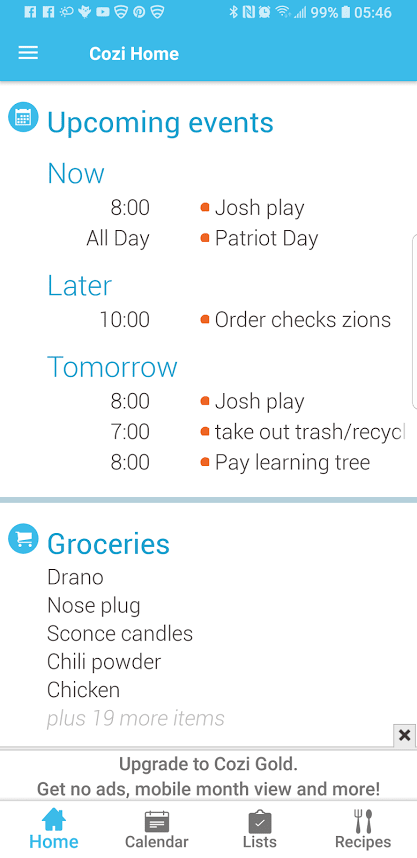 Cozi is free to use, but there is a small fee if you want to use the advanced features and have an ad-free user experience. So far, I have just been using the free version and I love it!
If you are looking for something fancier than the free version, the advanced features include:
Mobile calendar month view
Calendar search
Mobile app themes
Multiple reminders
Change notifications
Shopping mode
Contacts
Birthday Tracker
No ads
If you are looking for a little help getting your family and your life organized, you should definitely check out Cozi!
Sign up for a free Cozi account today. It's the #1 family organizer that keeps schedules, lists, contacts and more all in one place!
See you next time!
Deb