I have been reminded again how important it is to have an emergency plan as I have watched the news coverage and seen the images on social media of Hurricane Harvey. Now and then I post about emergency preparedness and this seems like a good time for us all to reevaluate our own preparedness.
Before I go on, I want to say that my thoughts and prayers go out to those affected by the storm and the flooding that followed. I am a bit of a news junkie, but right now I am having a hard time watching the news. My heart breaks when I see images of your loss. I cannot imagine the pain of seeing everything that you have worked so hard for destroyed. Some of you have lost loved ones. I pray for peace for all of you.
If you don't follow the news much, here are a couple of pictures from blogger friends in the Houston area. They were kind enough to allow me to share them with you. The first from Kirsten Oliphant of KirstenOliphant.com: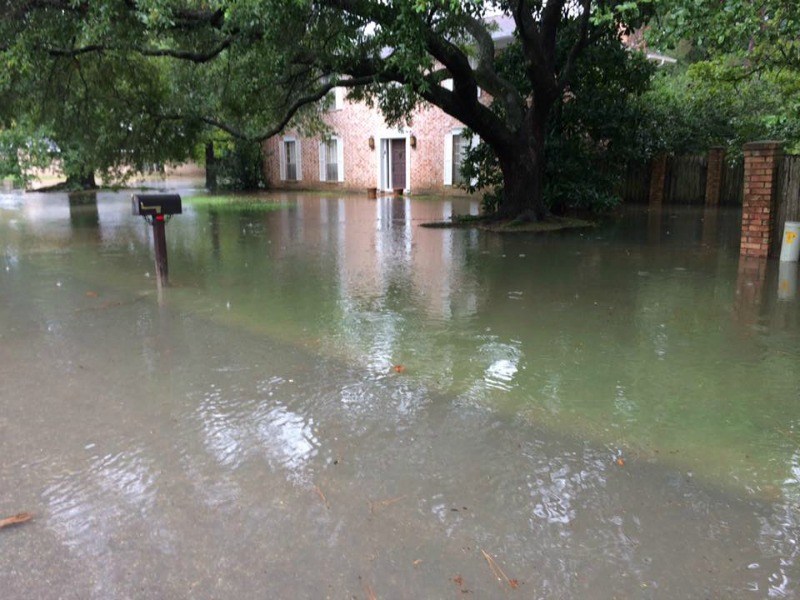 This one from Paula Rollo of Beauty Through Imperfection. Some of the roads are basically rivers, as you can see: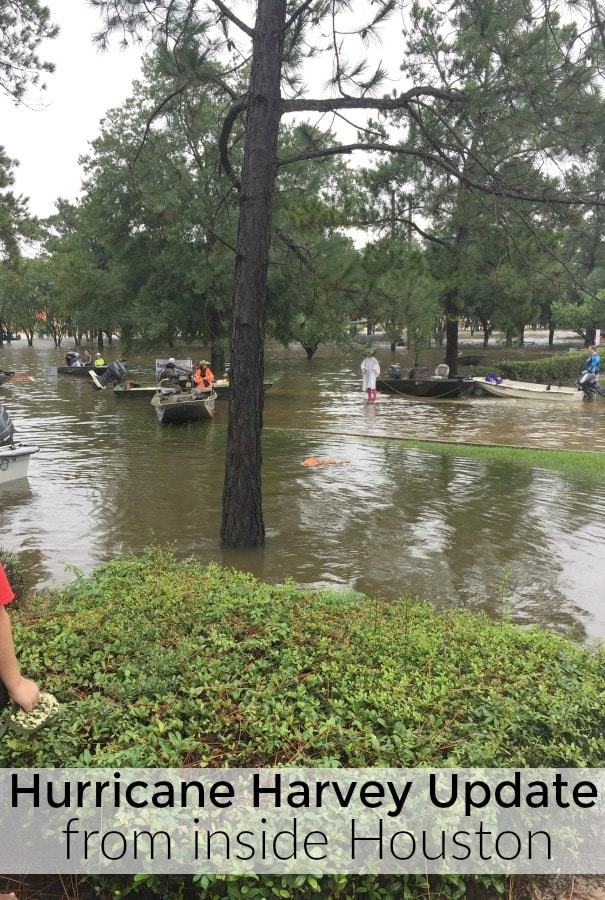 For those of you who were not personally affected by Hurricane Harvey, at the end of this post, there are links to charities that you can donate to if you would like to help those who are suffering in the aftermath. I am not affiliated with them in any way, just a little goodwill advertising for some groups that are trying to help people that really need it. If you are able to help, please do.
How to Make an Emergency Plan
This post contains ads.
We've been reminded that we all need an emergency plan, but what does that mean? Being "prepared" in an emergency doesn't make you immune to problems. It doesn't guarantee your health and safety or the security of your belongings. What it does do is give you the best odds for getting through very difficult situations.
Preparedness plans have different meanings based on the context. What you need in a fire will be different than in a flood or a tornado, or if your family faces the sudden loss of the primary breadwinner. You can think about what risks you are most likely to encounter and plan accordingly, but here are some things to think about:
Have a Bug Out Bag (also known as a 72-hour kit)
Check out my post about how to make your own bug-out bag (or 72-hour kit). It is a collection of supplies you can "grab and go" in the event that you have to evacuate your home with no warning. That could be due to flooding, wildfire, etc.
Emergency Food and Water Storage
Make sure you have adequate food storage and water supply (You can lose your running water suddenly in case of a natural disaster. Then what do you do?)
I have written posts on food storage and having an emergency water supply that you can check out for some great tips to prepare. (Learning about food preservation can help you build better food storage!)
*Tip: Only store food that your family will eat and that you know how to cook.
Personal Identification Documents
Birth certificates, social security card, & photocopy of driver's license (keep them in a document fire safe so that they are protected in case of fire).
Family Emergency Binder
I have an emergency binder that outlines our family emergency plans in the event that we have to evacuate our home. It includes things like where to go, a check-in person whom your family can contact (usually out of state because if there is a catastrophe surrounding you local phone lines could be down) to let everyone know that you are okay.
Granted at the time of the emergency you are unlikely to go grab the binder because there will be so many other things to think about, BUT if you have an emergency binder and review it with your family every 6 months or so, everyone will know what to do whether they are at home, school, work, or wherever when the emergency hits.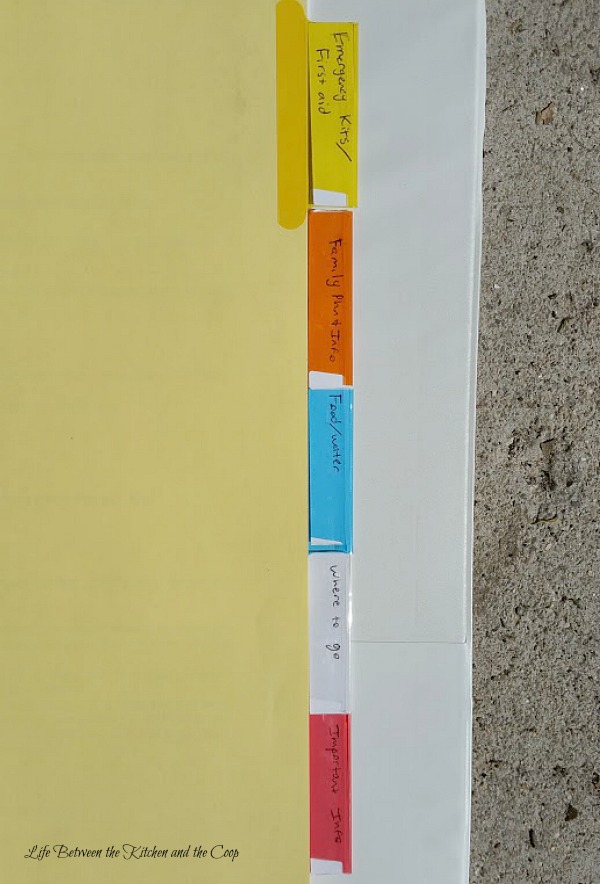 Useful Emergency Preparedness Supplies
candles or oil lamps with oil
pocket knife
compass
whistle (to help you get found if you are lost)
matches or lighters
battery-powered radio/extra batteries
duct tape
large black garbage bags
medications/vitamins
first aid supplies or a pre-packaged first aid kit
sharpie/pen/paper
solar charger
rope or paracord
emergency blankets/emergency sleeping bags
flashlights/batteries
air filter mask
hatchet for cutting wood
Mylar emergency blankets
water filter or water purification tablets
cash (in small bills)
sunblock
deodorant
body wash or soap (if bar soap, put it in a baggie so it doesn't get all over your other
belongings)
baby wipes (for babies or to use to bathe if you don't have enough water available)
feminine hygiene products
lotion
shampoo
toothbrushes/toothpaste
diapers (if needed-once your kids outgrow them keep them to use as bandages)
gun/ammunition (for hunting for food or for self-protection)
Insurance
Make sure your insurance needs are met. That can mean things bigger than auto, home, or renter's insurance, such as life insurance and disability insurance.
Think about likely risks to your home and plan for them. For example, I live in Utah, and where I live the most likely catastrophe is an earthquake. Utah gets a bad one every 100 years or so and we are overdue. Well, earthquakes are considered an "act of God" and are not covered on a normal homeowner's insurance plan, so I purchased an additional rider so that we would be covered in case of an earthquake.
Have Renewable Food Sources Available in an Emergency
How can you do that?
Gardening
Fruit trees in your yard
Backyard chickens to give you eggs (check city ordinances to make sure it is allowed in your area)
Backyard beehives to give you honey (make sure to do lots of research before trying that)
Backyard goat to give you milk (check city ordinances to make sure it is allowed in your area)
More Emergency Preparedness Tips
How prepared is your family? What do you do to prepare for emergency? Here are links to some more great emergency tips you should definitely check out!
Emergency First Aid Kit Essentials You Need if You Have to "Bug Out" of Your Home
How to Make Your Emergency Water Storage Portable
What You Need in Your Bug Out Bag
Food Preservation Tips to Make Food Last Longer
How to Build Your Food Storage Shopping By Case Lot Sales
3 Must Haves for Your Bug Out Bag
How to Have Fresh Organic Eggs Without Going to the Store
8 Things to Know When the Power Goes Out
Water-Emergency Preparedness Essentials…Your Water Supply
How to Build a DIY Budget-Friendly Rocket Stove
For more disaster preparedness tips, check out https://www.ready.gov. Please prepare your families as best as you can.
See you next time.
Deb