Before I delve into the topic of how to make a DIY budget-friendly rocket stove and talk about your different emergency heating/fuel options, I want to remind you about fire safety. These rocket stoves are for emergencies and need to be watched carefully by adults so that they don't start a house fire. Remember to use your rocket stove in a safe place, away from things that would ignite, and have proper ventilation. It is wise to have a charged fire extenguisher around any time that you are working with fire. That said, if you have no heat or need to cook and have no natural gas or electricity to power your stove or furnace, this thing could save your hide!
My husband found directions for a rocket stove on a website called instructables.com, but he modified it a bit. Here is a picture of our rocket stove…we will walk you through the steps (on video to make it super easy!) so that you can make your own rocket stove. You definitely want one of these on hand in an emergency!
DIY Budget-Friendly Rocket Stove

For this project, you will need a #10 can (ie coffee can or restaurant-sized fruit can), 4 soup cans, a piece of scrap metal about 10 inches long and 2 inches wide, Perlite (see picture below) or other insulation, a bottle-opener type of can opener, a drill, ShurTape (can be found at any hardware store), fuel, tin snips, and a lighter.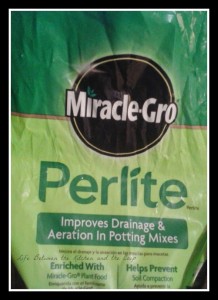 This is what Perlite looks like inside the bag…

This is what ShurTape looks like on the roll…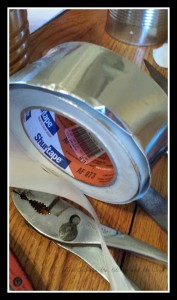 Once you have your supplies gathered, you are ready to construct your Rocket Stove! Watch this video and my husband walk you through it step by step…
DIY Budget-Friendly Rocket Stove
Here are a few close up shots of some of the construction since sometimes having a still shot to study is helpful 🙂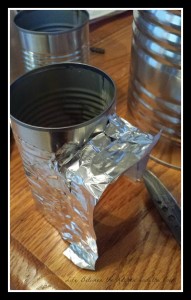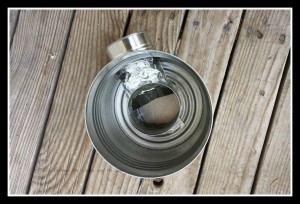 The piece of scrap metal is for the long narrow shelf that you insert from the side that holds your fuel (see below). Make sure there is free space under the shelf or this will not work!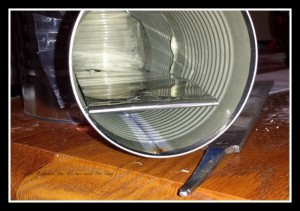 Fueling options for a rocket stove
For those times when your fire doesn't need to burn a long time, you can try using Rocket Stove fueled with Tea Light Candles. When we did that we decided to try out cooking an egg in our kitchen…
And now here is the finished product, cooked with tea light candles on our rocket stove. The Cooked Egg!
Breakfast is ready! How easy was that??? (P.S. In a real emergency you will be glad if you have backyard chickens like we do! Fresh eggs every day!)
________________________________________________________________________
If you decide to build a buddy burner with your tea light candle, here are the supplies you need:
Disassembled tea light candle, 1 cm wide long strip of cardboard to curl up in the metal casing of the tea light candle once you remove the wax. Keep the wax for melting onto the assembled buddy burner. Also be sure to put the wick in the center of the rolled up cardboard for ignition.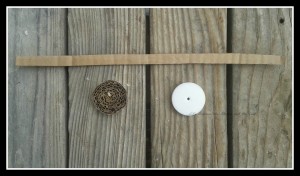 If it's really cold and you need to kick out some extra heat, you will want a fire with a little more gusto. In that situation, you can use sticks for added fuel. The great thing about that is that you can find sticks almost anywhere!
Rocket Stove fueled with sticks
So….once again, here is the finished product…your Rocket Stove is ready! Bring on the apocolypse!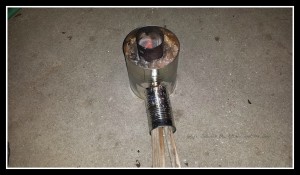 There are lots of types of rocket stoves out there. You can also check out this list from Morning Chores and choose what suits you best.
More Emergency Preparedness Tips
There are other things to consider than heat and how to cook to prepare for an emergency situation. How prepared is your family? What do you do to prepare for emergency?
Here are links to some more great emergency tips you should definitely check out!
Emergency First Aid Kit Essentials You Need if You Have to "Bug Out" of Your Home
How to Make Your Emergency Water Storage Portable
How to Make an Emergency Plan for Your Family
What You Need in Your Bug Out Bag
How to Build Food Storage By Shopping Case Lot Sales
How to Have Fresh Organic Eggs (Without Going to the Store)
8 Things to Know When the Power Goes Out
3 Must-Haves for Your Bug Out Bag
Thanks for stopping by! See you next time!
Deb