This posts contains affiliate links that help support this site.
Not only is the Amazon echo dot a lot of fun, but did you know it can help you get organized? The Amazon echo dot has a virtual personality named Alexa. She can do fun things like tell you jokes, play music, and answer random trivia questions, but she also can really help you get organized and save time! You can ask her to help you with all sorts of things! I want to share with you some of my favorite tips for using Alexa and the Amazon Echo Dot to get your life organized!
Get Organized with the Amazon Echo Dot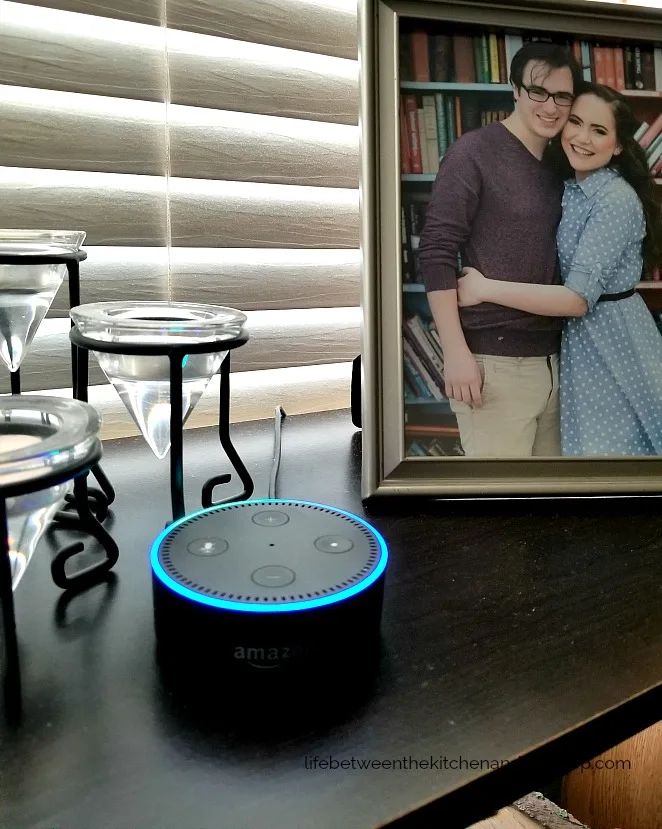 First, let me show you a little bit of Alexa in action. Check out this quick video I made about getting organized with the Amazon Echo Dot!
Alexa's Skills
Before we jump into how to organize your life with the Alexa and the Amazon Echo Dot, I just want to mention something to you. If you watched the video, you heard that Alexa has "skills". Let me explain. I'm not just saying she has skills, she really has "skills". Skills are functions you can turn on through the Alexa app that you put on your phone. They basically train Alexa to do things you want her to do. There are "skills" for ordering pizza, getting movie tickets, requesting an Uber ride, meditation, ambient sleep sounds…all sorts of things. It is so fun to check out all of the things Alexa can do! As an example, here's a screenshot of the Domino's skill: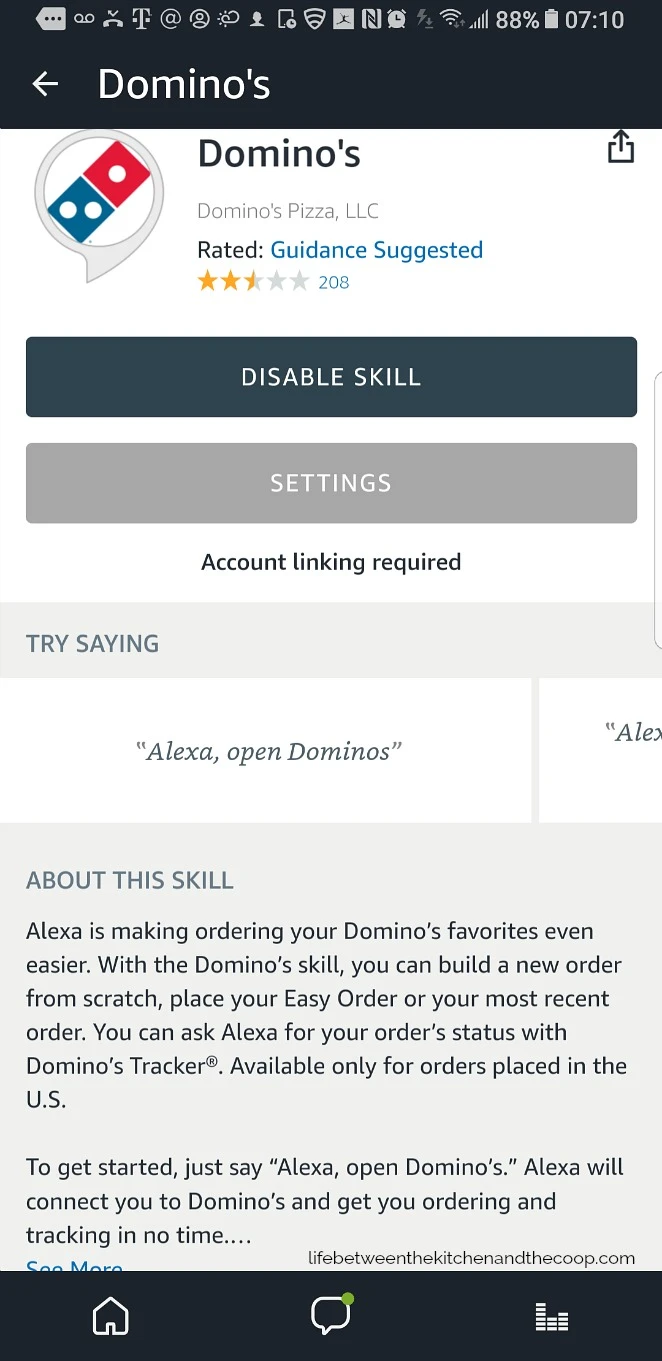 Organize Your Shopping List with Alexa
If you download the Our Groceries app to your phone, you can sync it with Alexa and tell her to add things to your shopping list. (No more writing lists or looking for your phone to put it on the list. Alexa is always right there, waiting for you to tell her what to do!) Then, when you get to the store open the Our Groceries app on your phone and your list is right there. (I've posted mine below so that you can see what it looks like.) It's pretty sweet!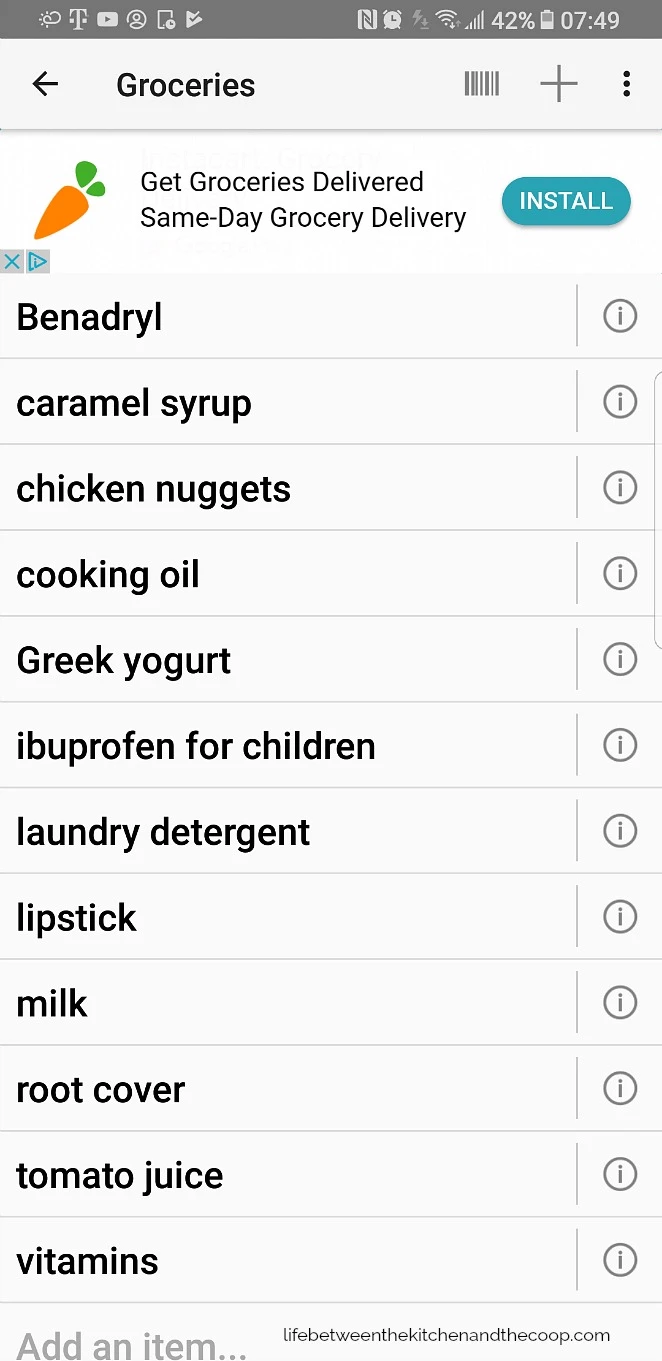 Organize Your Calendar with Alexa
Alexa can add events to your calendar through the Amazon Echo Dot, too! Just tell her to add an appointment to your calendar. Now you don't have to miss an appointment because your hands were busy and didn't go put it in your phone. (Works for Google, Apple, Microsoft, and Microsoft Exchange calendars.) You can just call out to Alexa and tell her to add your dentist appointment (or whatever) to your calendar on that specific date. You can also say things like, "Alexa, remind me to pick up the dry cleaning on Monday." Then, you can also ask Alexa how your day looks or what your next appointment is.
Alexa can wake you up in the morning. Just tell her, "Alexa, wake me up at 8 a.m." and she will do it! You can even tell her to snooze the alarm or set multiple alarms! (Once you are awake, if you like to listen to the news while you get ready for the day, just say, "Alexa, what's the news?" She will tell you!)
Save Time with Alexa
What I love about Alexa is she can save you time. You can automate your home with the echo dot and the lovely wifi outlet plugs that you can buy separately. When I bought our echo dot I bought just one plug to see what it could do. We have it set up on our bedroom lamp and now we can just walk into the room and say, "Alexa, turn on the bedroom lights." You can turn them off by telling Alexa to do that, or just say "Alexa, goodnight" if you want to turn off all of your wireless plugs at once! We are getting more wifi plugs for the TV and other gadgets.
If you commute to work like I do, you can set up your commute route in the Alexa app. Then when you get ready to head out the door for work, just ask Alexa, "What's my commute?" She will tell you the best route to take!
If you need information, you can usually get it from her fast and easy! No need to go find your phone and google it! This morning I needed to stop at the eye doctor's to pick up new glasses after I dropped my kiddo off at school. I asked Alexa what time their office opened (using the office name and city/state) and she let me know that they would open in 18 minutes! No need to go find my phone and google things anymore.
You can also activate "skills" that will let you order a pizza, call for an Uber, or get movie tickets! Just tell Alexa what you want and poof! You've got it!
Plan Your Meals with Alexa
Do you need ideas for dinner? Just say, "Alexa, find easy dinner recipes." She will start giving you ideas and when she gives one you like, you can have her send it to the Alexa app on your phone! (It will show up under "Things to Try" in your Alexa app.) How sweet is that?? Then, when you are cooking dinner, you can have the Alexa set a timer for you!
Be Secure with Alexa
You can even use the Amazon echo dot to control your home security. I have a friend who does that, but I haven't tried it yet.
Find Your Phone with Alexa
Don't you hate it when you are home alone and misplace your phone? You run around your house looking for it. Well, now you don't have to! Just tell Alexa to make a call. You can have her call your phone and find it in no time.
If you haven't checked out Alexa and the Amazon Echo Dot yet, you really need to! I know you are going to love it!
See you next time!
Deb
P.S. If you want to use Alexa for listening to music or watching TV and movies, you may want to use wireless blue tooth speakers along with Alexa for even more awesome sound!
P.P.S. If getting organized is on your mind, be sure to check out 3 Great Tips to Declutter Your Home!