Christmas Almond Bark Pretzels
We made these Christmas Almond Bark Pretzels the other night. Now that it is November, this is one of the recipes I use to start kicking it into high gear to get ready for Christmas. 
Now, I work four days a week as an OB nurse, so between that, my family, my house, and my blog, I am BEYOND busy.  BUT…one of my favorite things about the holidays is the treats!  I have a collection of Christmas recipes that I love to make for my family.  I also love to give them to neighbors and friends for holiday gifts.  🙂
Christmas Almond Bark Pretzels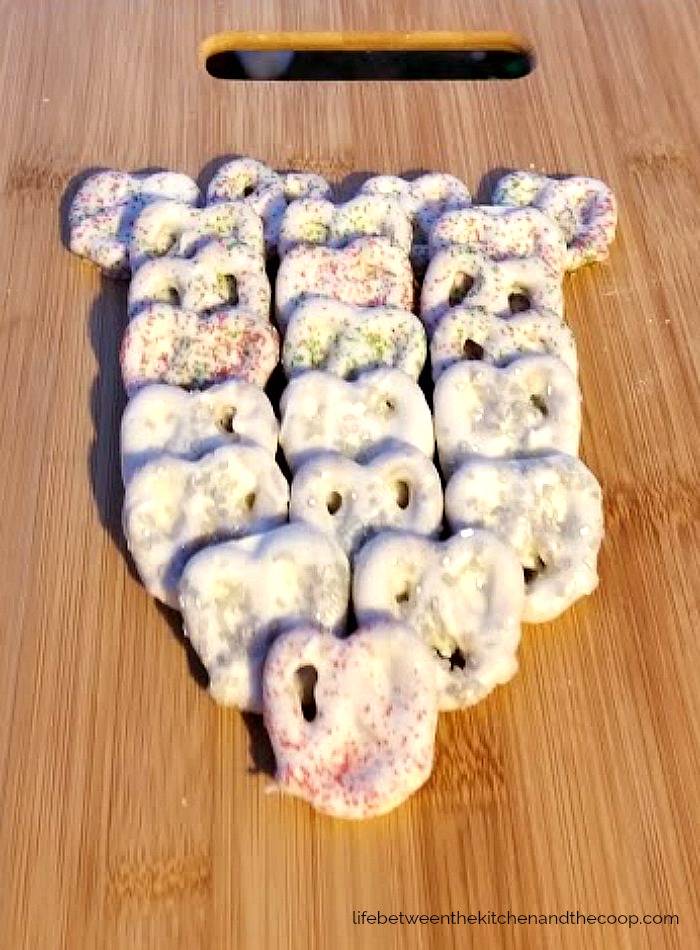 I make them every year.  I usually make a lot and then once they dry I stick them in gallon-sized freezer bags until the holidays (I do the same  with a few other treats that I make and will share in future posts.  It makes the holidays less stressful).  These are ridiculously easy to make and your kids can help!
First you melt the almond bark (found at the grocery store near the chocolate chips) either in a double-boiler or on low heat in your slow cooker, stirring frequently.  (I usually use my slow cooker…I like it better because it is deep enough that when I tap to get the excess almond bark to drip off of the pretzel I don't have to worry about accidentally re-dipping the pretzels while I  am at it!  This time my slow cooker was otherwise occupied though, so I had to make do with double boiling.)
Once the almond bark is melted completely, you can start dipping pretzels into it (I use a ka-bob skewer to do it so I don't burn my fingers). Tap the skewer on the side of the slow cooker to get the excess almond bark to drip off.
Lay the pretzels on parchment paper to dry.  While they are still wet, I usually sprinkle a little red or green-colored sugar on them to make them look more Christmas-y.  You can either buy colored sugar at the grocery store (near the cake mixes) or else put some white sugar in a sandwich bag with a few drops of food coloring and shake it up to get the same effect.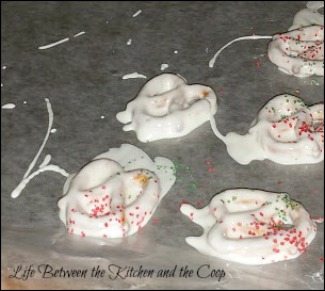 Once they are dry you can either serve them or put them in a freezer bag and freeze them for the holidays!
So yummy!  I hope that you and your family enjoy them!
See you next time!
Deb
P.S. Follow me on Bloglovin'! (come on…you know you want to!)
3 Emergency Prep Tips!
I can tell you three things that you can do THIS WEEK to have better emergency preparedness in your home!