Grasshopper Dessert
This grasshopper dessert recipe just screams summertime!  You can never go wrong with ice cream, right?
Well, this grasshopper dessert  is one that I first tried when we had a party for one of my college roommates who was getting married.  It is cold and delicious.  Every bite is a party in your mouth!  It is an amazing combination of mint ice cream, hot fudge, and a crunchy Oreo crust.  I have never met anyone who did not like this dessert!  Since it is green minty, it also makes an amazing Christmas recipe!
Grasshopper Dessert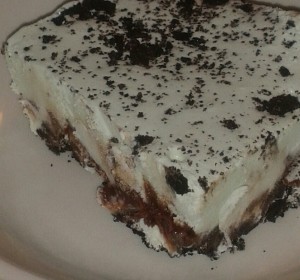 Ingredients:
1 package Oreo cookies
1 jar hot fudge
1 eight oz. tub of Cool Whip
1/2 gallon of chocolate chip-mint ice cream
Directions:
Open and soften the ice cream and Cool Whip.  Set aside.
While the ice cream and Cool Whip are softening, put 2 1/2 rows of the Oreos in a gallon size freezer bag.  Press out the air and seal it.
Once it is sealed, crush the cookies.  I usually whack them with the back of my ice cream scoop, but you can use whatever tool you like.  Once the cookies are crushed, pour them into a 9 x 13 baking dish and spread them around to make the crust.  Set aside.
Once the ice cream and cool whip are somewhat softened, mix them together well.
Once this is finished, you can spread the first layer of the ice cream mixture on top of the cookie crumbs.  I find that the easiest way to do that is to drop tablespoons of the mixture all over the crumbs and then very gently mash them down with the back of the tablespoon and spread it around.  If you don't do this carefully, you will move your crust around.
Once the ice cream layer is spread around to cover the whole crust, put it in the freezer for a couple of hours to firm up.
Once the ice cream layer has firmed up, take it out of the freezer.
Remove the lid from the hot fudge jar.  Put the glass hot fudge bottle into the microwave and heat it for 45 seconds.  This will soften it up enough to spread it easily.  Take it out of the microwave and stir.
Next, place dollops of hot fudge all across the top of the ice cream layer and spread it around (the back of a spoon works well for this).  Return the dessert to the freezer to cool and solidify the hot fudge layer.
Next spread on another layer of the ice cream mixture.
Finally, put a light sprinkling of Oreo cookie crumbs on top for garnish (about 3-4 cookies, crushed).  Freeze for several hours.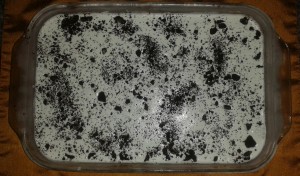 Once it is frozen solid, it is ready to serve.  You may want to take it out of the freezer about 15 minutes before you plan to serve it so that it can soften slightly for easier slicing.
I love this dessert in the summertime because it is cold and refreshing, however, due to the lovely green hue of the chocolate chip-mint ice cream this is also a great Christmastime dessert!  Cut yourself a little slice of Heaven!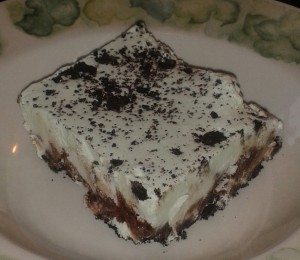 If you love this delicious grasshopper dessert (and I know you will!), be sure to follow me on Bloglovin' for more great recipes and self-sufficient living tips!
See you next time!
Deb
3 Emergency Prep Tips!
I can tell you three things that you can do THIS WEEK to have better emergency preparedness in your home!