Baby, it's cold outside! We had quite the snow storm yesterday here in Utah. There were over 300 car accidents in the state during that hum-dinger of a storm! Yikes! I was glad I was able to stay home, that's for sure! Would have been a great day for a lil hot chocolate from Starbucks, but there was no way I was going out in that mess! Today is a little better, thank goodness. I may venture out. Maybe. Still in my pj's and robe at this point!
Anyway…that's not what you came here to hear about, is it? You want to know who won our monthly Starbucks Gift Card Giveaway! Without further ado, I would like to say congratulations to [email protected], the winner of our monthly Starbucks gift card giveaway.
[email protected], you will be sent an email with instructions to claim your prize! Be sure to watch for it and respond!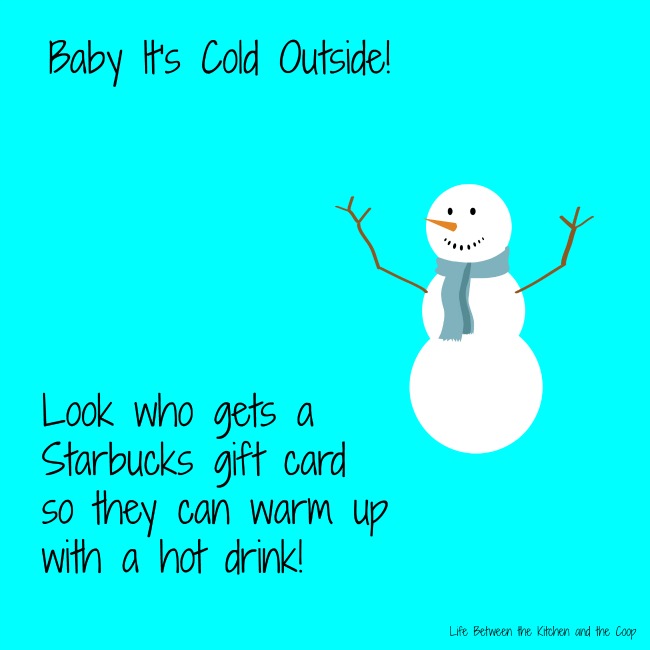 For the rest of you, in case you haven't heard, we have started a giveaway of a $10 Starbucks gift card EVERY MONTH just for our email newsletter recipients! If you haven't heard about our giveaway, you can read about it here!
If you haven't signed up to get our monthly newsletter and automatically be entered in our monthly Starbucks Gift Card drawing yet, do it now! Once you have signed up to be a newsletter recipient, then you will be entered in a monthly drawing to win a $10 Starbucks gift card every month! That's all you have to do! Every month you have the same chance of winning…so sign up now! Who knows? Maybe you will be our next winner! And—if you are signed up you will get the latest updates of recipes and tips hot off the press in our newsletter! Don't worry…we hate spam, too. We promise you will only get one or two emails a month from us…we will not flood your inbox with junk!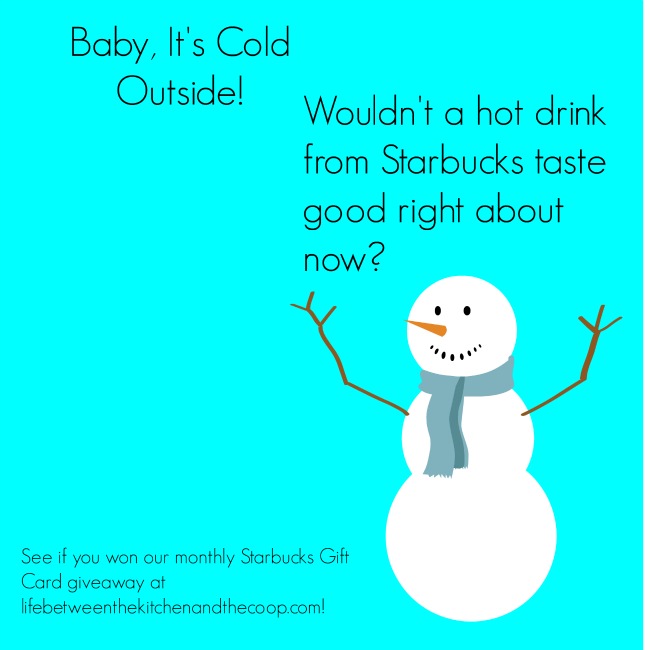 If you are already signed up to receive our newsletter, YOU ARE ENTERED TO WIN! That's all that you need to do! Remember to watch our site and Facebook page each month to see if you have won!
Stay warm, my friends!
Deb