Happy, happy New Year! Did you stay up late and ring in the New Year? Or were you like me? I think I was out like a light by about 10:30. I am an early riser (writing this post at 5:45 on a Sunday with NO alarm clock!), so late nights rarely happen for me! If you celebrated, I hope you had fun. If you didn't, I hope the fireworks at midnight didn't wake you up! Now that December has ended, it is time for our Starbucks Gift Card Giveaway December 2016 Winner!
Before we get to that, may I reflect for a moment on 2016? As I was contemplating the events of the past year, which was actually a really good year for the most part in terms of my family, my main hope for 2017 is that it stops killing my favorite celebrities. It was a rough year in that department, don't ya think? Which one bummed you the most? I would have to say George Michael. When I was a teenager I had posters of Wham! and Duran Duran (my other favorite) covering my bedroom walls. You couldn't see the walls at all, there were so many posters!
Anyway, I digress. On with the Starbucks Gift Card Giveaway December 2016 Winner!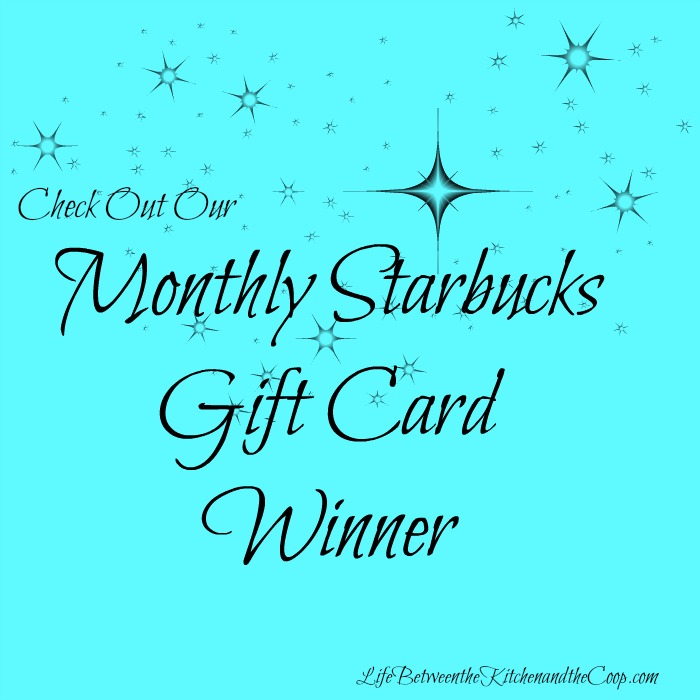 In case you don't already know, newsletter subscribers for Life Between the Kitchen and the Coop get a chance to win a Starbucks gift card as a thank you for hanging out with me here at Life Between the Kitchen and the Coop! Have YOU entered by subscribing to our newsletter yet? It's FREE! If you haven't subscribed, let's get it done! Click here to subscribe now so that you will be entered to win in next month's drawing!
Catycub, please watch your inbox for an email with instructions on how to claim your prize!
If you didn't win the Starbucks gift card this month, no worries! Like I said, just sign up for my newsletter and you will be entered in the drawing EACH AND EVERY MONTH! It's that easy! You can read about it and SIGN UP HERE! You can also sign up for the newsletter (and be registered to be in the monthly Starbucks gift card drawing) in the sidebar here on the blog or in one of the other opt-in boxes on this site! I'm making it as easy for you as I can. And you don't have to worry. I will never spam your inbox with junk!
Thanks for stopping by! I always love it when you do!
See you next time!
Deb
P.S. Be sure to stop by the Life Between the Kitchen and the Coop home page and see what else is new!