Today I am going to deviate a bit from my usual types of topics and share something a little more personal. Back in March, I started using an app called My Fitness Pal to keep track of my calories and over the course of about 3 1/2 months I lost 25 pounds. Although I was still not at my target weight at that time, I was feeling good about how I looked. Then in June my mom and sister came to visit me. When you have company, you cook and you eat. That's a rule, right? So I did. Aaaaannnnnd I quit putting my food intake into My Fitness Pal because…well…the calorie counts were just depressing. "I'll restart after Mom and Becca go back home" I told myself (they live in Iowa, I am in Utah). Since then I have made several half-hearted attempts to restart My Fitness Pal, but I just have lost that dedication and I can't figure out how to get it back. I know my weight is starting to creep up again because the scrubs that I wear to my day job (OB nurse) are getting a bit tighter and that does NOT make me happy. Meanwhile, my sister, who was so inspired by my weight loss while she was here visiting, has lost 37 pounds using My Fitness Pal since she left Utah! (Good job, Bec!) That should inspire ME. So should my daughter, Kira. She runs cross country and track at the high school. Why can't I be motivated like that? I promised her last year that I would run a 5K with her before she graduates from high school. The clock is ticking…only a year and a half left to make good on that promise!
Me and my daughter, Kira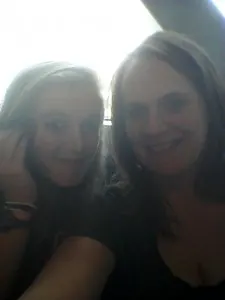 Well, on Friday I had a phone appointment with my health coach, Sara, from Cigna (with our health insurance plan if you do a certain number of phone appointments a year with one of their health coaches you get money off of your deductible). Bless her heart, she is always sweet no matter how much of a slacker I have been on whatever health goals we set during our previous appointment. I had made ZERO progress on the exercise goals that I had set at our previous visit. I told her how I was doing this blog and working four days a week as a nurse and I have a four year old and a house to keep up…I have plenty of excuses! I have a treadmill in the garage. It isn't like I don't have the opportunity to exercise. I just am really fond of NOT exercising…too many other things I would rather do.
Anyway, at the end of the phone call, I needed to set a goal for the next time we spoke. I didn't want to set an exercise goal, because I knew that with everything else I have going on and the holidays coming, that just wasn't going to happen. As I was walking around the house talking to Sara, I caught I side view of myself in the wall mirror and scowled. I could tell my tummy was chubbier than it was 3 months ago, so then and there I knew the goal I had to set was to restart My Fitness Pal and start getting my weight down more.
Hosting a blog that largely talks about food and often has recipes that taste good, but are not generally low calorie seems rather counterintuitive when you are trying to lose weight. I am going to do it anyway. I have to zero back in on my portion control and minimizing how much junk food I eat. I am hoping if I tell you all that I am doing that it will motivate me to stick with the restart of My Fitness Pal that is happening tomorrow. I need some accountability…and you, my wonderful readers, are it! Wish me luck! And if you have any tips on breaking through the mental barrier I have been dealing with (other than sewing my mouth shut), do tell! I want to hear them!
Anyway, thanks for stopping by! I am going to go have a brownie for breakfast while I still can! 🙂
Deb
Follow me on Bloglovin'!