Chewy Chocolate Chip Cookies
---
I have had this recipe for years and I love it because these chocolate chip cookies are not crispy.  They are nice and chewy.  Love them.  Made a double batch last week.  They lasted a couple of days-that's it.  No self-control in this house, I tell ya!  Anyway, try these out and thank me later 🙂
Chewy Chocolate Chip Cookies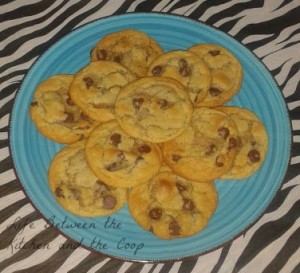 Chewy Chocolate Chip Cookie Ingredients
1/2 c butter, softened
2 eggs
2 tsp vanilla
1/2 c vegetable oil
1/4 c applesauce
1 c brown sugar
1 c granulated sugar
4 c flour
2 tsp baking soda
1 tsp salt
12 oz bag of chocolate chips
---
Chewy Chocolate Chip Cookie Instructions
Preheat oven to 350 degrees.  Prepare cookie sheet with cooking spray.
In a large bowl, mix softened butter, eggs, vanilla, vegetable oil, and applesauce together.  Once well-mixed add the baking soda, salt, and flour.  Mix well again.
Using a large spoon, fold in one bag of chocolate chips (I like milk chocolate).
Roll the cookie dough into one and a half inch balls and place them on the cookie sheet (I usually fit 12 to a cookie sheet).  Bake at 350 degrees for 8-10 minutes.  Do not overcook-remove from the oven once the top of the cookie is turning  light brown.  Cool on cooling racks.
I usually make a double batch and then put them in gallon sized freezer bags with a slice of plain bread (it keeps the cookies from drying out).  These are so amazing with a nice glass of cold milk!  Enjoy!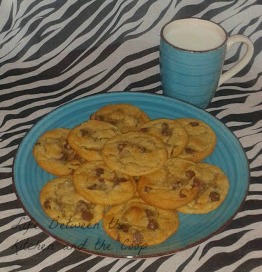 Thanks for stopping by!
Deb
P.S.  Remember to Follow Me on Bloglovin'!
3 Emergency Prep Tips!
I can tell you three things that you can do THIS WEEK to have better emergency preparedness in your home!