Easy Homemade Lasagna with Pepperoni
Today I am going to share with you one of my recipes. I'm going to show you how to make Easy Homemade Lasagna with Pepperoni. This freakin' amazing lasagna recipe is one that I got from Becky, one of my dearest friends. Let me explain. Becky and I met in Spanish class in college a million years ago…she sat in front of me on the first day of class and laughed a smart-aleck remark that I muttered under my breath. We've been great friends ever since. Love that girl.
But, I digress…you want to know how to make Easy Homemade Lasagna, right? If you have young kids, this one is a fun one to make with them. Trust me, you are gonna love this!!!
Easy Homemade Lasagna with Pepperoni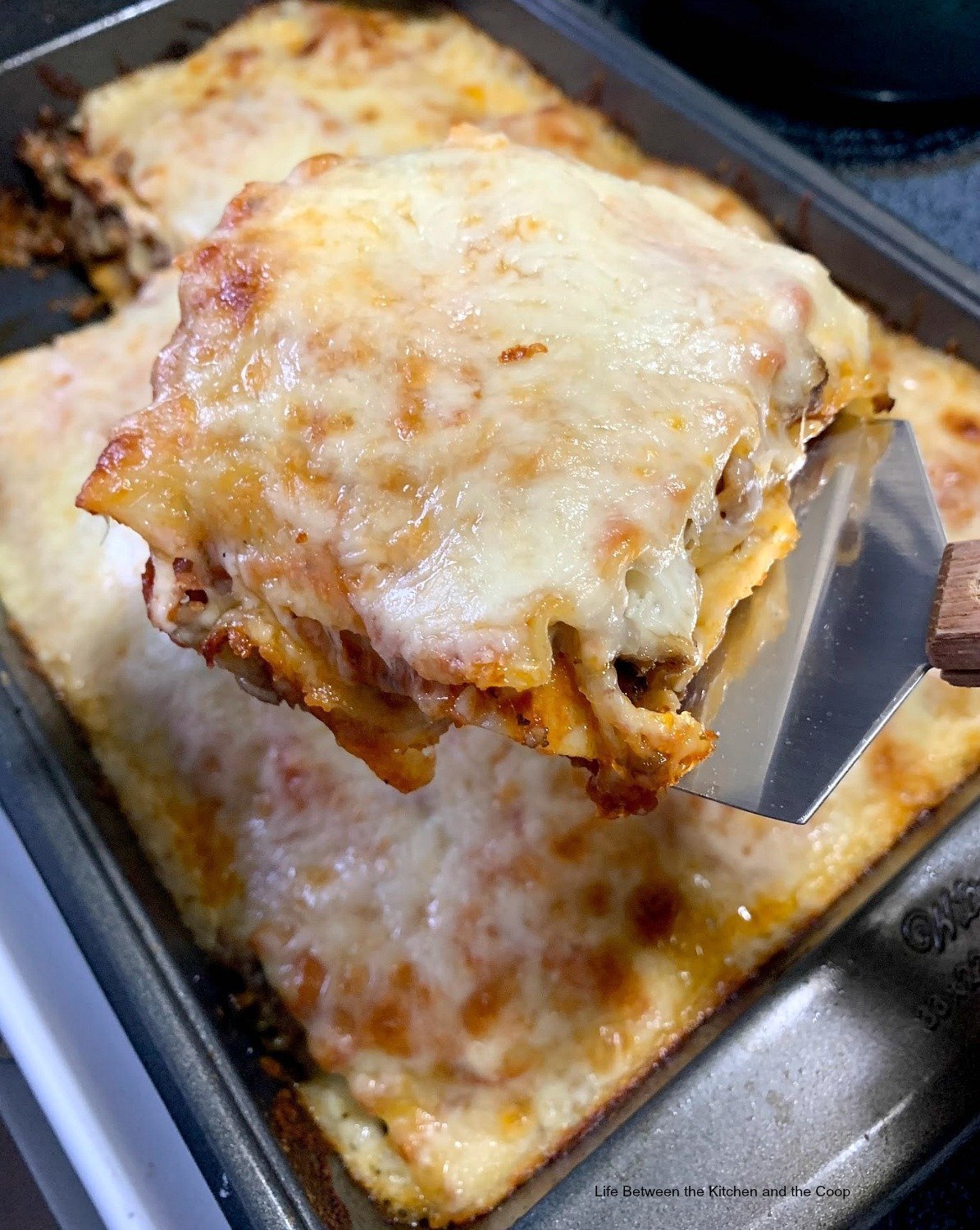 This post contains ads.
Easy Homemade Lasagna with Pepperoni
2 jars Prego traditional spaghetti sauce (sometimes I use my homemade marinara or some pizza sauce that I have canned instead. Use whatever tastes good to you!)
12 lasagna noodles
15 oz. ricotta cheese
2:1 mozzarella/cheddar cheese ratio…I could give you amounts, but I just pile it on
1 pkg of pepperoni (around 40 slices)
1 lb ground beef, browned, seasoned (see seasoning spice list below), and then drained
Spices for seasoning lasagna meat
dash of garlic powder
1/8 tsp of onion powder
1/8 tsp of chili powder (yes, really)
1/8 tsp basil
1/8 tsp parsley flakes
1/8 tsp oregano
While browning/seasoning the ground beef, boil water with a couple of tablespoons of olive oil (to keep the noodles from sticking to each other). Once boiling, cook 12 lasagna noodles. After they have boiled for about 9 minutes (you want them to be al dente), drain them and then put them back into the pot (removed from heat).
After ground beef is seasoned, browned, and drained, set aside.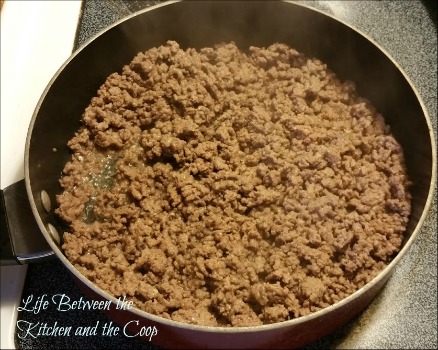 Now you are going to layer in a 9 x 13 baking dish, prepped with cooking spray… Layer one-Prego (or whatever sauce you use), just enough to cover the bottom of the baking dish. Each time you are doing a sauce layer it should be a thin layer. If you put too much sauce in the lasagna you will have a lot of liquid at the bottom of the baking dish after cooking.
Layer two-3 lasagna noodles, side by side
Layer three-teaspoon size blobs of ricotta (I usually do 12 per layer, like if you were baking cookies)
Layer four-seasoned, browned ground beef, drained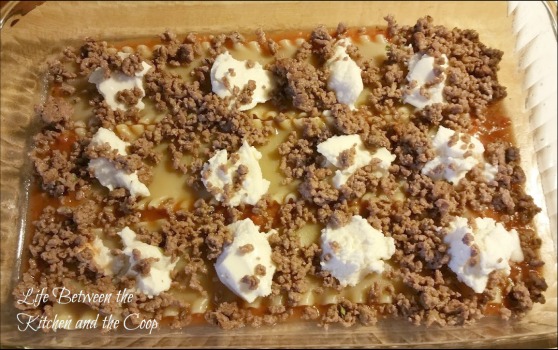 Layer five-pepperoni slices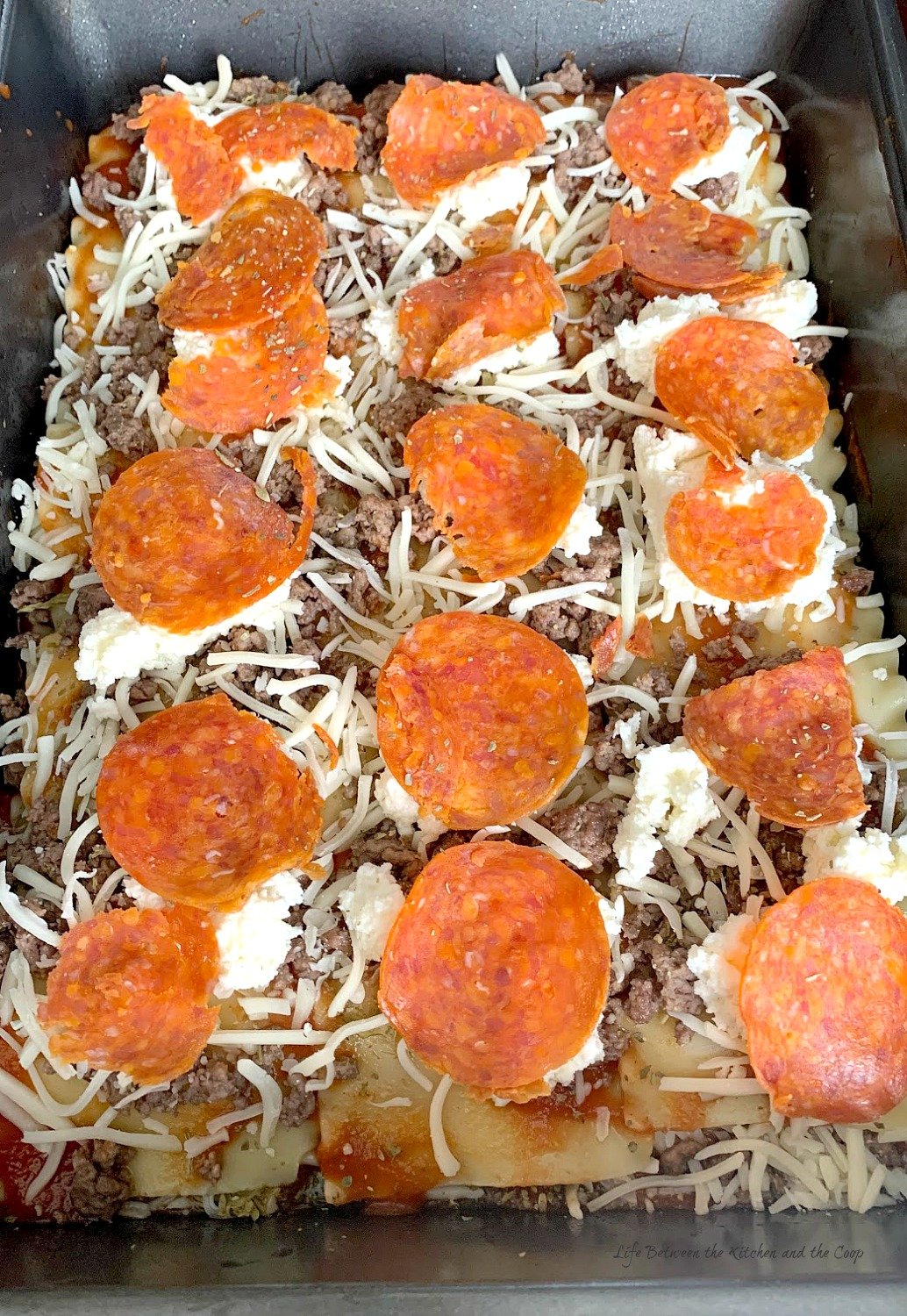 Layer six-cheese mixture
Layer seven- 3 lasagna noodles, side by side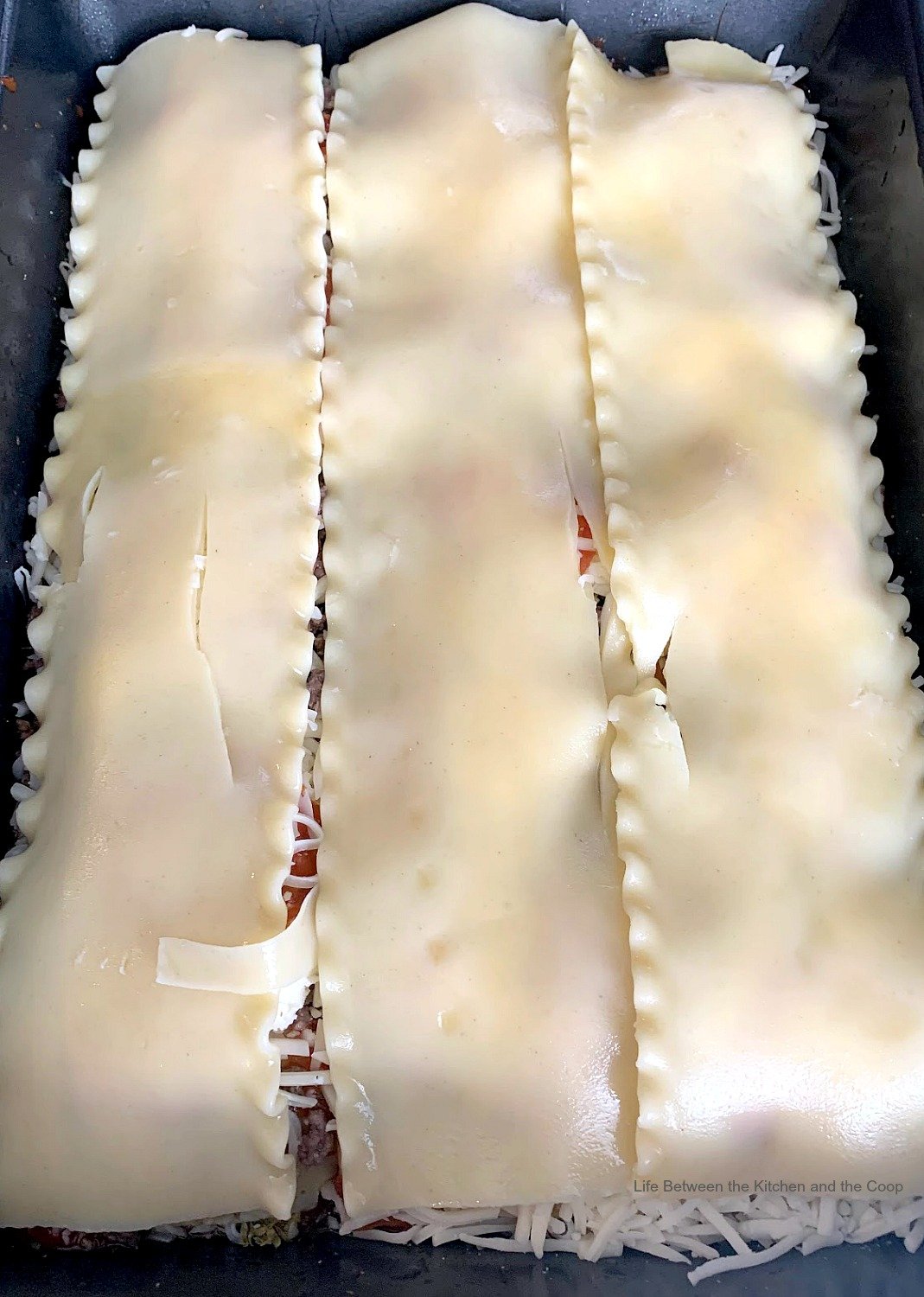 Press down all over lasagna now to make it dense so you can do more layers!!!
Layer eight-sauce, etc. (Just keep repeating layers 1-8 again, pressing it into pan periodically. When the pan is nearly full, your last layers should be noodles, then sauce, then cheese…no matter where you were in the order before that.)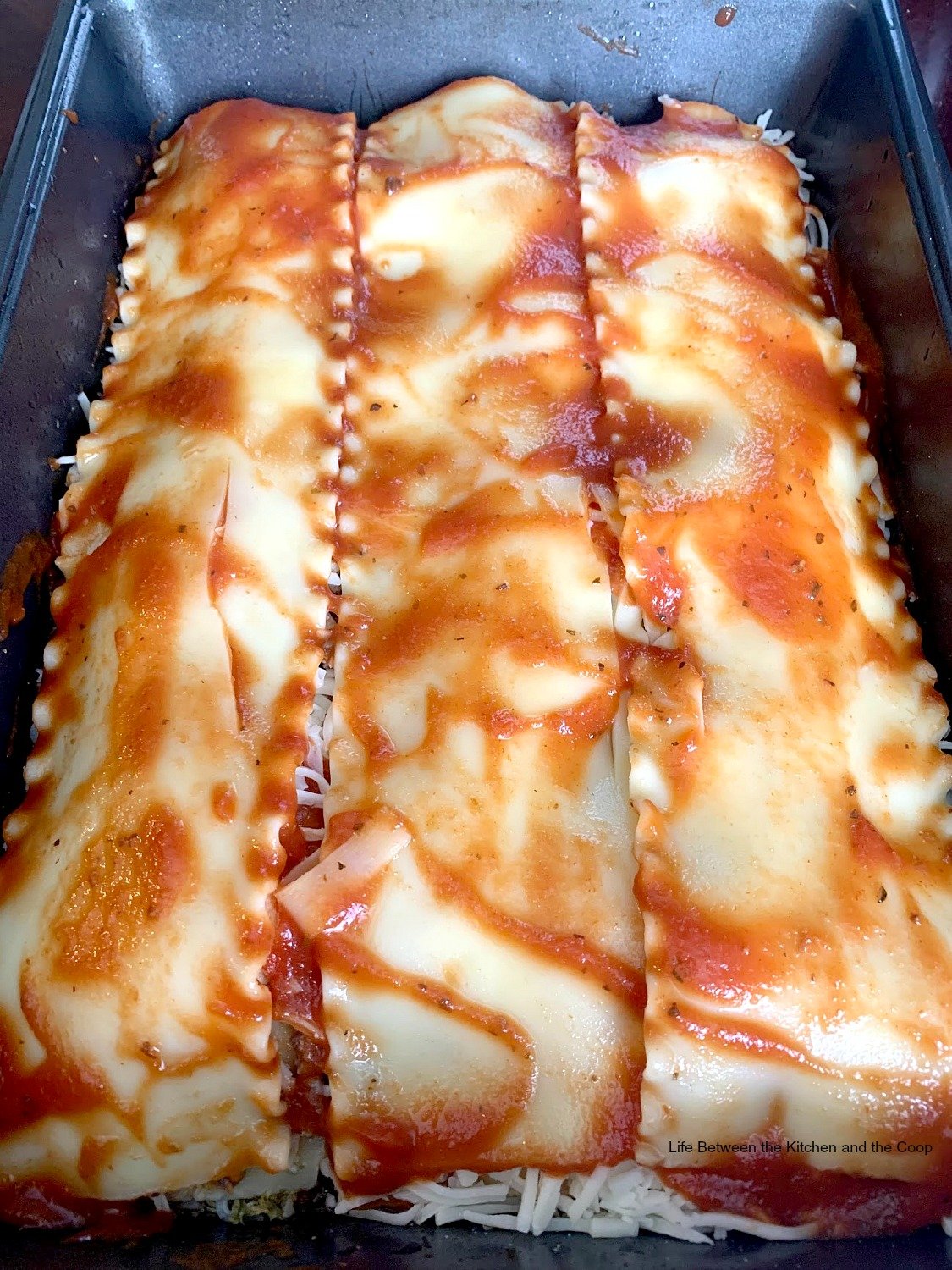 After all of the layers, top with more shredded mozzarella cheese. Cover loosely with tin foil ("tent" the foil a bit so the cheese doesn't stick to the foil when it melts) and bake for 30-40 minutes at 350 degrees.
About ten minutes before it is done remove the foil, then finish cooking. Dinner is served!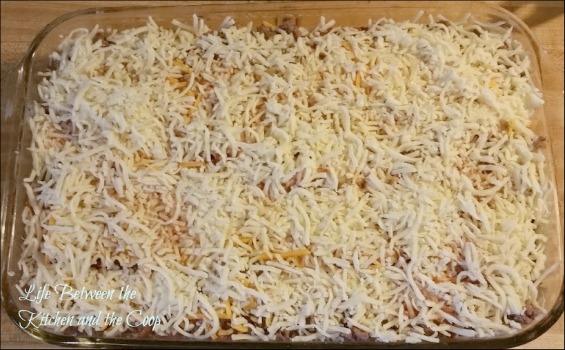 I'm telling you guys…this is soooo good! Seriously, your family will LOVE it! Enjoy!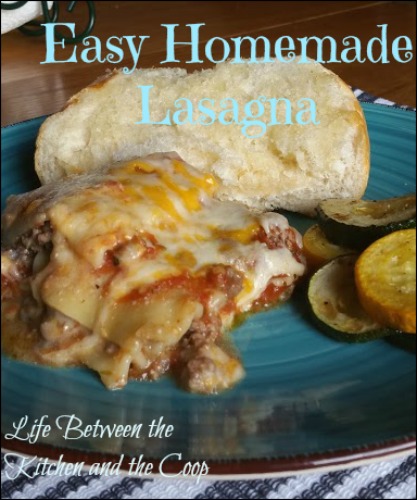 I recommend serving it with some crusty garlic bread!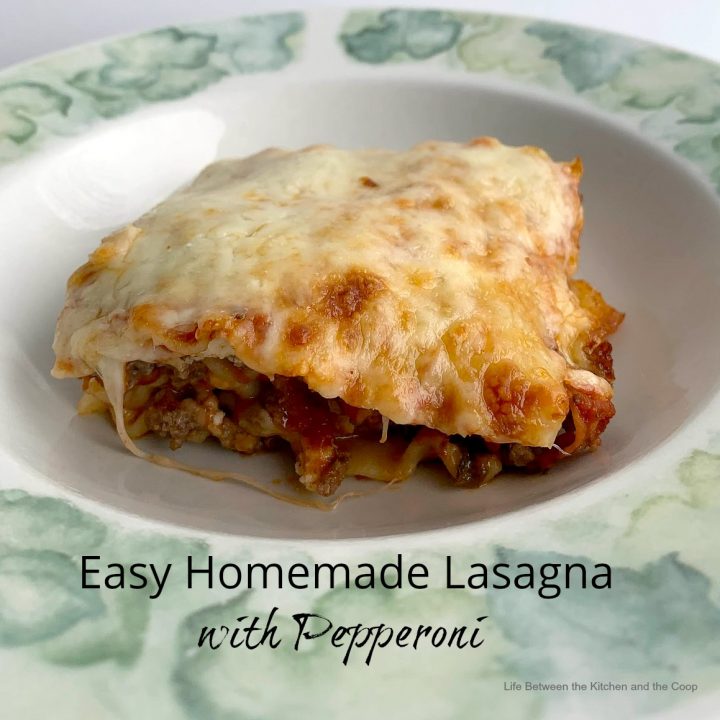 Easy Homemade Lasagna
Total Time:
1 hour
10 minutes
If you are looking for an easy dinner recipe that your entire family will love, you will definitely want to make this delicious homemade lasagna with pepperoni. Everyone who tries it absolutely loves it!
See you next time!
Deb
P.S. If you like this Freakin' Amazing Lasagna, you will love my Freakin' Amazing Lasagna Soup recipe. By the way, are you following us on Facebook yet?