Who doesn't love homemade bread? It just puts store bought bread to shame, don't you think? It's a must for every recipe box! Warm homemade bread is such a great comfort food. Slather on a little butter and it's just so…YUM!
Since I can't think of anyone who doesn't love homemade bread, I put together a collection of some homemade bread recipes for you that are just delish!
I reached out to some blogger friends for their favorites and they delivered! I'm also going to share with you my secret for making seriously awesome garlic bread – no matter what bread you are using to make it! So grab yourself a drink, sit back, and enjoy!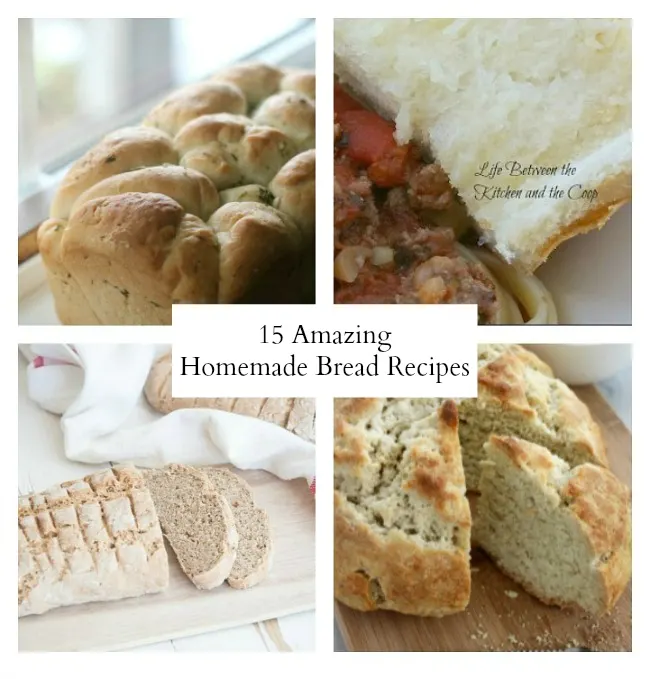 This post contains ads.
15 Amazing Homemade Bread Recipes
Garlic Bread
First I'm going to share a little tip from my kitchen with you about how to make amazing tasting garlic bread. You can use this tip on your favorite homemade French bread recipe or on store-bought French bread, like I talked about in my post, Crusty Garlic Bread. If you're already doing this you might think this tip is so elementary, but here's the thing: if people make garlic bread and they DON'T do this, it's just NOT good!
Once you have whatever crusty, yummy bread you want to make your garlic bread with, you only need two other ingredients to make it taste super yummy – butter and garlic salt. Do NOT think that if you don't have garlic salt you can substitute garlic powder. Unfortunately when you buy garlic bread at the store that's what they usually use. What you end up with when you use garlic powder is a serious lack of flavor. Just…yuck! You MUST use butter-real butter, not margarine- and garlic salt! Just slice your bread down the middle lengthwise, butter both pieces and sprinkle on garlic salt. Wrap the loaf in aluminum foil and bake at 350 degrees for 15-20 minutes. Easy peasy! (It's also great for cleaning up the extra pasta sauce on your plate!)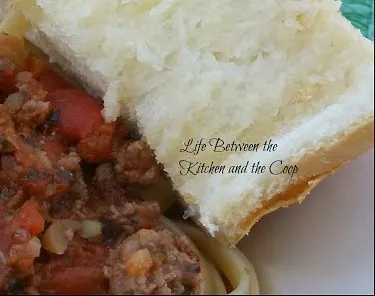 Homemade Bread Recipes
Now that you know how to make yummy garlic bread, I want to share some more homemade bread inspiration with you! Here are some awesome homemade bread recipes from some of my friends across the internet! (You know you want to bake some…it makes your kitchen smell so good!)

Click the links below for these awesome recipes!
Homemade Focaccia with Italian Dipping Oil by Savory Tooth
Amish Friendship Bread by Penny Pincher Jenny
Irish Soda Bread by Cincy Shopper
Pull-Apart Garlic Bread by Creative Homemaking
Multigrain Sourdough Bread by Farm Fresh Living
Spelt Buckwheat Sunflower Seed Bread by Elephantastic Vegan
Artisan Bread by Frugal Living NW
Quick and Easy Cheese Bread by Retro Housewife Goes Green
Nana's Easter Paska Bread by Trial and Eater
Creamed Corn Cornbread by Ann's Entitled Life
Low Carb Bread by Wholesome Yum
Cheddar Corn Scallion Beer Bread by Small Town Woman
Vegan White Sandwich Bread by Elephantastic Vegan
Happy bread making, my friends! See you next time!
Deb