How to Make Dehydrated Raspberries for Food Storage
Hi guys! Today I want to tell you how to make dehydrated raspberries for snacking or your food storage. This is one of the easiest food preservation "recipes" that there is! I found out a few weeks ago that my labs show that I am in the pre-diabetic range, so I have been trying to eat better. Less bread, less processed food, and less sugar. More fruits and vegetables and fiber.
I like to snack, though, so I am trying to find healthy snacks. Last weekend I dehydrated some raspberries in my food dehydrator and they were really good. Nice and crunchy! Throw them in a little container with some cashews or almonds and it would be a fun travel snack, but I just munched them on their own.
Making Dehydrated Raspberries for Food Storage
This post contains ads.
The above video shows you how easy it is to dehydrate raspberries to make a crunchy, delicious snack! Plus, the great thing about dehydrated fruit, like raspberries, is it makes great food storage. You just have to be sure that you vacuum seal them before you store them (vacuum sealing gets the excess air out).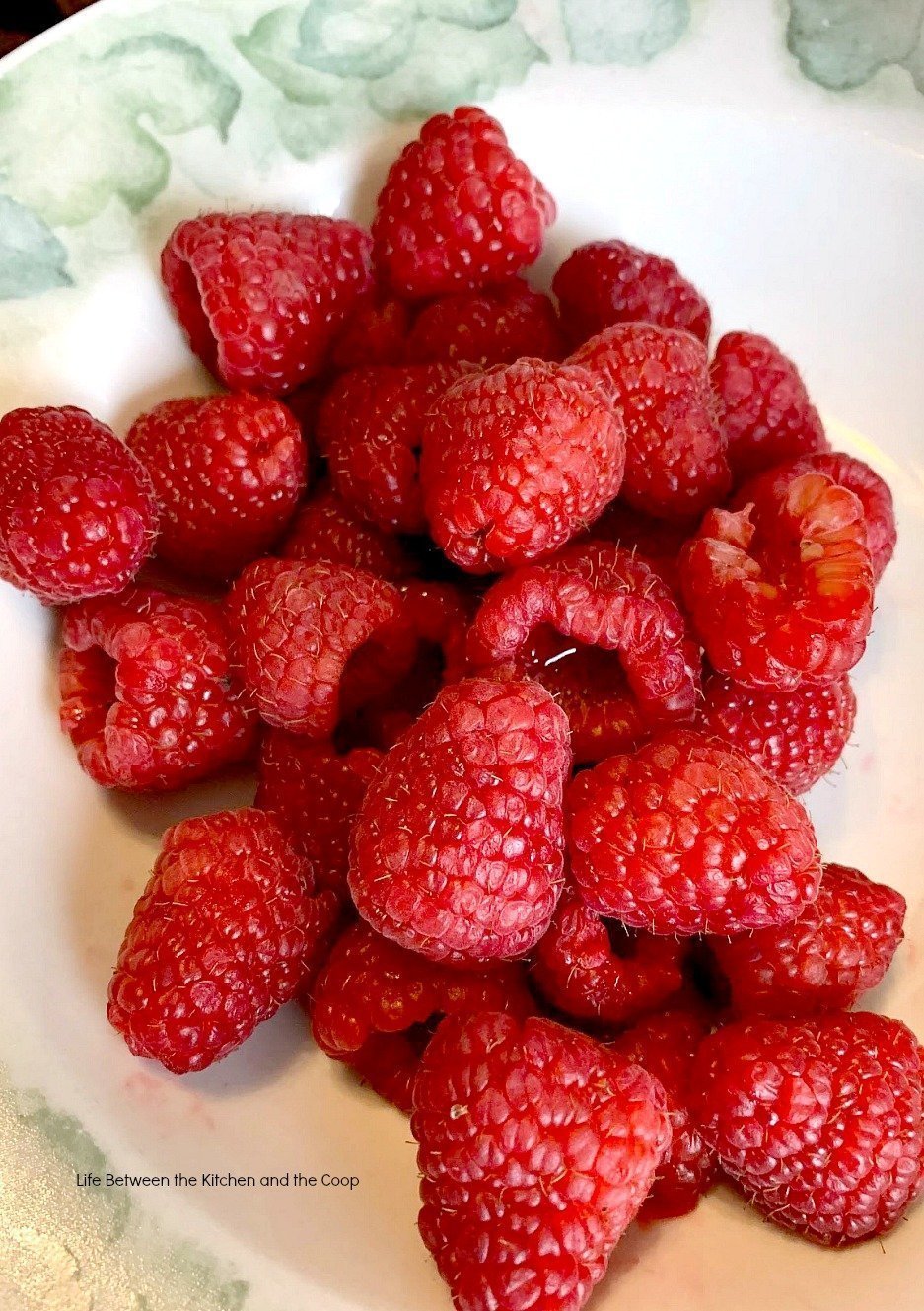 The process of actually dehydrating the raspberries does take some time, but there is very little you need to do for prepping. After that, your food dehydrator does all of the work! I'm going to walk you through the process of making dehydrated raspberries step by step! Ready? Let's get started!
Ingredients:
Up to 12 pints fresh raspberries, halved
Instructions for dehydrating raspberries:
The first step is choosing the raspberries. Whenever you dehydrate fruits or vegetables, it is important to choose fruit that is fresh. You have to start with quality fruit in order to have quality results.
Place the fruit in a strainer in the sink and rinse them well. I use the sprayer to do that.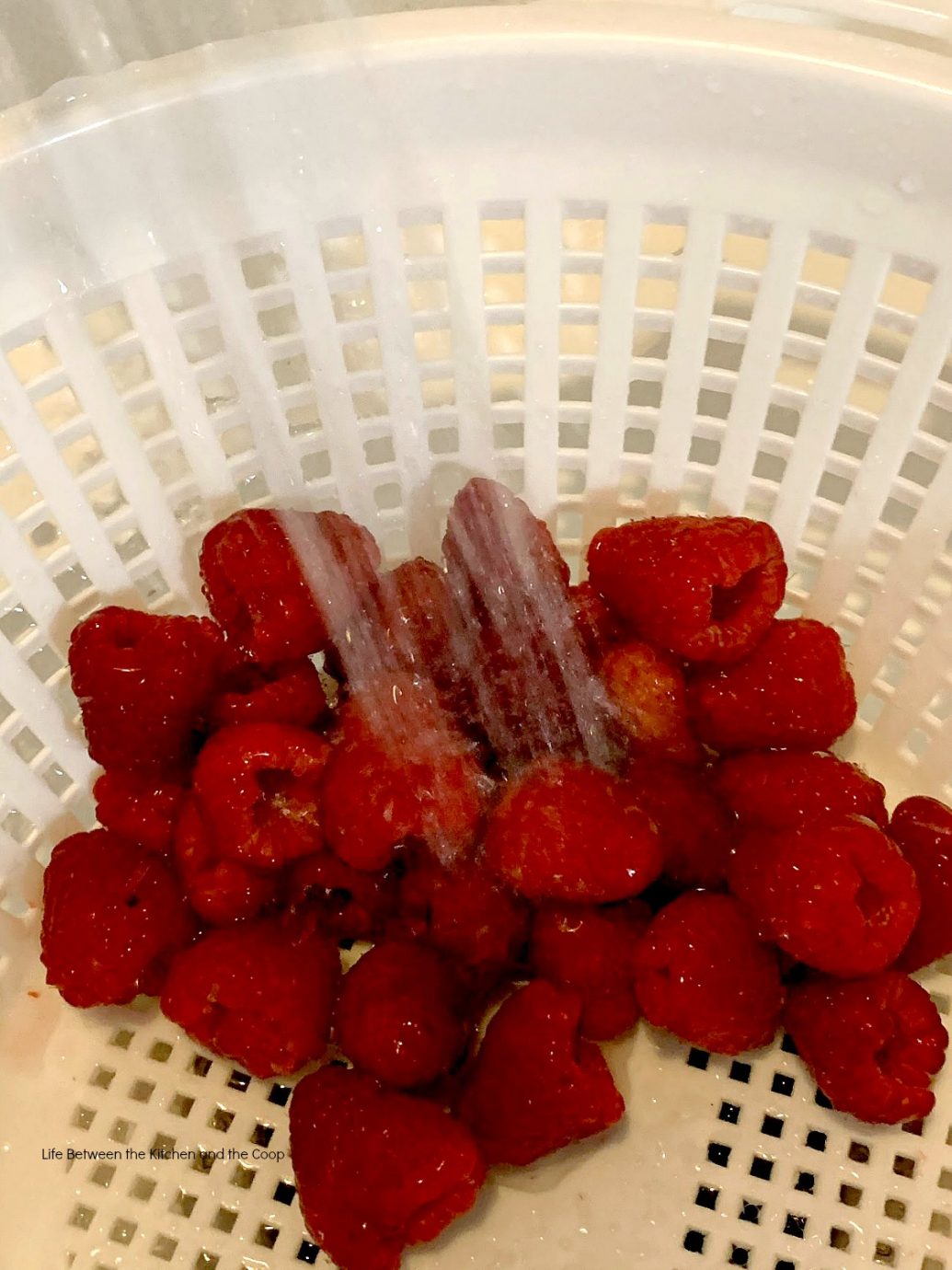 Once the raspberries are well-rinsed, remove them from the strainer (colander) and place them in a single layer on a towel or paper towels and gently blot them dry. If you don't, they will have excess moisture and take longer to dehydrate.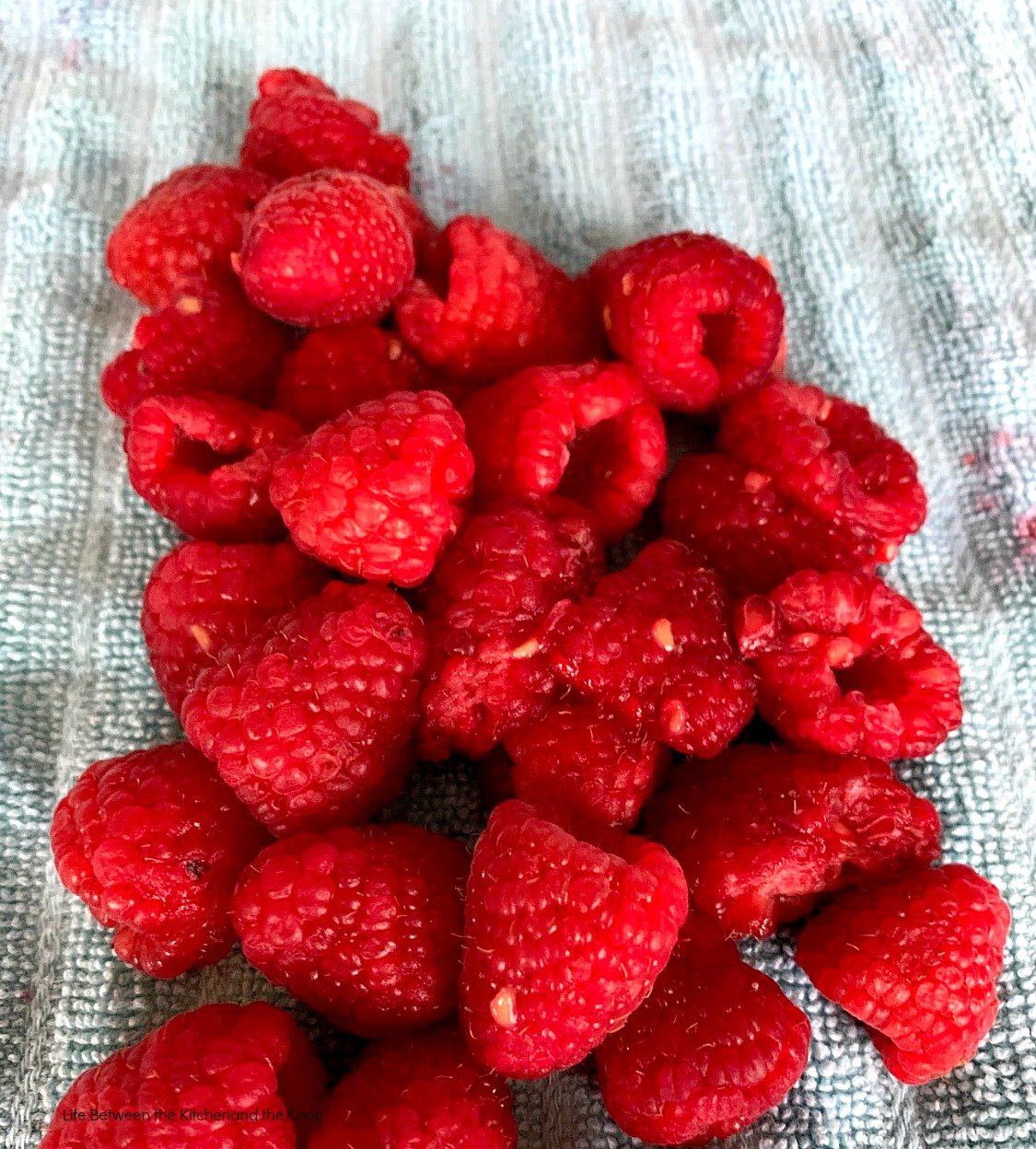 Cut the raspberries in half (I do it vertically) with a knife. If you do not want to cut them in half you could leave them whole, however, it will take them longer to dehydrate.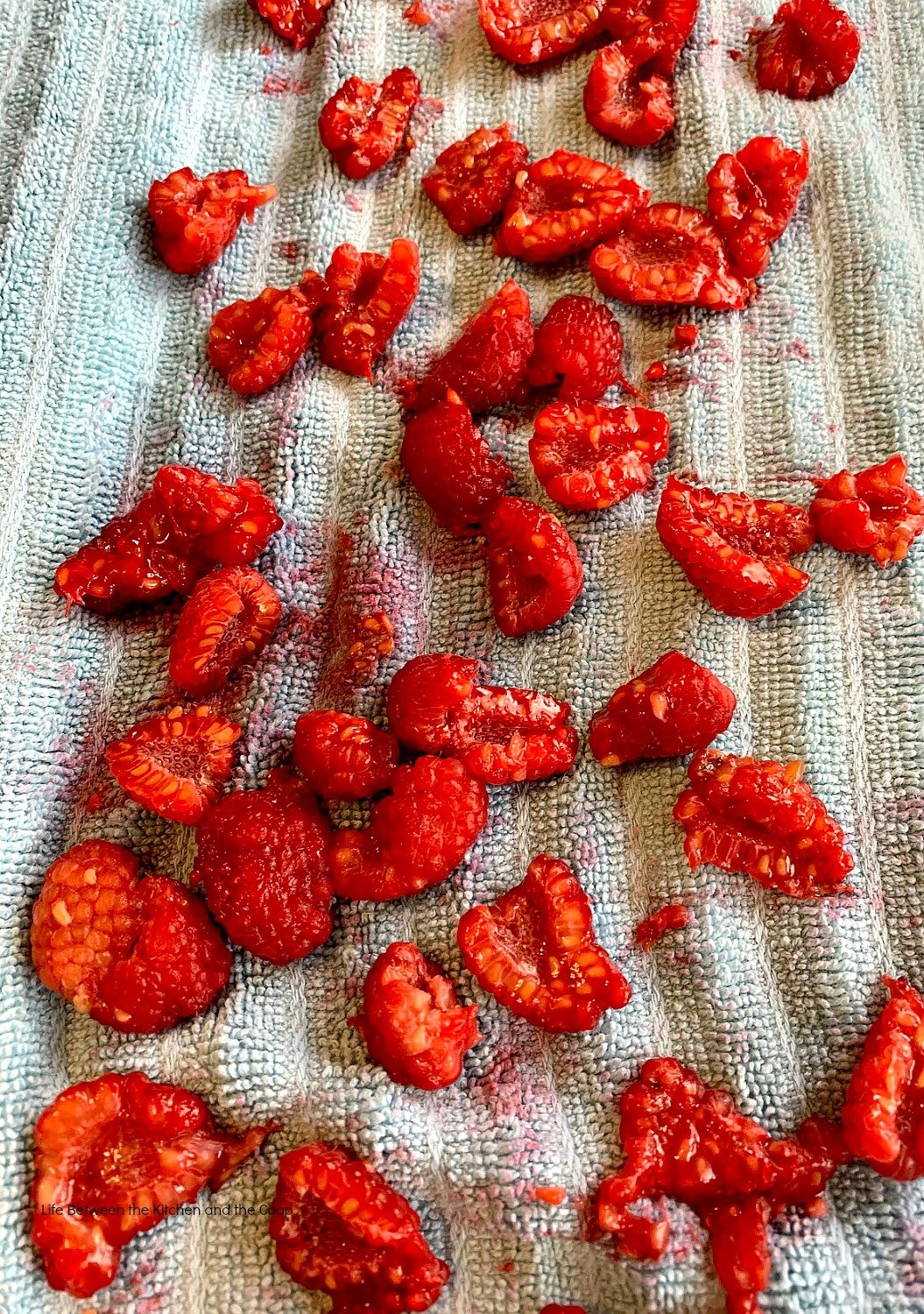 Place the raspberries on the food dehydrator tray, leaving space in between them to allow the warm air to circulate.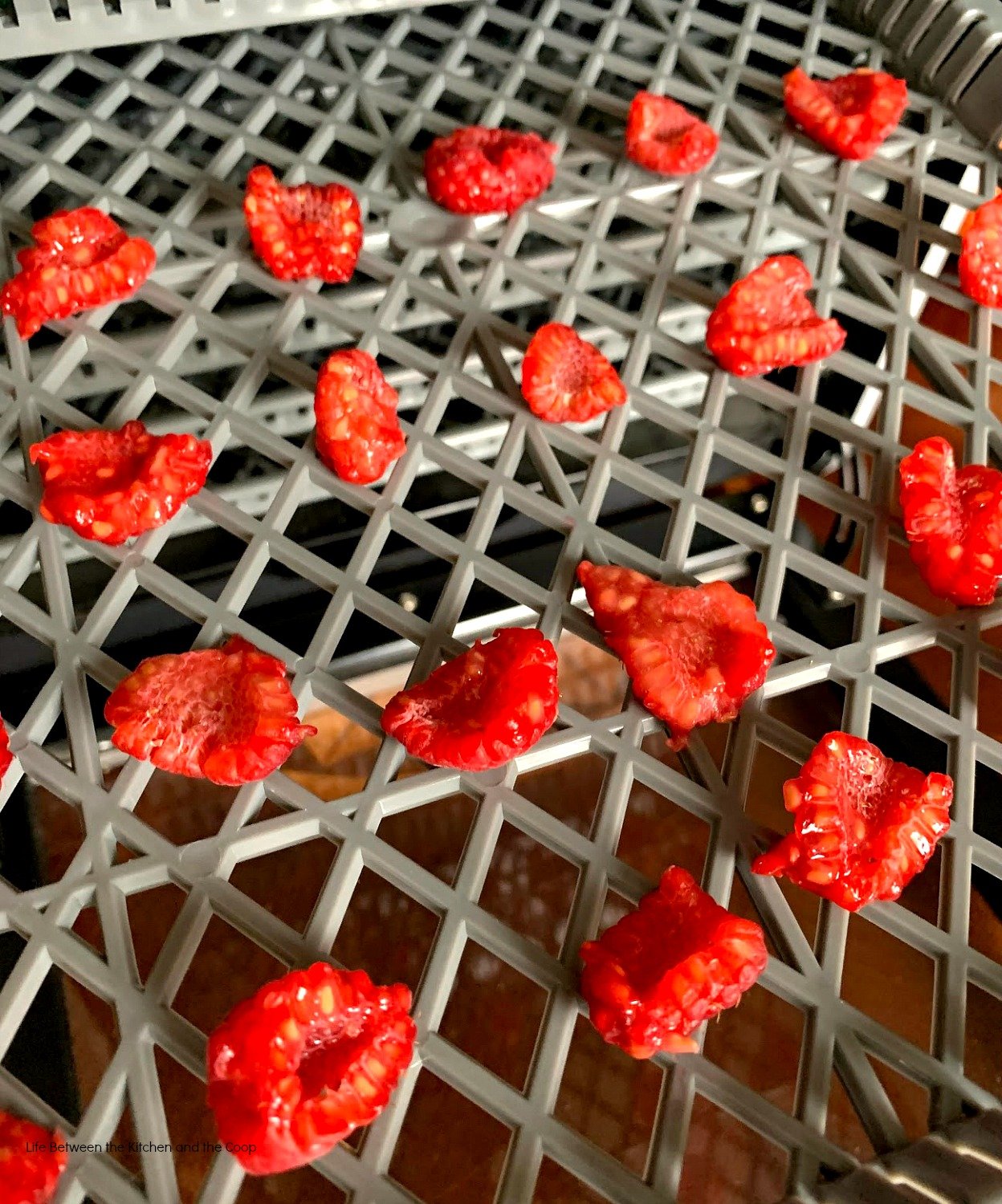 Put the tray(s) of fruit in the food dehydrator.
Turn the food dehydrator power on and set the heat for around 135-140 degrees.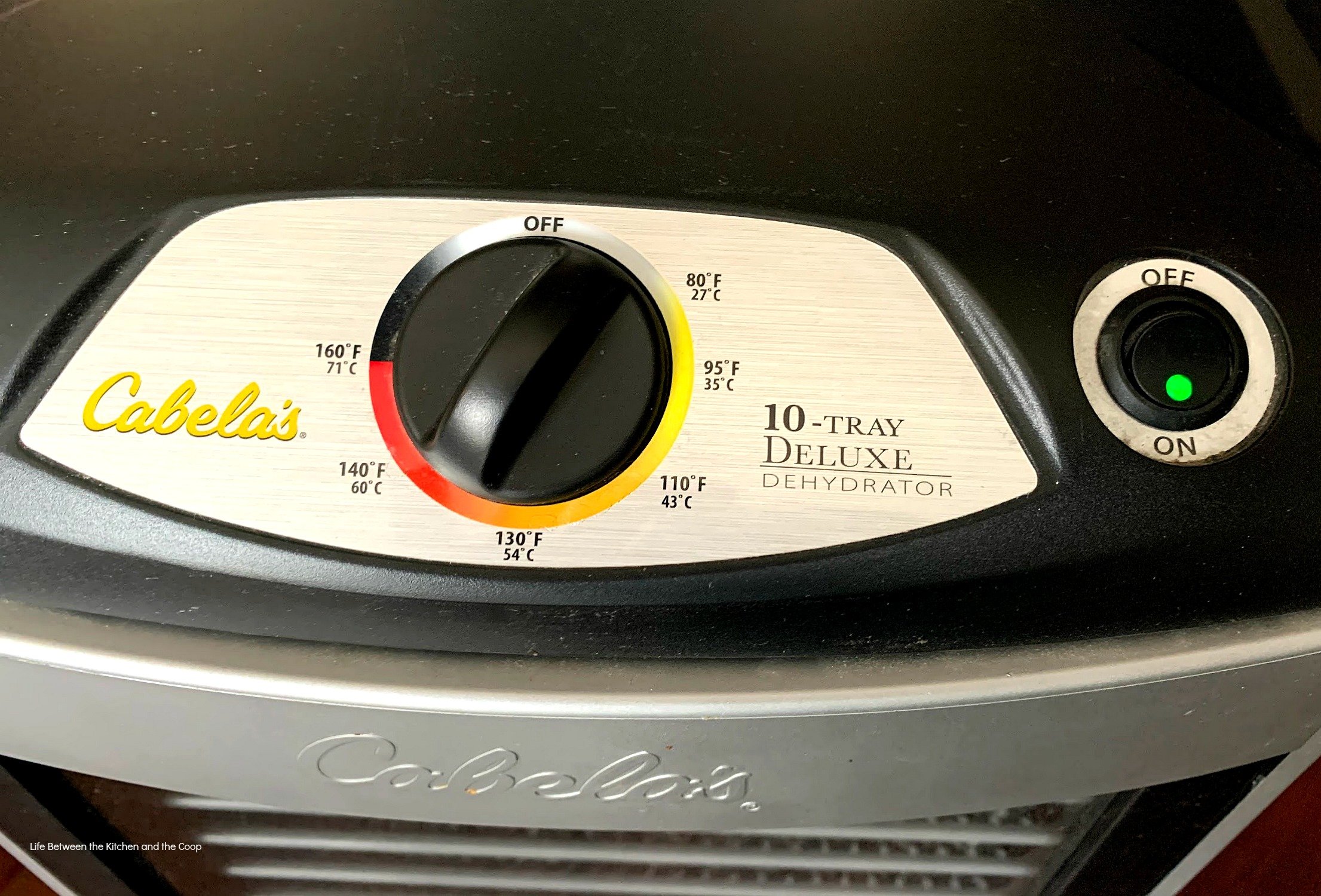 Dehydrate the raspberries in the food dehydrator for about 10 to 12 hours. Around the 10 hour point, I check the raspberries every hour or so. They are ready when you cannot feel any moisture or softness at all. When you take a bite they should be crunchy.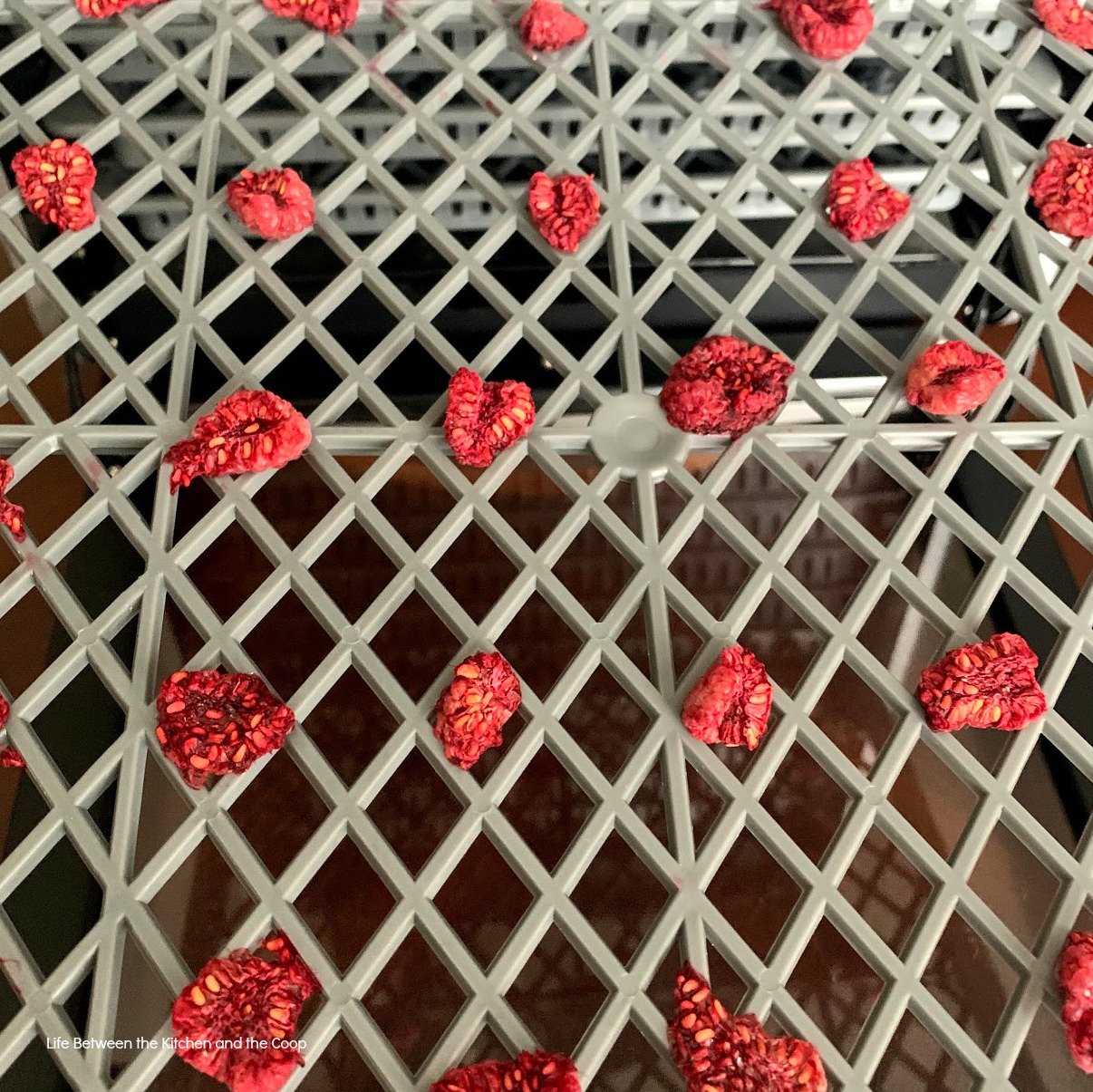 Vacuum seal the raspberries if desired.
These dehydrated raspberries are so yummy! I hope you enjoy this delicious, healthy treat!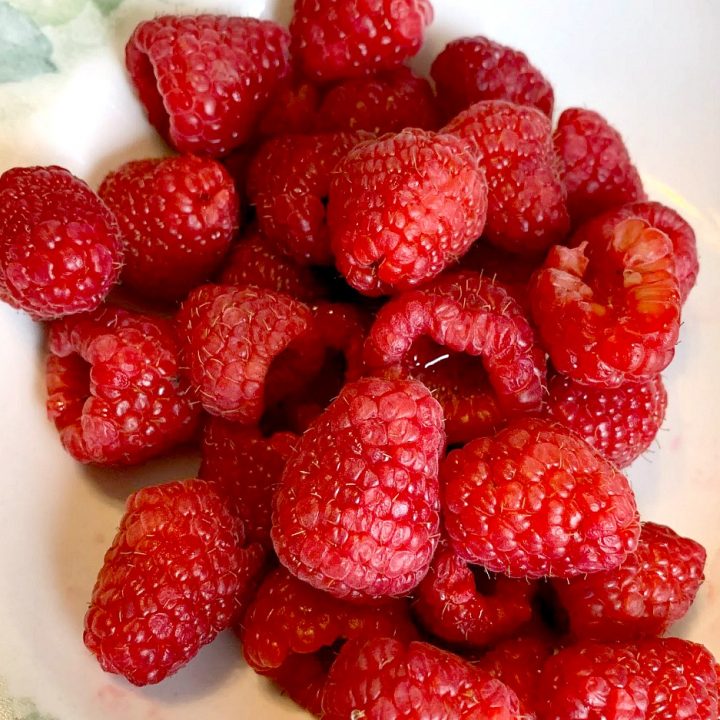 How to Make Dehydrated Raspberries for Food Storage
Total Time:
12 hours
15 minutes
Dehydrated raspberries are the perfect healthy snack for camping, munching on at work, taking the kids on an outing, or just snacking at home! They are so easy to make in a food dehydrator. If vacuum-sealed, they are a great addition to your food storage! They are vegetarian (and even vegan), too!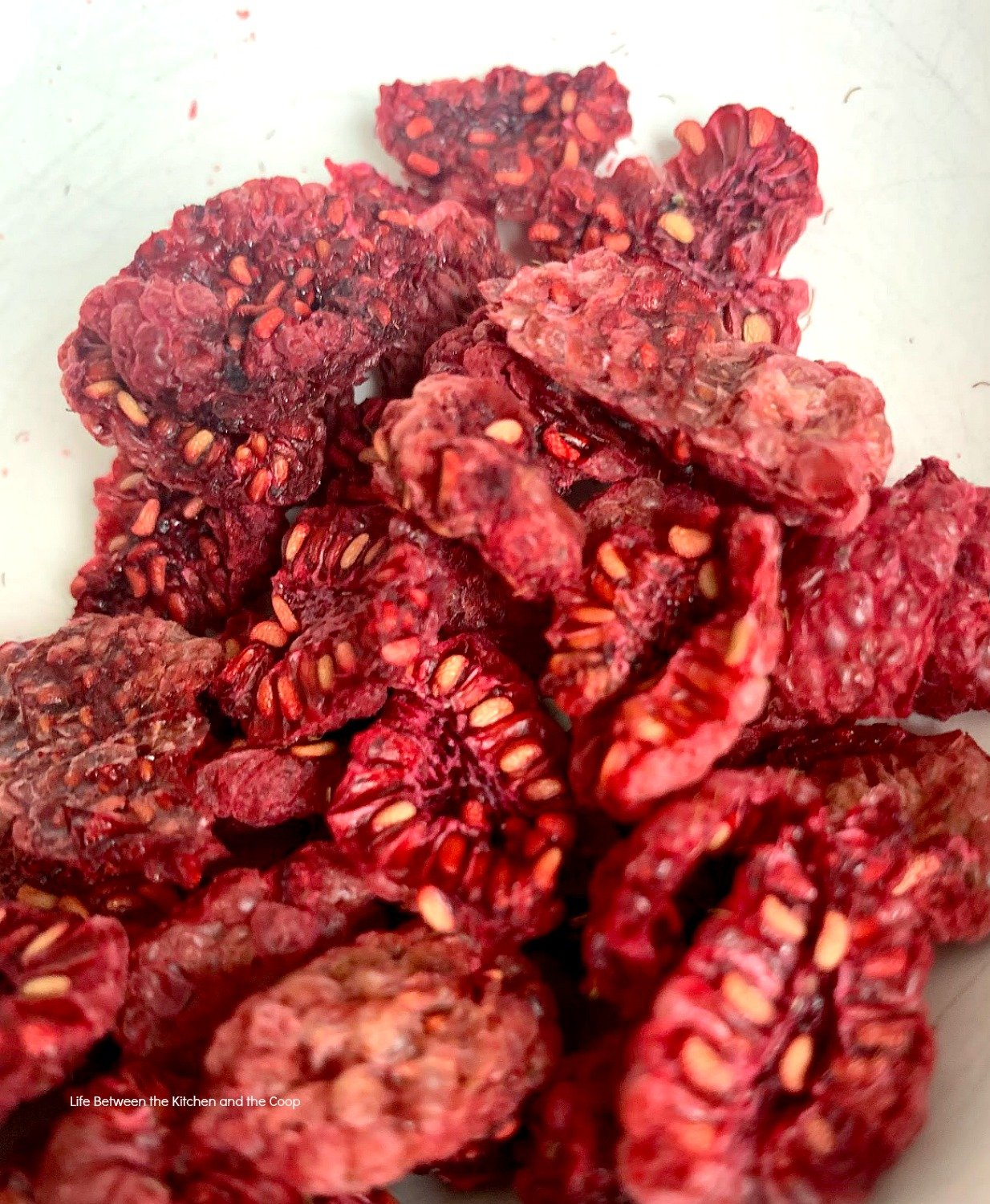 Once your raspberries have been dried in your food dehydrator, let them cool completely. Then be sure to use a vacuum sealer if you want to put it in your food storage. That will give them a longer shelf-life (up to a year). In fact, if you throw your vacuum-sealed raspberries in the freezer, they can last YEARS!
(Pssst…I have to mention that we love our vacuum-sealer! We use it for all sorts of things! It really helps fruits and vegetables stay fresh longer. We also use our vacuum sealer to divide up and store meat that we get in bulk. It's a great way to save things in smaller portions for freezing!)
*If you love preserving your produce so that you can taste homegrown produce all year long, be sure to check out the post Food Preservation Tips to Make Food Last Longer!
What is YOUR favorite healthy snack? Let me know in the comments. I really need ideas over here, you guys!
See you next time!
Deb
Please scroll down and share this post by using the Pinterest button! Thank you so much!
3 Emergency Prep Tips!
I can tell you three things that you can do THIS WEEK to have better emergency preparedness in your home!