We love Mexican food at our house…don't you? One of my favorites is chicken tacos. Here's a yummy recipe for the chicken to use in soft tacos, salads, or anything that you want to have a hint of southwest flair!
Chicken Soft Tacos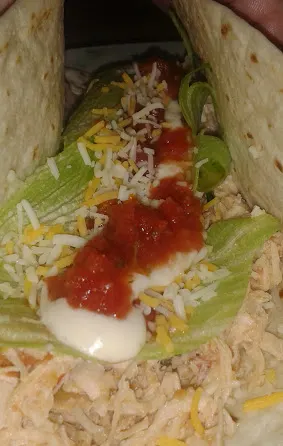 In the crockpot, place 4-6 boneless, skinless chicken breasts
1 package of dry taco seasoning
1 package of dry chicken gravy mix (sounds weird…but trust me, this is gonna be good!)
1 small can chicken broth
1 Tbsp diced green chilis
Slow cook on low for six hours. About four hours into the cooking time, shred the chicken with forks or cut up into small pieces with a kitchen scissors (I just stick my kitchen scissors right into the crockpot to do it!). Then continue cooking until the six hour mark so that the chicken can absorb some of the yummy liquid! Drain with a slotted spoon and place on warmed tortillas (yummy on a taco salad, too!). Top with your favorite taco toppings (ie. lettuce, tomato, black olives, shredded cheese, sour cream, guacamole, and salsa). Soooooooooo good!
See you next time!
Deb