Today I want to share one of my amazing snack recipes. These chewy peanut butter oat bars are so quick and easy to make and your family will love them! I love that you can individually wrap them in saran wrap and stick them in their lunches—they are great when you need a treat to-go! Last weekend I was craving something with oats in it…thinking cookies or granola bars. Instead of turning to Pinterest for ideas like I usually do, I decided to get creative and come up with something on my own. Guess what? They turned out amazing!
Chewy Peanut Butter Oat Bars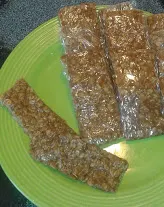 What you need:
2 1/2 Tbsp. butter
1/4 c brown sugar
10 oz. bag of large marshmallows
1 c peanut butter
1/4 c nutella
1/3 c honey
1/3 c ground flax seed
4 c oats (unprepared)
In a large saucepan, melt butter, then add brown sugar, marshmallows, peanut butter, nutella, and honey. Stir continuously. Once the mixture is smooth, stir in flax seed. Finally add the oats. Mix well. Spray two 9 x 13″ baking pans with cooking spray. Press the mixture tightly into the pans (like you would if you were making rice crispy treats). Let cool.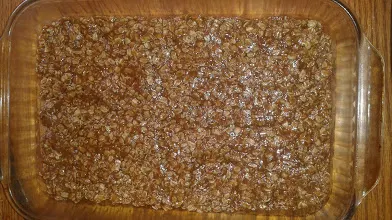 Cut into bars. If desired, wrap individual bars for take-along use in lunches, diaper bags, or your purse.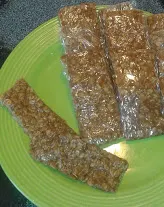 Two pans vanished in a day and a half at my house. Good luck holding on to them for long—they are yummy! You should give them a try 🙂
Deb
Follow me on Bloglovin'!