Let me introduce you to Apple Dump Cake a la Mode. You aren't going to believe how easy this recipe is! You just mix it, bake it, and top it with a scoop of your favorite ice cream. Voila! Sometimes don't you just want a yummy dessert without having to work for it? I know I do and today we had one that I love. It is ridiculously easy – 4 ingredients. Minimal prep time. Sounds great, right?
Apple Dump Cake a la Mode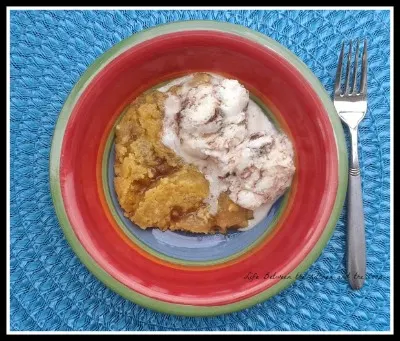 This post contains ads.
You know that kind of heavenly combination when you put a piece of warm apple crisp or warm apple pie with a scoop of ice cream on top into your mouth? The warm apples with the cold ice cream? Oh yeah.
Ingredients
2 20 ounce cans of apple pie filling
1/3 c butter (stick form works best)
1 box yellow cake mix
vanilla ice cream (or whatever flavor you want your a la mode to be!)
Spray a 9 x 13 " baking pan with cooking spray, then spread the contents of both cans of apple pie filling in to the bottom of the baking pan.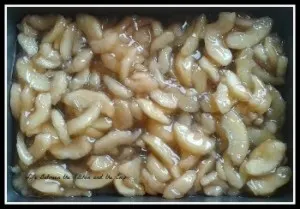 Sprinkle the dry contents of one package of yellow cake mix (unprepared) over the top of the apple pie filling.
Cut the butter into thin slices and place the pieces of butter all across the top of the cake mix, with some space between each slice of butter (see picture below).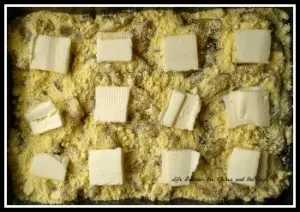 Bake at 350 degrees for about 15-20 minutes. Serve hot with a scoop of ice cream on top. YUM!!!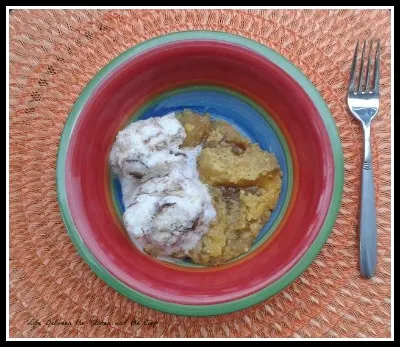 See you next time!
Deb
If you like this recipe, I think that you will love my Grasshopper Dessert Recipe! It is a chocolate chip mint ice cream dessert with an Oreo crust and hot fudge…soooo good!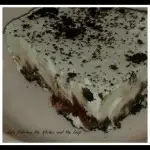 Follow me on Bloglovin'!