It's always a struggle to stay organized, don't you think? I know it is for me. That's why I want to share with you 9 day planner organization tips to organize a busy life. I want to help you get organized!
You may already know that I work as a registered nurse and still have a couple of kiddos at home. And then there is the house that never seems to be cleaned and organized as well as I think it should be.
Throw on top of that this blog. Now you might think, "Deb, you only post once or twice a month. Does it really take that much time?" My friend, YES.
Nearly every single day I do tasks for the blog. Whether they be social media scheduling, creating pins for Pinterest, creating Google web stories, creating recipes, taking photos, editing photos, or writing posts.
The to-do list goes on and on. There is a lot more behind-the-scenes work involved with blogging than most people realize. That's why I had to figure out a way to get better organized. Now I want to share those day planner organization tips with you!
How to Organize Your Day Planner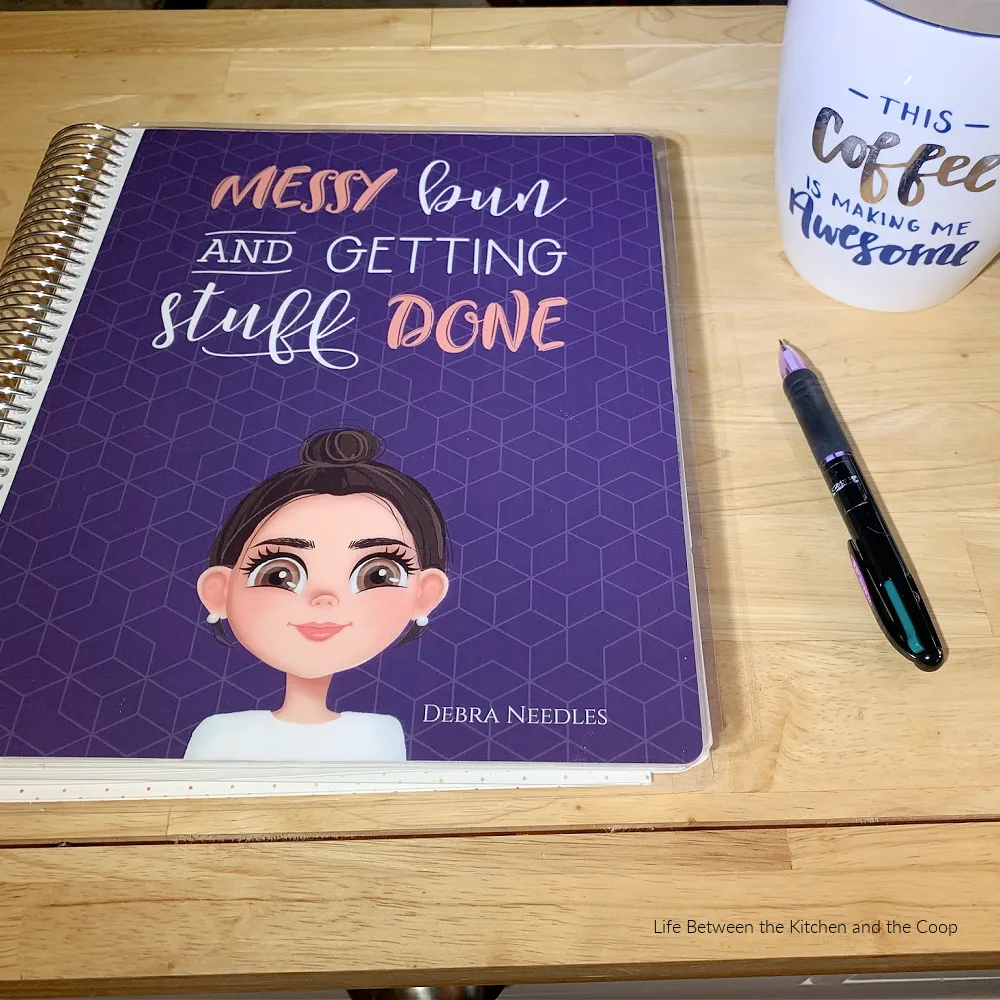 How to Use a Planner to Organize Your Life
First of all, I'd like to share 9 day planner organization tips that you should think about when you select your planner.
Customize your day planner to your planning needs. Do you need just a monthly planner? Or a more detailed weekly planner? Or a daily planner?
Would it be helpful to have a day planner with a financial ledger inside?
Do you like to have a place to write notes in your planner? Somewhere that you can write ideas or things that you want to remember? Perhaps a place to track food storage or plan what you want to plan in your garden.
Is your lifestyle travel-oriented? If it is, a planner that has somewhere to detail travel itineraries could be helpful.
Would you like your day planner to have a place for you to track your goals? Prioritize the tasks!
Would it be helpful to have a day planner that you can customize to being a student, your job, or volunteer activity with which you are involved? Or maybe you are planning a wedding and want a planner that will help you make sure that you don't forget anything.
Do you want to track your exercise in a day planner?
Would it be helpful to have different colored pens? Maybe a different color to mark off things that you have completed (that's the best feeling!)?
Do you want to have day planner stickers to make your planner more fun and colorful?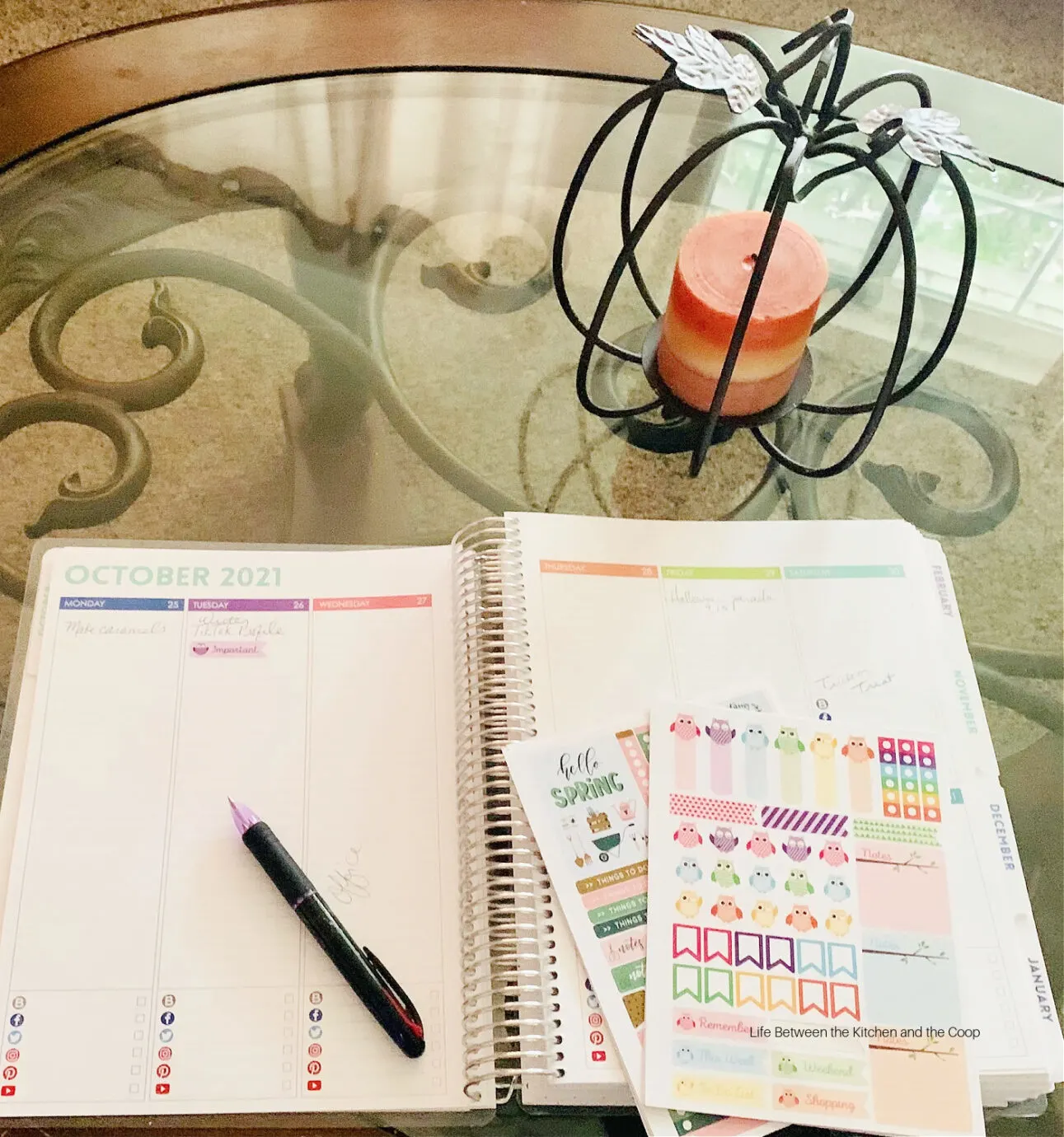 This post contains ads.
Keeping the tips above in mind, I want to share my planner journey with you and hopefully help you along your path, finding your perfect planner.
Like I mentioned, I have struggled to stay organized. I bet some of you struggle with it, too. Am I right?
Up until about a month ago, I used my Google calendar for everything. Every day, I did not get everything done, so every day I had to move tasks to another day.
Don't get me wrong, the priority things got done (usually). But all of the little tasks for the blog are difficult to stay on top of. Google calendar just wasn't the right format for me when I just have so many things going on in my life.
Think about your life. What are YOUR challenges when it comes to staying organized? What kinds of things are on your to-do list?
Maybe you need to be better about organizing your home? Maybe you work outside the home, too? Maybe you have church assignments, or participate in PTA, or have a lot of kids' activities to keep track of? Maybe you are a student? Or perhaps you are in need of the perfect school teacher day planner? Or a wedding planner? All of our lives are different. Our planners should be, too, don't you think?
We all have such different needs, based on our own individual lifestyles. Wouldn't it be great if we had a place to keep track of all the things?
Like a day planner that is organized just the way we like it? With little extras that suit our lifestyle? One that is uniquely you. And bonus if it is cute, right?
Guess what? There is!
I was thrilled about a month ago when a company called Purple Trail reached out to me and asked me to test-drive one of their customizable day planners. I had such fun looking through their website and selecting exactly what I wanted in my day planner.
I have been using it for a month now and it has been so helpful for me. I have an organized place to schedule my to-do's now, but there is more to it than that. I love that it is personalized to me. I got to choose a cute cover from a bunch of different options. I got to upload my own photos to design the back of it.
It also has great add-ons you can put in your planner, too, to make it even more helpful to you.
Customized day planner add-on options
One of my best day planner organization tips is that I have found that having the perfect personalized add-on's to suit your lifestyle makes a planner a valuable organizing tool. Here are some of the different add-on planner page options available in Purple Trail customized day planners:
Notes paper
To-do list
Password list
Checklist
Graph paper
Dotted grid
Fitness tracker
Nutrition tracker
Travel itinerary
Shopping list
Habit tracker
Party planner
Bill tracker
Important dates
Address book
Baby tracker and keepsake
Account tracker
Appointment tracker
Baby log
A variety of add-on day planner pages designed for school teachers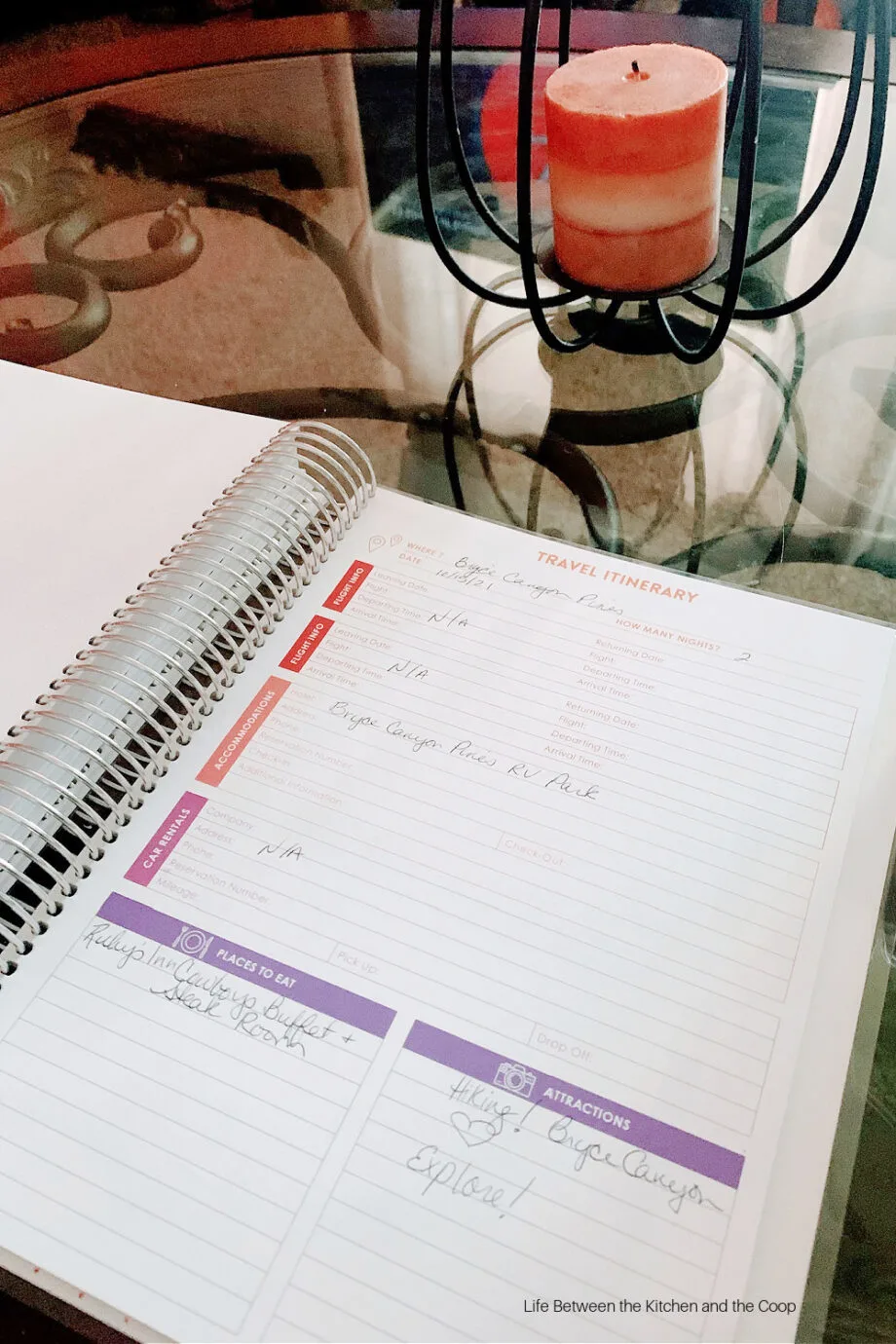 Fun bonus! Purple Trail has lots of fun stickers to help you organize with a little bit of personality. The photos of stickers you see are the ones that I chose, but there are a bunch of others that you can choose from that you can find on their website as you create a customized day planner.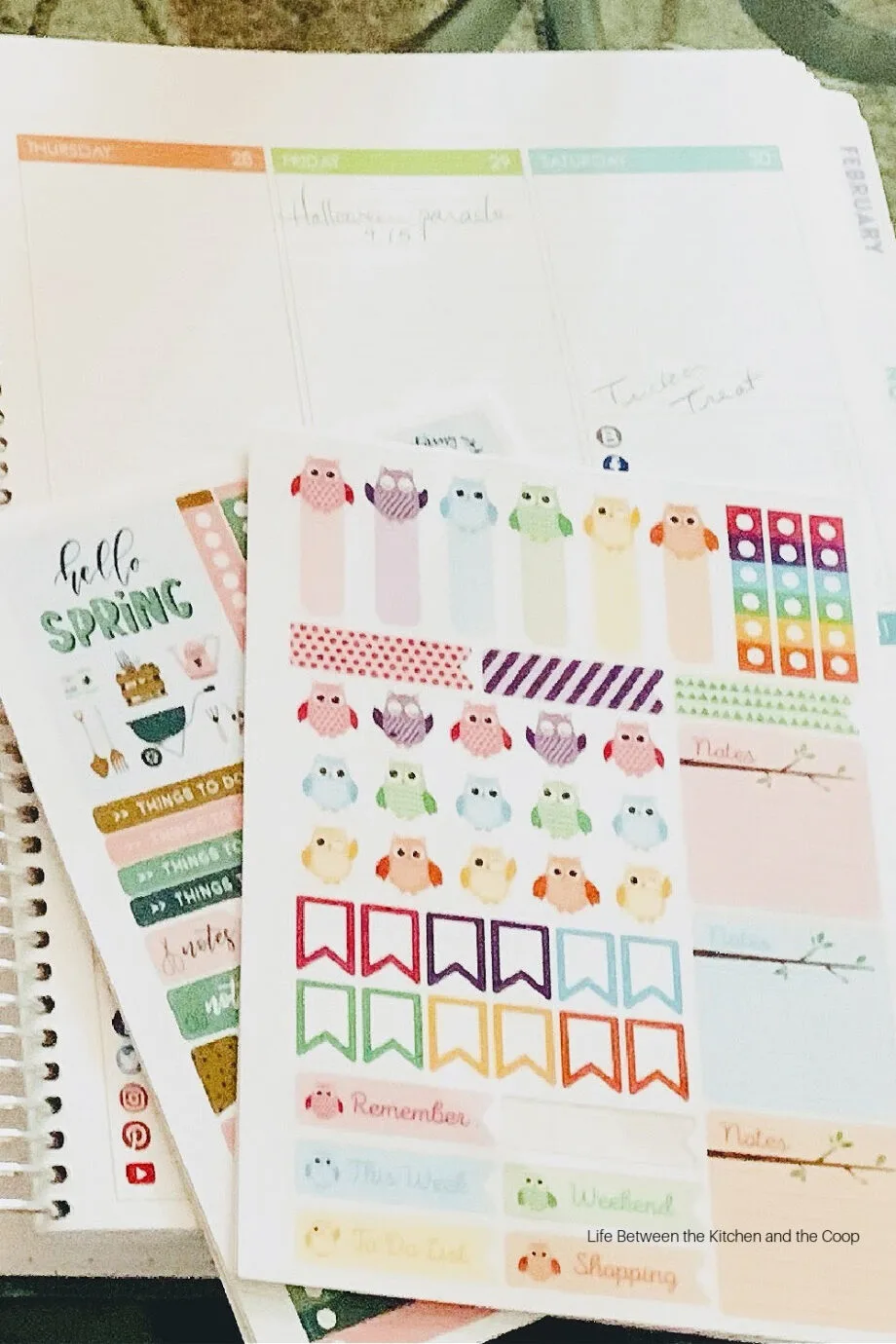 How to Organize Your Day Planner
When you create your own day planner, you can organize it to suit your life. If you decide that you would like to create a customized day planner just for you, I will walk you through the steps. Here are day planner organization tips if you want to customize your day planner.
2. Select the planner cover that is perfect for you. There are lots of fun options. Choose something that suits your personality!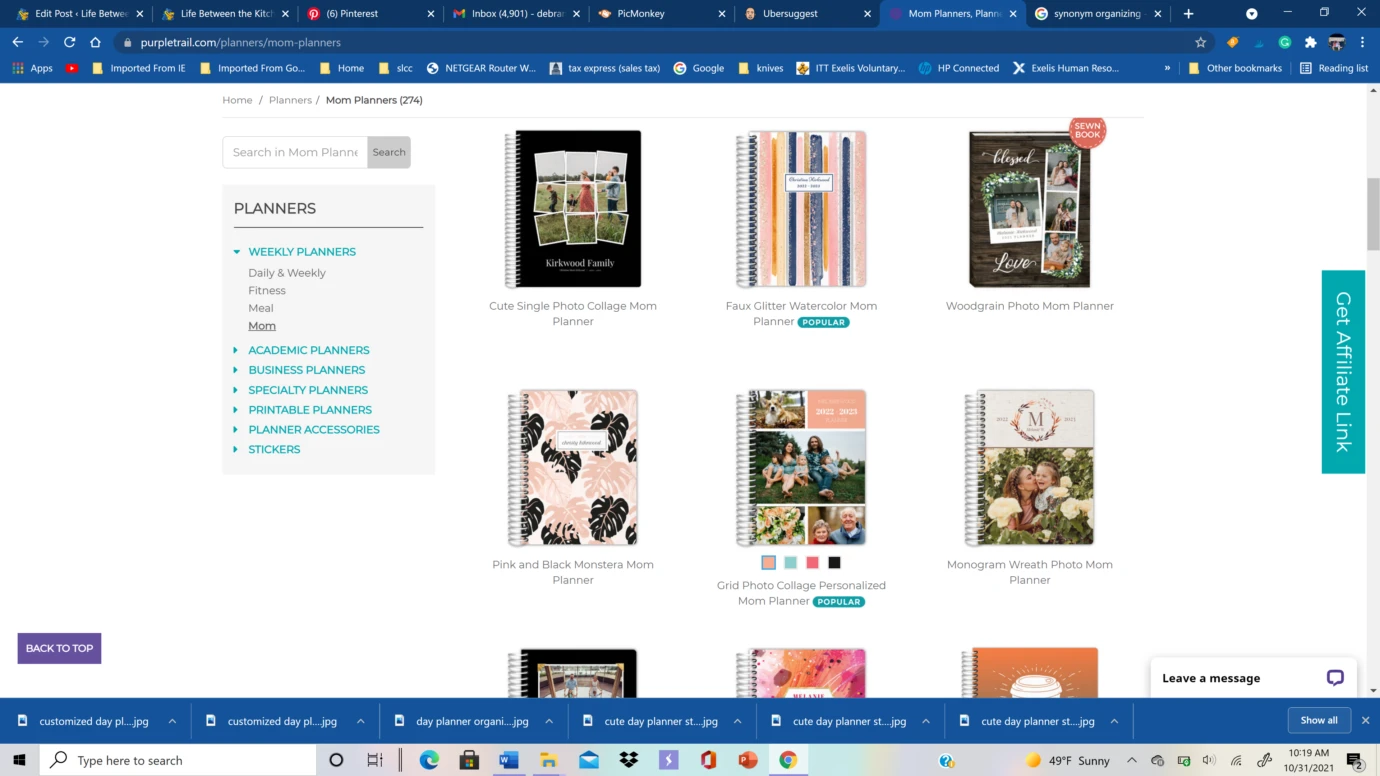 3. Select the size you would like. Do you want a small 6″ x 8″ day planner to fit in your purse or backpack? Or do you want a book-sized one (8.5″ x 11″), so that you have tons of room for writing lots of details?
4. Select whether you want a synthetic, laminated, or hard-cover for your planner.
5. Now you can start customizing your cover with your name, family photos, designs, or whatever you want. Here is a screenshot just to give you an idea of what that process looks like: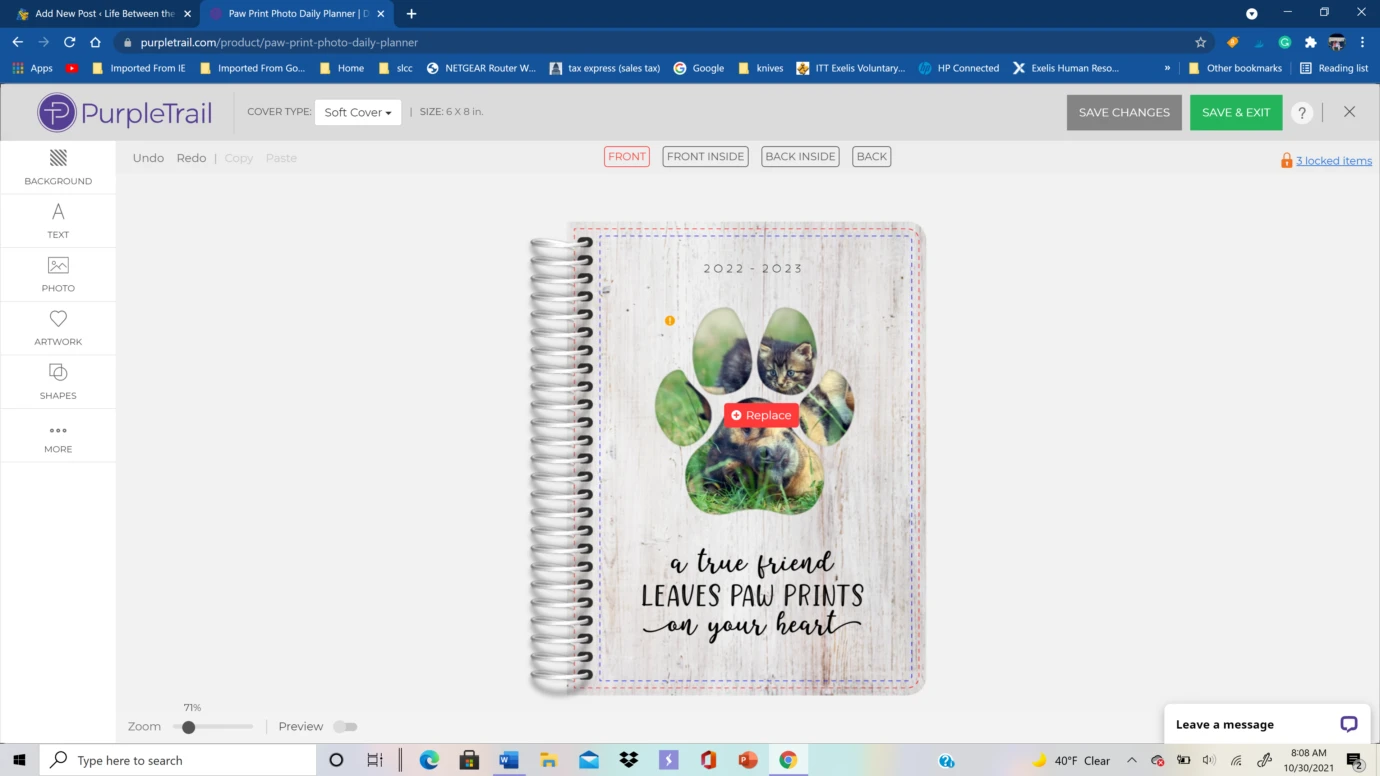 6. In the upper left corner you can click to unlock details that you want to change, which will take you to a screen like this: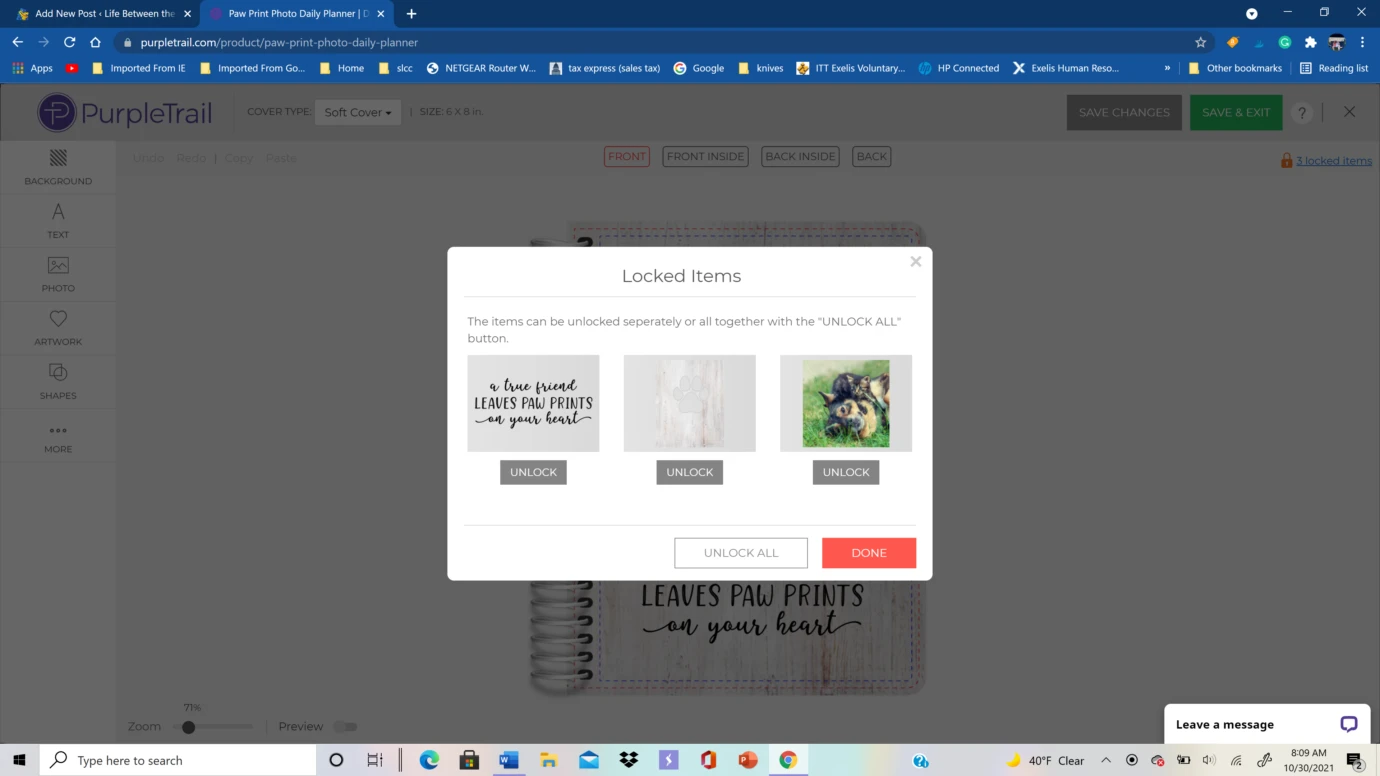 7. Above the picture of the day planner, you can also click on "front inside", "back inside", and "back", to customize those parts of your day planner cover!
8. Once you have finished your cover, "click inside page options" to start customizing inside of your planner!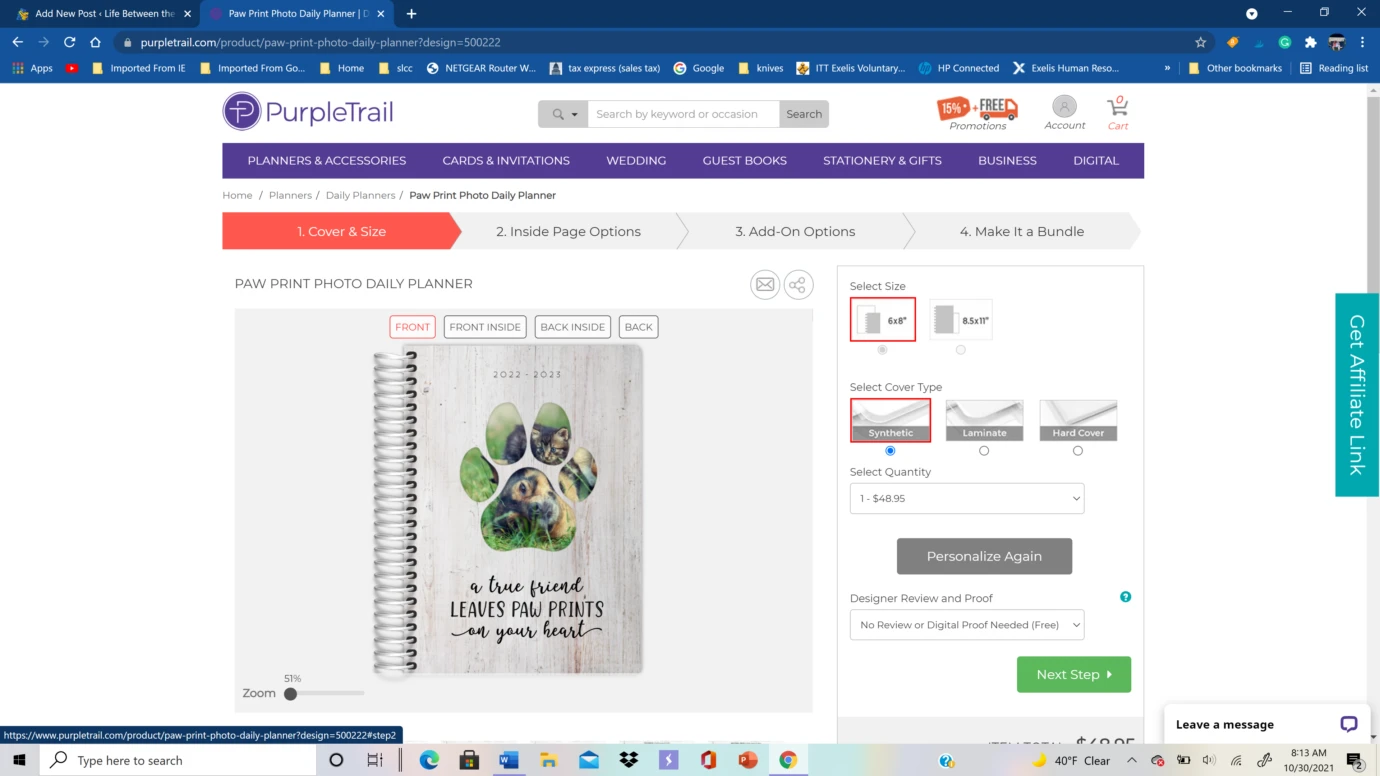 9. Once you are working on the inside of your planner, you can select from a variety of week layout styles, depending on how much space you feel that you need for each day. That way your day planner has the perfect amount of space for your personal planning style!
10. At this point, you also select the number of months you want your planner to contain. You can choose between 6, 9, 12, 15, or 18 months. You can also choose what month you want the planner to start, so if it is the middle of the year and you forgot to get a planner, no problem! Just have it start wherever you are in the year so that you aren't wasting blank months!
11. On the next screen, you will choose whatever options will make your planner the most functional and fun for you! You can choose add-ons (such as notes paper, to-do lists, password lists, checklists, graph paper, travel planner pages, and lots more!), add a pocket folder, or browse Purple Trail's collection of creative and colorful stickers to make organizing your life a little more fun!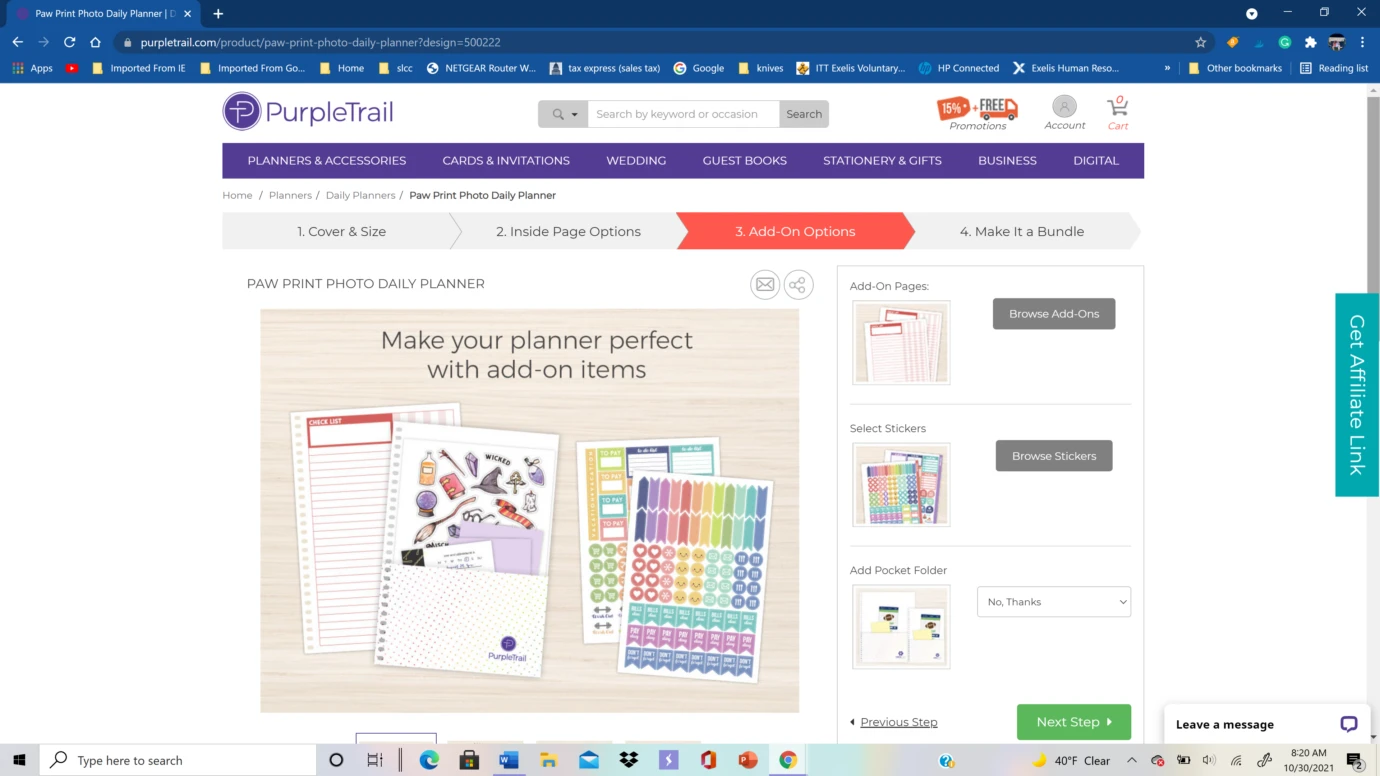 Now you know how to organize your life with a planner!
If you want to get started on your own custom day planner, check out Purple Trail's Website! They have other things besides planners, too, like custom Christmas cards, invitations, guest books, cards, and more!
I am obsessed with my customized planner! If you order one, be sure to let me know what you think once you try it out! Better yet, tag me on Instagram and show me a picture!
Also, make sure that you are following me on Pinterest for lots of other great homemaking tips!
See you next time!
Deb