Because I love you all so much (I really do!), I do a giveaway of a $10 Starbucks gift card EVERY MONTH just for our email newsletter recipients! Once you have signed up to be a newsletter recipient, then you will be entered in a drawing to win a $10 Starbucks gift card every month! It's that easy! Every month you have the same chance of winning…so sign up now! Maybe you will be our next winner! Plus if you are signed up for the newsletter you will get the latest updates of recipes and tips from here at Life Between the Kitchen and the Coop! (Don't worry-we hate spam, too. We won't send you junk!)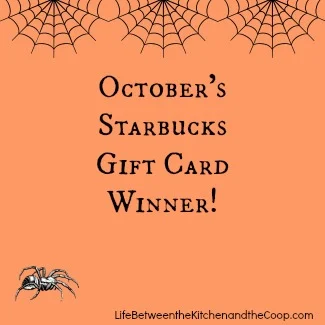 And now, the email of October's winner is:
If that is you, send me an email at [email protected] right away to claim your gift card! If it's not you, no worries! There is always next month!
See you next time!
Deb
P.S. If you haven't signed up for our newsletter yet, you should so you can be entered in our monthly Starbucks Gift Card giveaways!