This shop has been compensated by Collective Bias, Inc. and the makers of alli® weight loss aid. All opinions are mine alone. #alliInMyLife #After #CollectiveBias
I told you in August how I'm starting to work on trying to lose some weight, right? I hope you don't mind me sharing stuff like that. I know it's a little off topic for my blog, but the accountability factor really does help me whenever I want to say the heck with it and just eat whatever I want and not care. When those moments come along (and if I am being honest here, they come along pretty often), I remember that I have to be accountable to you.
So… let's talk about how I've been doing with that! I am logging my diet, exercise, and water intake in the MyFitnessPal app when I remember. I'll admit that I don't do that as faithfully as I should, but I try. It is helpful to log the things that I eat especially. It helps me to remember not to overdo it. Another thing I have noticed – I need to do better at drinking more water and less soda. I am a sucker for my Diet Coke. The exciting thing is that I have now lost a total of 10 pounds! Tightening up my diet control has been a work in progress. I am doing better, but still not where I need to be on that. I am so happy that the spare tire around my midsection is a little smaller! Yay!
Since I started working on losing weight, I have also been really good about logging my weight loss progress in the MyFitnessPal app. Here's a little screenshot of my weight loss graph (sorry, I blacked out the numbers…I'm not telling what I weigh!):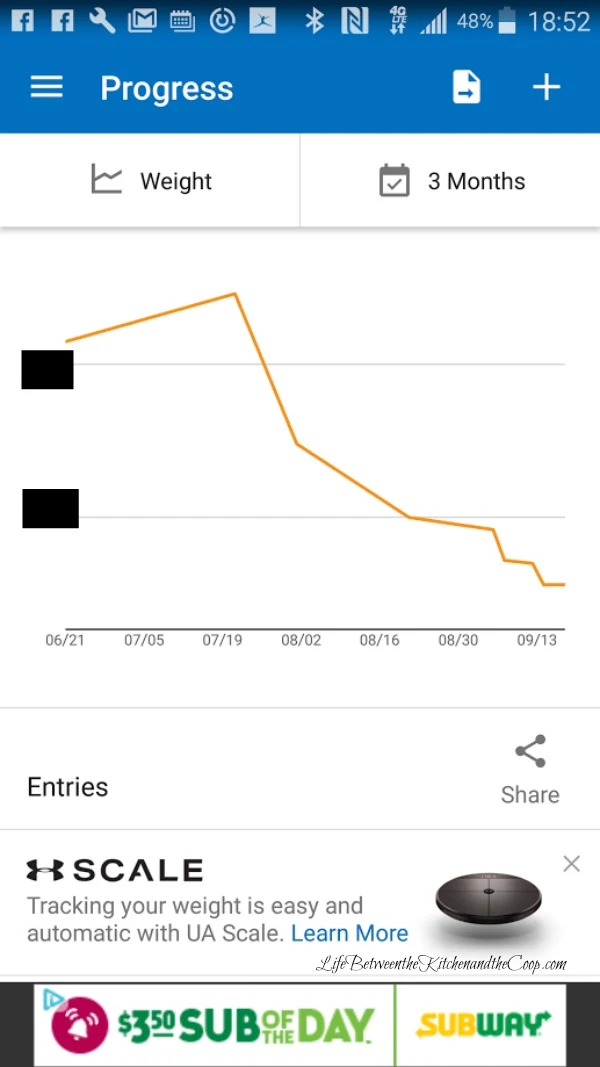 Here's a look at me when I started working on this (look at that tummy fat!):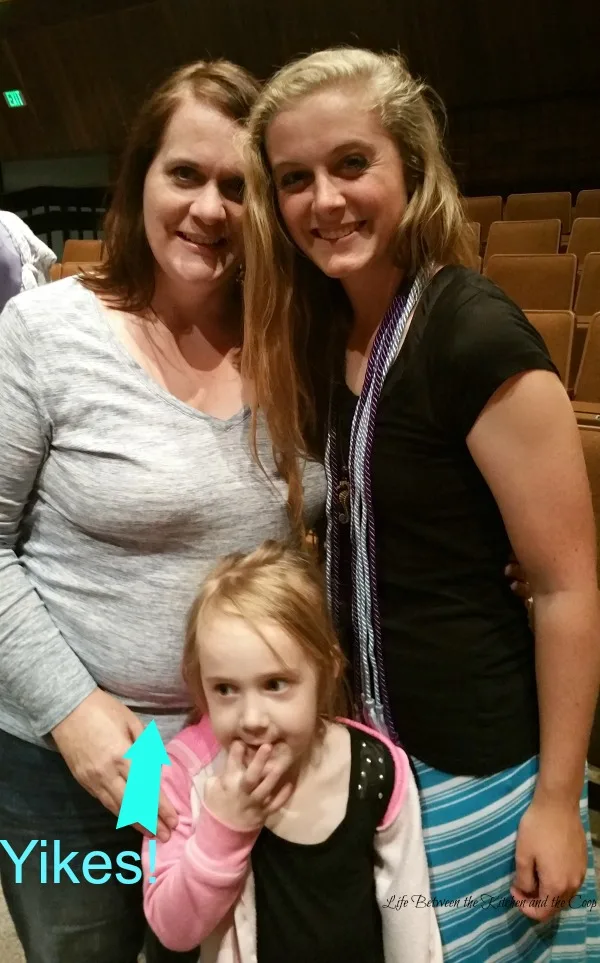 Here's a picture of me with my husband at our son's wedding recently, after 10 pounds of weight loss (the belly isn't gone, but it's gettin' smaller!):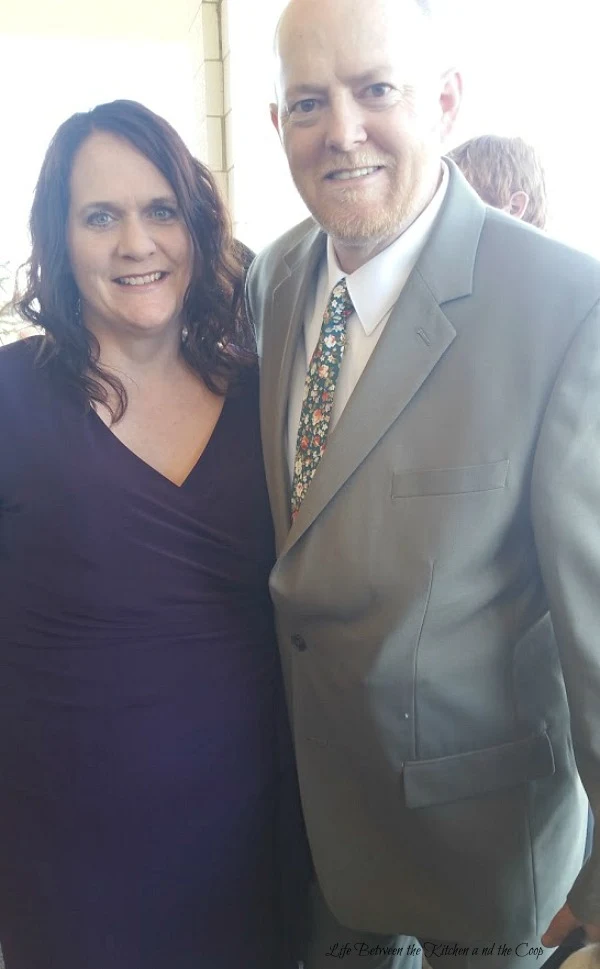 Like I said, I have been eating better, although definitely not perfectly. Mind you, I'm not sure a perfect diet is ever going to be in the cards for me. I just like food too darn much. One good thing is my husband and I are gardeners. The tomatoes, zucchini, green beans, corn on the cob, and pumpkins that we've gotten from our garden harvest this year have made it easier to eat more fresh produce. Here's a little peek at some of the amazing garden produce we've grown. (I love having an over-abundance like this!)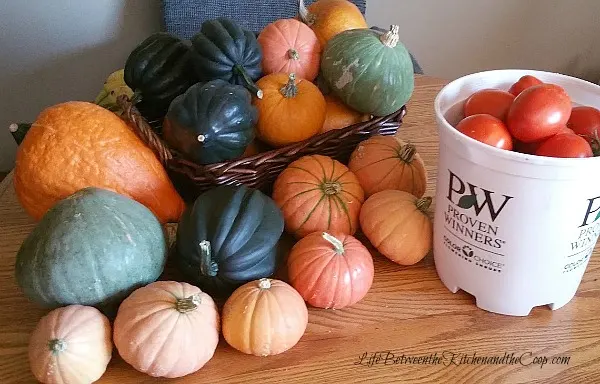 We've also grown some zucchini. Last week I made zucchini marinara that was delicious. I have also already canned 10 pints of homemade salsa! Here are some of them…don't they look yummy??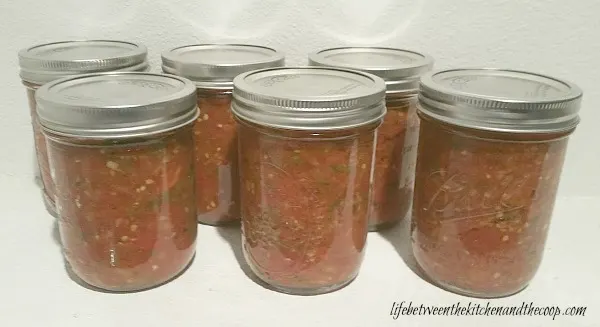 The great thing is homemade salsa is very low calorie! And it goes great on top of some scrambled eggs made from the eggs of our backyard chicken flock!
Besides fine-tuning my diet, I'm still taking my alli® weight loss aid, that weight loss aid that I told you about that I got at Target. It blocks 25 percent of the fat that I eat.* I have been trying to have a low-fat diet for the most part, although I do admit I indulge here and there. I have to keep it real when it comes to my diet or else I won't be able to sustain the weight loss. I feel good about trying alli® along with my low-fat diet because it is the only FDA approved over the counter weight loss aid.
Since we are talking about my weight loss, you are probably wondering how I am doing with my exercise. I have been working on my push-ups. When I started out I could do 4 or 5 push-ups before my upper arm muscles fatigued and said "no more". I've been working on it, though, and right now I max out at 20 push-ups at a time. Also, you may recall in my last post I set a goal of walking on the treadmill 3 times a week. I will be honest-it's been more like twice a week so far. I'm going to keep working on that. That said, I am excited that I have lost 10 pounds. It is progress! I am not where I want to be, but I will get there!
Have you been working on losing weight along with me? If you are I would love to hear how you are doing! If you haven't started working on it, but it is a goal for you, it's never too late to start! Remember to check with your doctor before starting any exercise program, though! Here's to a happier, healthier life!
See you next time!
Deb
*alli® (orlistat 60 mg capsules) is for weight loss in overweight adults, 18 years and older, when used along with a reduced-calorie and low-fat diet. Follow label directions. In studies, most people lost 5-10 pounds over 6 months.