Hello, my friends! Are you ready for Easter? It's coming right up! Some of our older kids will be coming to town, so I am excited! I hope your Easter is full of family and fun! But before that, it's time once again to announce the winner of the March Starbucks gift card drawing, where you have the chance to win a free Starbucks gift card just for subscribing to my newsletter! Haven't subscribed yet? Click here to subscribe now so that you will be entered to win in next month's drawing!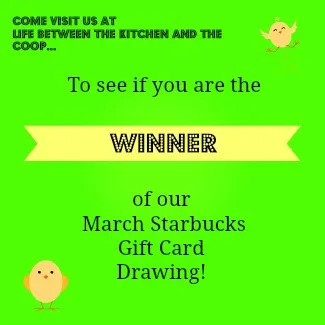 Without further ado…the March 2016 winner of the Starbucks $10 gift card is:
[email protected] : send me an email at [email protected] to claim your prize!
If you didn't win the Starbucks gift card this month, don't lose heart…if you are signed up for my newsletter you are automatically entered in the drawing EACH AND EVERY MONTH! If you aren't already signed up for my newsletter, you can read about it and SIGN UP HERE! You can also sign up for the newsletter (and be registered to be in the monthly Starbucks gift card drawing) in the sidebar or in one of the optin boxes on this site! (Don't worry…I hate spam, too! I promise you will only get one or two emails a month from us. I won't flood your inbox!)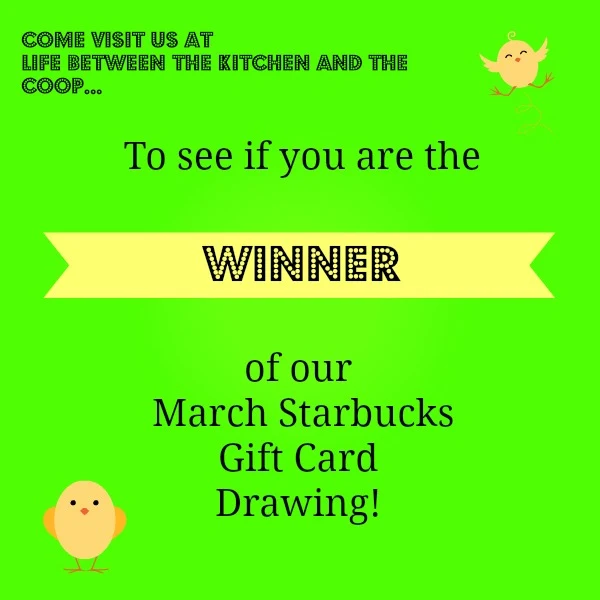 See ya next time!
Deb
P.S. Did you check out my post this month that had 5 Easy Chicken Recipes to Make for Dinner? Click here to get some help with dinner ideas for tonight!