My husband's creation, Raspberry German Pancakes, is one of our favorite breakfast recipes. You heard me right. Raspberry German pancakes. My hubs makes them all of the time. They are SO yummy! The pairing German pancakes and raspberry jam is really quite heavenly. You are gonna love it, my friend! If you have been reading my blog for very long, you probably already know that we have chickens in our backyard. "The girls" (that's what I call them) give us plenty of eggs. Like right now I think there are about 4 dozen in the fridge. So of course we eat a lot of eggs. Well, we also happen to have raspberries growing in our little urban homestead garden. What do I do with lots of fresh raspberries? Make jam, of course! Pair the jam with German Pancakes and you have utter perfection! Sound good? Read on, my friend!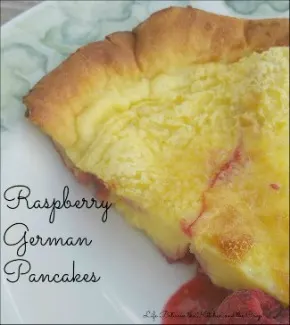 This little video clip shows the technique my hubster uses for the raspberry jam (and be sure to subscribe on YouTube if you haven't already!):
This post contains ads.
Before I get started with the recipe, I should mention if you looooove raspberries as much as I do, another great recipe to try out is my New York-Style Cheesecake and then substitute raspberries for strawberries in the drizzle that goes over the top. You can find that recipe here.
Raspberry German Pancake Ingredients
6 eggs
1 c flour
3/4 c sugar
1 c milk
2 Tbsp butter, melted
2-3 Tbsp raspberry jam (if the jam is firm, let it sit out for a bit to get it to a consistency that is easy to drizzle over the german pancake batter)
Note: My husband swears by making this in our round stoneware baking dish. He won't make it any other way. I tried to find a link to the same pan we have, but this was the closest I could find. If you don't have stoneware, you ought to try it. It is wonderful! Here is an affiliate link if you want to check it out:
Raspberry German Pancakes
While you mix the batter for the raspberry german pancakes, put the baking dish you are going to use in the oven at 350 degrees (to heat the dish). While it is heating, whisk all of the above ingredients together in a bowl,

except for the raspberry jam and butter

, until combined.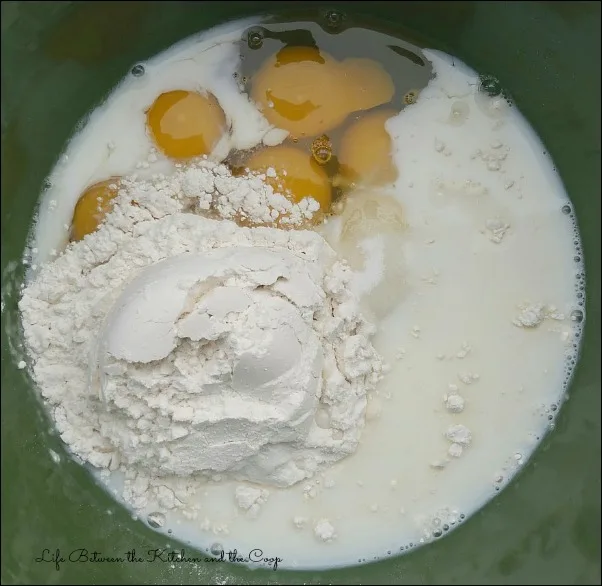 Once you have your mixture ready, take the heated baking dish out of the oven and put a couple of tablespoons of butter into the dish and swirl it around the dish and let it melt. Once the butter is melted completely, the bottom of the pan should be coated.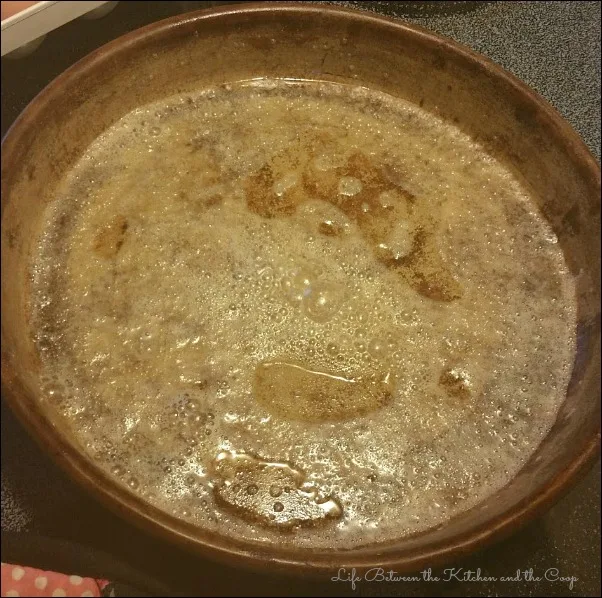 Pour in the german pancake batter.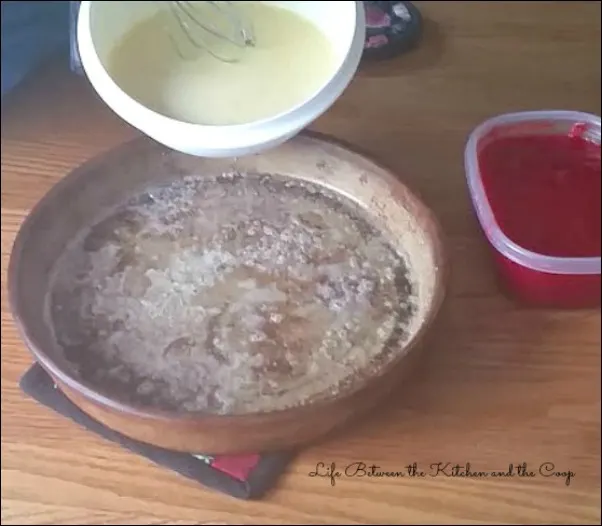 If you don't have time to watch the quick video, using a fork, drizzle the raspberry jam across the German pancake batter. It will sink a little…that's ok. When you are done it should look something like this…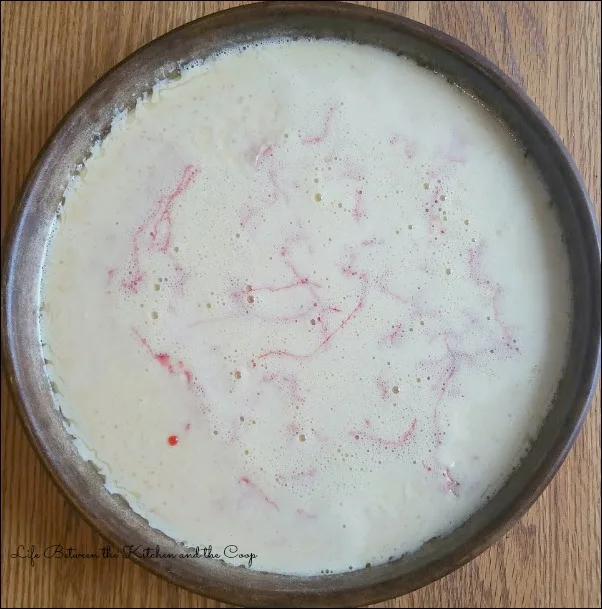 Bake your raspberry german pancake at 350 degrees for about 15 minutes, until it is nice and…well…you know…poofy like a german pancake should be! Something like this…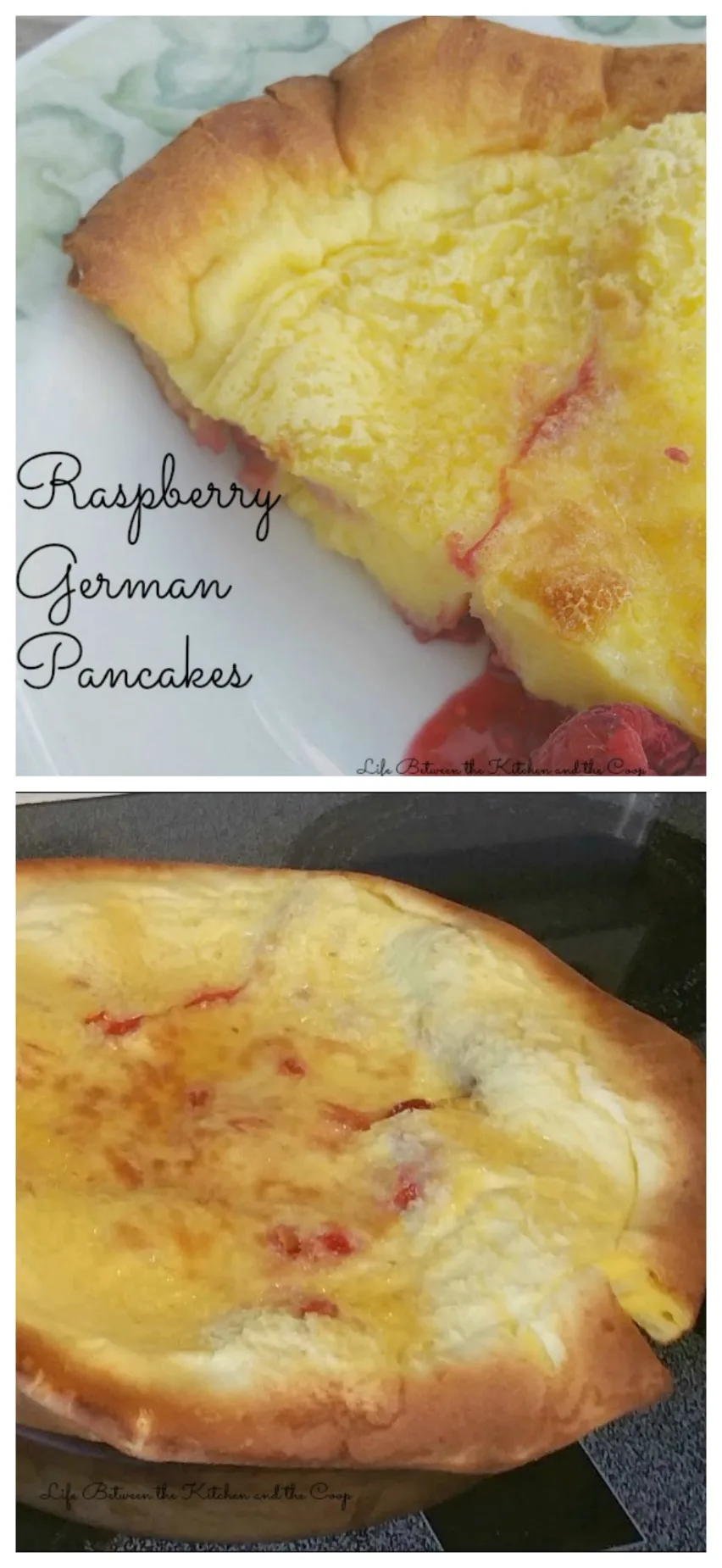 Before I go, I want to remind you to remember to click on through this link and follow me on Facebook so you don't miss a single recipe or homesteading tip! Once you have done that, go ahead and get started on making that German pancake! Once it is done, just cut yourself a slice! I like to put a little dollop of raspberry jam on the plate next to my Raspberry German Pancake for dipping. YUM! You will love this! Such a yummy breakfast or late night snack! Let me know what you think!
See you next time-
Deb
P.S. If you love raspberries like I do, you should definitely check out my delicious Fruit Pizza recipe!