This recipe for Easy Butterscotch Haystack Treats is one that my mom always used to make at Christmastime – so it's a little Christmas tradition that I am carrying on in my family. I usually make some of these with the butterscotch chips and some with chocolate chips. I loooove the butterscotch, though…it is my fave, hands down!
One of the best things about Christmas is the treats, don't you think? So many wonderful desserts, candies, candy canes in my Christmas stocking…I love all of it. My sweet tooth is always a very happy camper in December! Anyway, you should definitely give these a try. They are so easy and one of my favorite Christmas recipes!
Easy Butterscotch Haystack Treats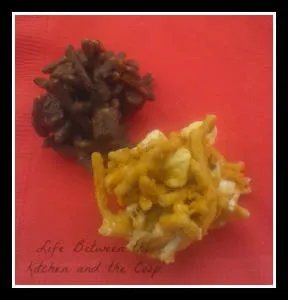 Ingredients:
12 ounce bag of butterscotch (or chocolate) chips
4 cups of chow mein noodles
1 1/2 cups of mini-marshmallows
Directions:
In a double boiler, melt a 12 oz bag of butterscotch chips (or chocolate chips, if you prefer). If you don't have a double boiler (I don't), don't worry. Just get a medium metal bowl and set it on top of a small sauce pan with two inches of boiling water in it. It works perfectly. Don't boil the water any hotter then medium to low heat…if you get it too hot, the melted chips can get stiff and hard to work with.
Once the butterscotch chips are fully melted, remove them from the heat and stir in 4 cups of chow mein noodles (if you have trouble finding chow mein noodles at the store, they are usually either by the Asian food items or else yesterday I found them by the chocolate chips)…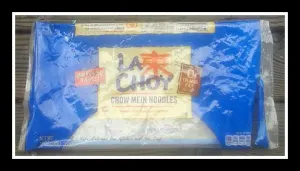 Once the chow mein noodles are mixed in well, add 1 1/2 cups of mini-marshmallows. When you are done, it will look something like this…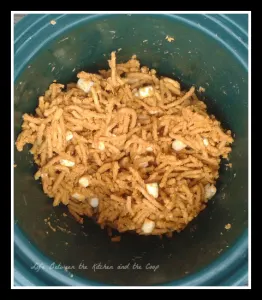 Place spoonfuls of the mixture on parchment paper to dry – they should look like a little haystack.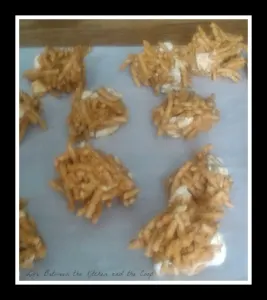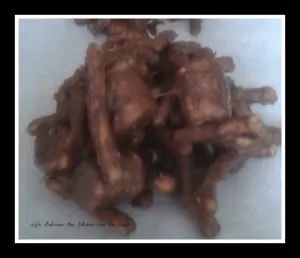 Once they have fully dried, you can eat them 🙂 I always like to freeze some of them and put them on the treat plates I make up for the neighbors every Christmas, along with some of my almond bark pretzels and other treats.
If you are looking for other yummy Christmas dessert recipes to make for your family this holiday season, you can find my Christmas Almond Bark pretzel recipe here…or if you are looking for a Christmas dessert worthy of the Christmas dinner table, check out my Peppermint Ice Cream Dessert with delicious Oreo crust here! Your family will love them all. You can thank me later!
See you next time!
Deb
Psssst…remember to Follow me on Bloglovin'!