Now that Thanksgiving is over…it's Christmastime! The day after Thanksgiving I got out my nativity sets (I have about 8) and set them up. The snowman nativity below I have had for a lot of years, but this year I noticed a funny thing.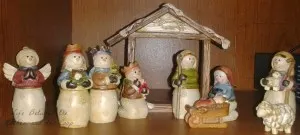 Do you see it?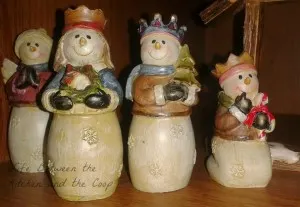 This post contains ads.
The wise men are carrying a wreath, a candy cane, and a Christmas tree. I don't believe any of those things have been around since the birth of Christ! I don't know why, but it made me laugh when I noticed that. Our son's girlfriend was here while we were setting them up. Her theory is that they were trying to modernize the story. Or…maybe they figured since they already had stretched the story a little making all of the characters snowmen, they could stretch it a little more with the other items. I guess that's ok as long as they aren't bringing Him an I-pad or something. No smart phones, either! 😉
Last night we went to historic Temple Square in downtown Salt Lake City to see the Christmas lights. They are lit every year once Thanksgiving is over and it is a family tradition to go down and walk around and enjoy the sights and sounds (a narrated nativity) of the season. This year it was like 60 degrees (usually it is freezing cold and snowy), so I was super excited to go. Apparently a lot of other people were, too, because it was SO crowded. I mean, there are always a lot of people, but this was sooo crazy. I intended to get a bunch of great pictures so that those of you who don't live near enough to go for yourselves could enjoy a little bit of the display, but it was so crowded and I was so worried about losing my 4 year old in the crowd, it was difficult to focus on picture-taking. Sorry if they aren't great, but it's the best I could do!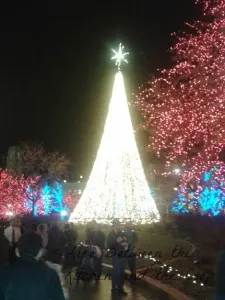 This is another view of the same Christmas tree, but you can see the Salt Lake LDS Temple in the background on this one. If you have never been there you really should check it out…such a beautiful building.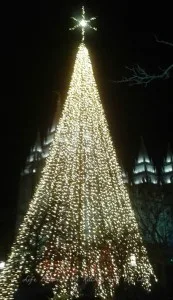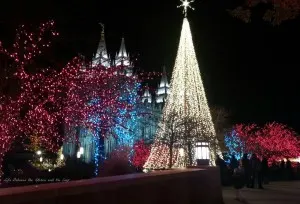 The Salt Lake LDS Temple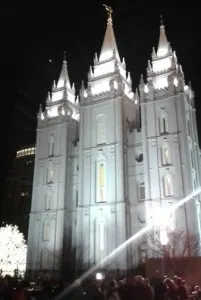 One of the Nativity sets at Temple Square with Joseph, Mary, and the Baby Jesus in his manger…this one is set up in the reflection pool, as you can probably tell. I wish these would have turned out better…so beautiful in person 🙂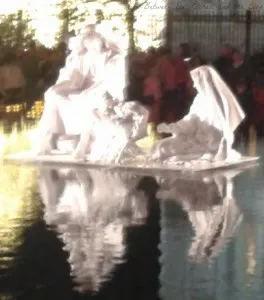 The shepherd and his sheep were approaching the baby Jesus from a grassy area off to one side. The wise men were approaching from the other side. Sorry…didn't get a picture of that side. 🙁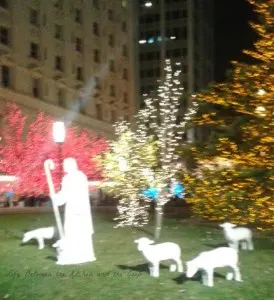 In another area of the Temple grounds, there was another nativity with a narrated story of the birth of the Savior. These wise men were approaching the manger in that nativity set.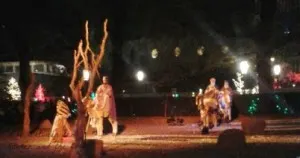 Today we continue getting ready for Christmas by putting up our Christmas tree. Do you celebrate Christmas? If not, what do you do to enjoy this time of year? I'd love to hear from you 🙂
See you next time!
Deb
Remember to Follow me on Bloglovin'!