Scratch Block Chicken Treats
This post contains affiliate links, which means I receive a commission if you purchase items through my site, at no additional cost to you.
It's been a while since I've done a post about backyard chickens so I thought I would share a homemade chicken treat that we make for ours. As some of you know we have chickens in our backyard, which we keep to provide us with an endless supply of eggs.
Now, having fresh eggs and never running out is awesome and having cute little chickens running around the backyard is really fun. I love to sit out on my
backyard swing
and watch them.
The main reason that we have them, though, is self-sufficiency and emergency preparedness. We want to be self-reliant if there's ever an emergency that makes it so that we can't get to a store. Backyard chickens are one of many ways that we try to be prepared for the unexpected.
In our flock we have some sweet little chickens. In general, they eat chicken food. Now and then I throw them a handful of scratch off of the back patio, which overlooks the chicken run. Whenever I do that they come a-running!
That said, every now and then we like to do a treat that's a little more special for them. Sometimes it's a few strawberries or some leftover lettuce. But sometimes if we REALLY feel like putting in a little work, my husband makes a little chicken scratch block that we toss out there. It not only gives them a treat, but also gives them something to do because they have to peck at it for a bit to get the food.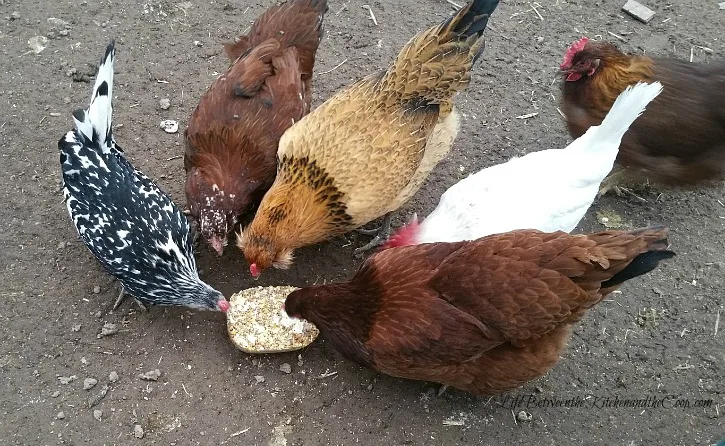 Depending how many chickens you have, you may want to alter the size of your chicken scratch "block", or even have more than one so that they all have room to get in there and get at the yummy stuff!
The scratch block that we make works well for our little flock. It lasts for about 24 hours, since it takes them a little work to get the treat. It only has three ingredients and it's so quick and easy to make! You should definitely give it a try for your flock!
Chicken Treat Ingredients
1 tbsp lard, softened
Two eggs, including the crushed shells
Chicken scratch grain (a few cups, add 1/2 cup at a time)
How to Make the Chicken Treat Block
Crack two eggs into a small disposable container. Crush the egg shells and add them to the eggs.
Add the lard and mix well.
Add the scratch (about a half cup at a time) and mix. Keep adding a little scratch at a time until it becomes firm enough to press it into a "block".
Hope your little ladies (and gents, if you have a roo!) enjoy their yummy treat! By the way, If you have a surplus of eggs from your backyard chickens, check out my post of
delicious egg recipes
for some ideas how to use them!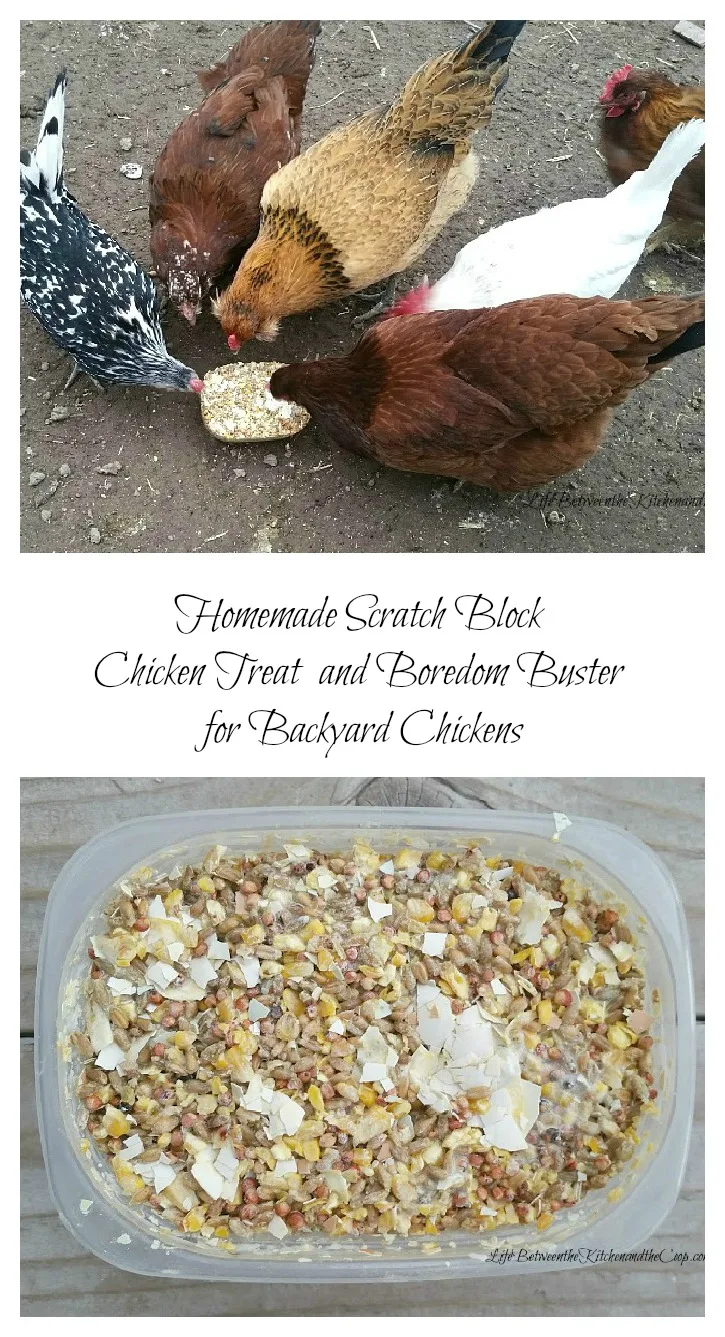 Deb