I am going to be real here for a minute and tell you the good, the bad, and the ugly of preparing to send your child on a mission. This past week has been full of emotions. My daughter, Kira, is preparing to depart for the Arizona Tucson LDS mission [for 18 months] on November 8th, so yesterday she gave her farewell remarks at church and then we had a luncheon for her afterwards. The week was full of stress trying to estimate how many people would be there, how much food to plan for, making the food, and shuttling everything over to my in-law's house (their house has a more open floor plan that is ideal for gatherings, plus they have lots of seating on their back patio). Then yesterday before church I had to get the trays of various food items put together, set the food out on the tables, and make sure everything looked just right. Truth be told hosting parties (there were over fifty people) is a little outside my comfort zone, so that added to my anxiety a bit, too.
The greatest stress to me has just been the idea of my baby girl being away for so long when she leaves for her mission. The idea of not being able to call her and check on her whenever I want just plain stinks. Now I am not over-the-top clingy. Kira and her sister, Kate, have had to leave me for chunks of time since they were very young after their father and I divorced. I hated it, but I handled it. I also did fine when she was away at college last year, and while her sister has been away at college in Kansas the last few years, and with her brother living in Maryland, but this is just not the same. (If you aren't familiar with LDS missions, the missionaries are only supposed to call home twice a year – Mother's Day and Christmas. They can email, but that's just not enough for my mommy heart.) When I received a letter from the mission home reinforcing this, more tears came…

Through all of this I have been trying (and often failing) to put Kira's desire to serve a mission ahead of my own desire to have full access to her like I have her entire life. Some days I feel something close to acceptance because I want to support her in her desires. I'm not going to lie, though. I have had several melt downs lately because I REALLY have a hard time with someone else telling me when I can talk to my kid. I think on this issue I am going to go through the 5 Stages of Grief, with acceptance finally coming when she is HOME. Until then I will be this taking one day at a time.
The Mission Farewell
Anyway, the day of her farewell finally came. Before Kira gave her farewell remarks at church, we met at the church house a little early to take a few pictures. This is me and my husband, David, with three of our six kiddos.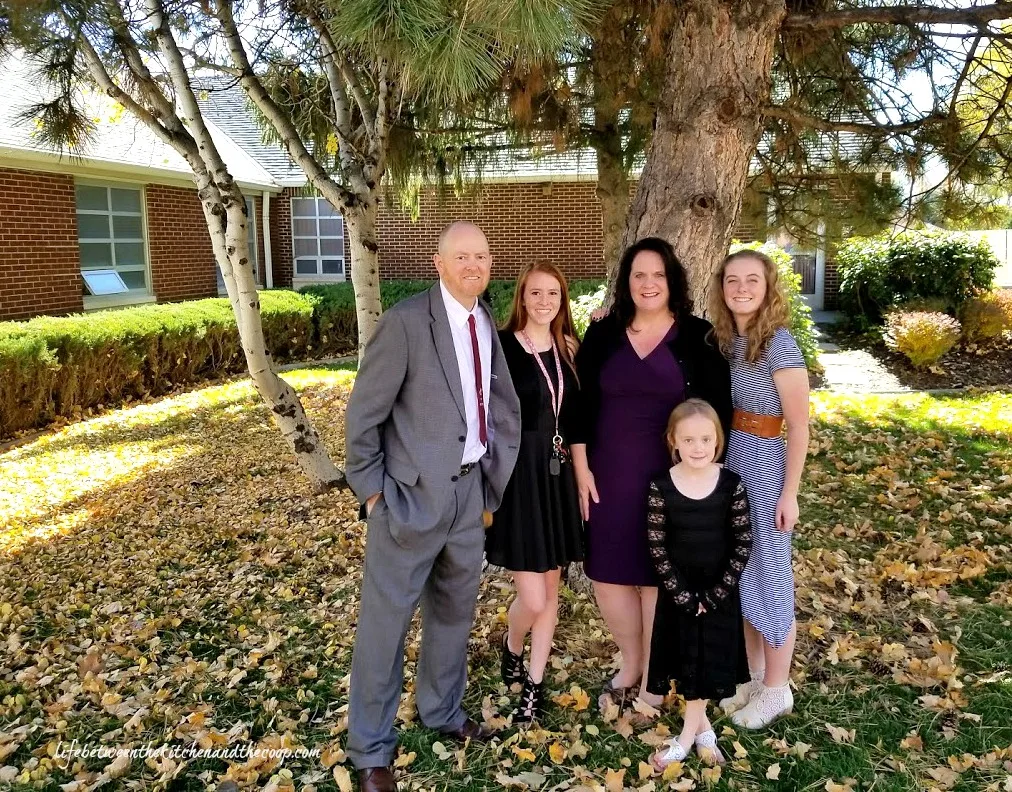 This is Kira with Skyler, her "significant other". I think it will be quite an adjustment for her not talking to him all of the time while she is on her mission.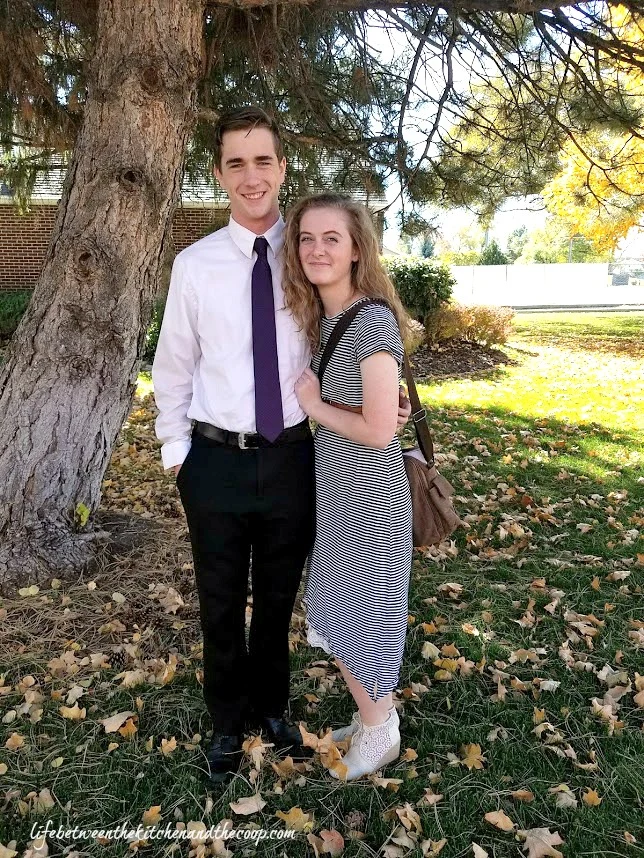 The Mission Farewell Party
I sneaked out a few minutes before church was over so that I could head over to my in-laws and get the food set out. I am very grateful to my nephews, Tav and Scotty, and my sister-in-law, Lindsay, who helped me set the food up while church was finishing. We had lots of food. Chicken salad, meats and cheeses for sandwiches, potato salad, pasta salad, fresh fruit and veggies, eclairs, brownies, cookies. It was yummy for sure!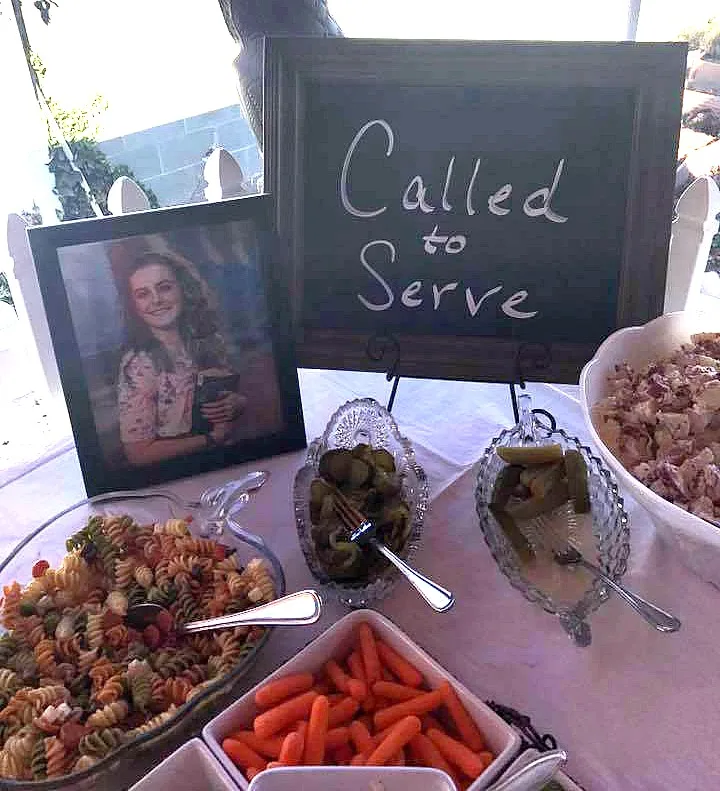 I wanted to collect everyone's email addresses for Kira so that she can update friends and family while she is gone on her mission, so I created this picture, which I put in a frame. (It was inspired by reading on Heidi Swapp's post about the farewell party of her missionary.) I wish I had remembered to take a picture of it in the frame, but the day was a whirlwind and I forgot. Bad mama.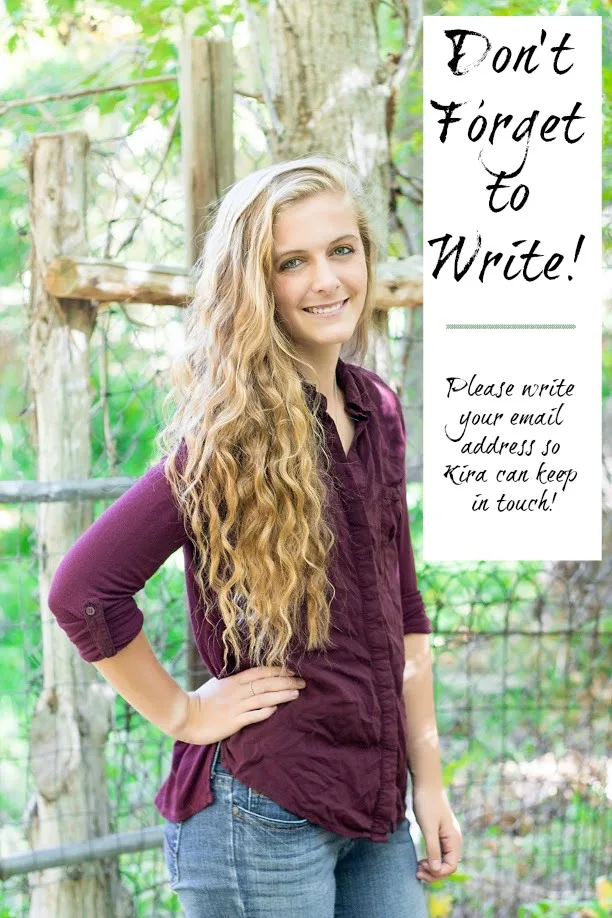 I put a paper and pen by the framed picture for people to put their email addresses on for her.
At the party, my sister-in-law got this picture of Kira with several of her cousins and her sister, CheyAnn. I absolutely love this picture. I feel so lucky to have been a part of the lives of these kids. They are amazing and so talented.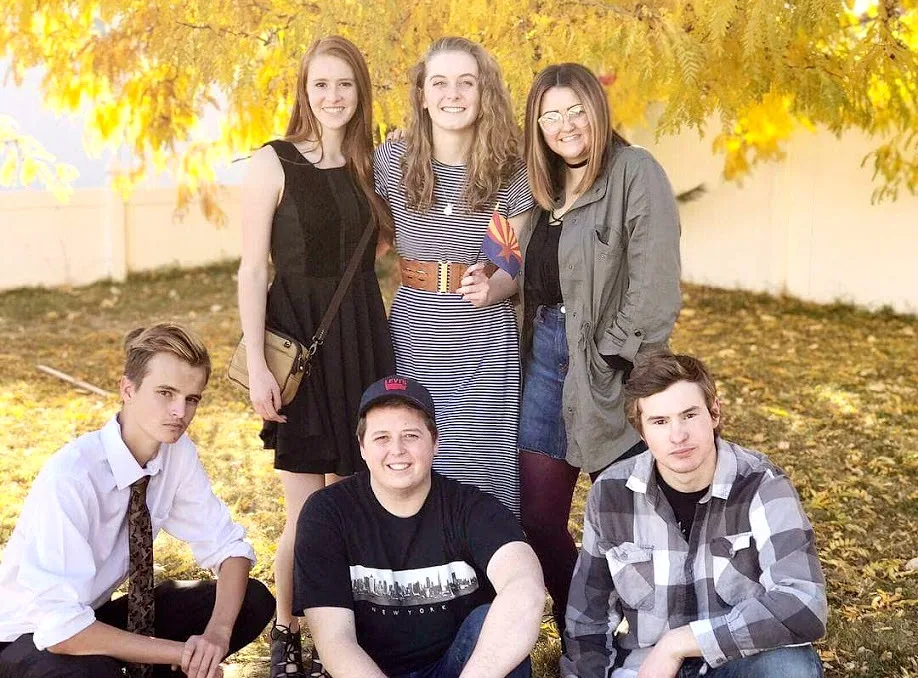 I am so very grateful for all of the friends and family that helped out over the past couple of weeks, whether it be with the location, food, pictures, ideas, hugs, or words of encouragement. We take Kira to the Missionary Training Center in Provo next week. Once I get past that I can start the countdown to Kira coming home!
See you next time!
Deb