Easy Egg Salad Recipe
This yummy egg salad recipe makes great comfort food!  It's one of those great recipes that  is full of protein and so fast and easy to throw together.  I decided to make it because our chickens have been working overtime and I had four or five dozen eggs in the fridge!  This recipe used up ten of them, so that was exciting.  The nice thing about this recipe is if you don't have it in your budget to have meat all of the time, eggs are a great source of protein and cheaper than meat!  The thing that makes this egg salad recipe great in my opinion is the yellow mustard.  It gives it a nice kick of flavor.  Try it—you will love it!
Egg Salad Recipe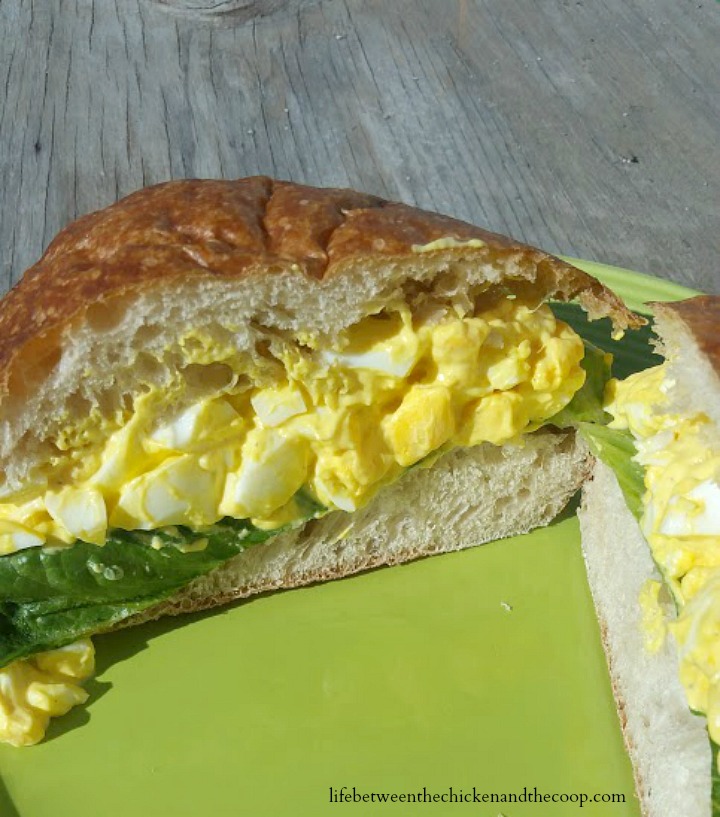 Egg Salad Ingredients
10 hard boiled eggs
1/2 c mayonnaise
2 Tbsp yellow mustard
Salt and pepper (to taste)
How to Make Egg Salad
First you need to hard boil your eggs.  I know that seems like an elementary task, but I talked to a young newlywed a few days ago who had never boiled and egg, so let's go over that first 🙂
Put the eggs in a pot of water on the stove.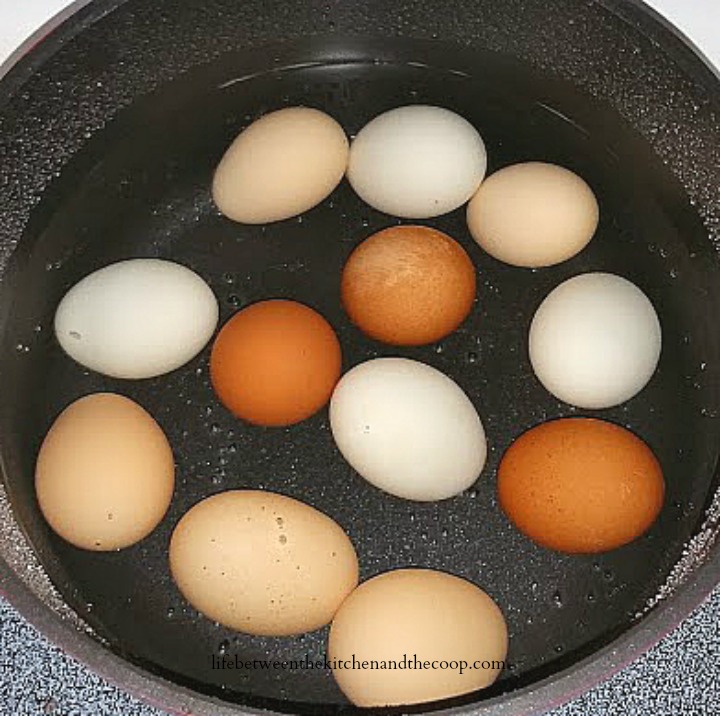 Turn the heat on high.  Bring it to  a boil.  Once it starts boiling, reduce the heat to medium to medium high.  Boil them for 10-12 minutes.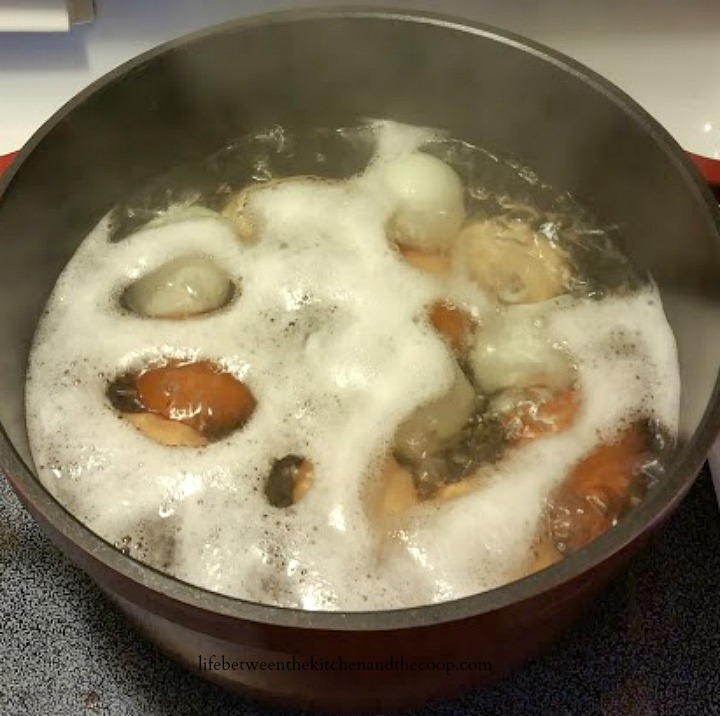 Next, move the pot carefully to your kitchen sink.  Turn on the cold water and let it run in the pot long enough for the water in the pot to turn cold.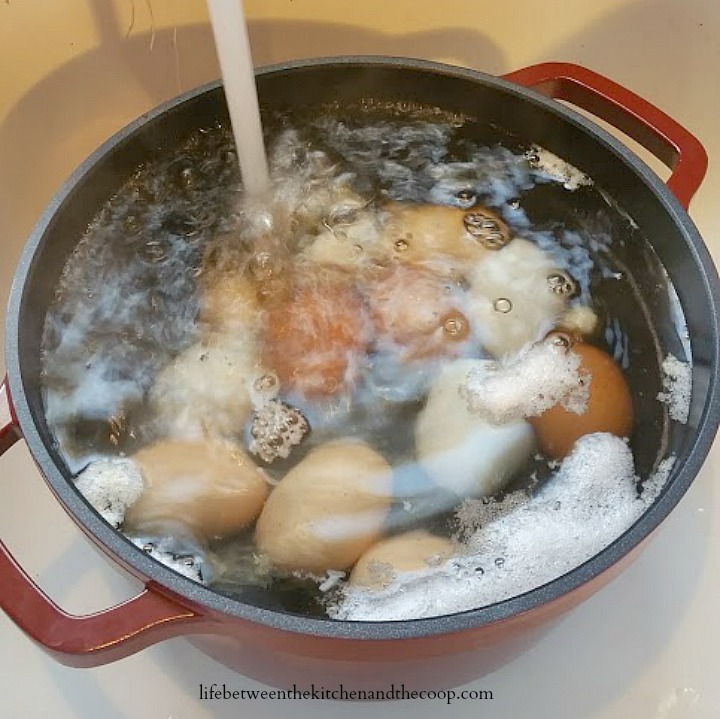 Let the eggs sit in the cold water for 10 minutes.  Voila!  You have hard boiled eggs!  Now you are ready to make your egg salad!
Dice the eggs and place them in a bowl.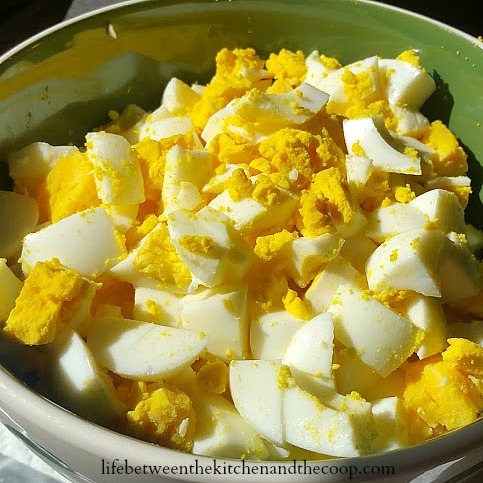 Add the mayonnaise and mustard and gently stir until thoroughly mixed.  Next carefully mix in the salt and pepper to taste.  Refrigerate until the egg salad is chilled all of the way through.
Once the egg salad is cold, you can either make it into a sandwich or a wrap, either on lettuce or a tortilla.  On the sandwich I made, I used ciabatta bread and romaine lettuce.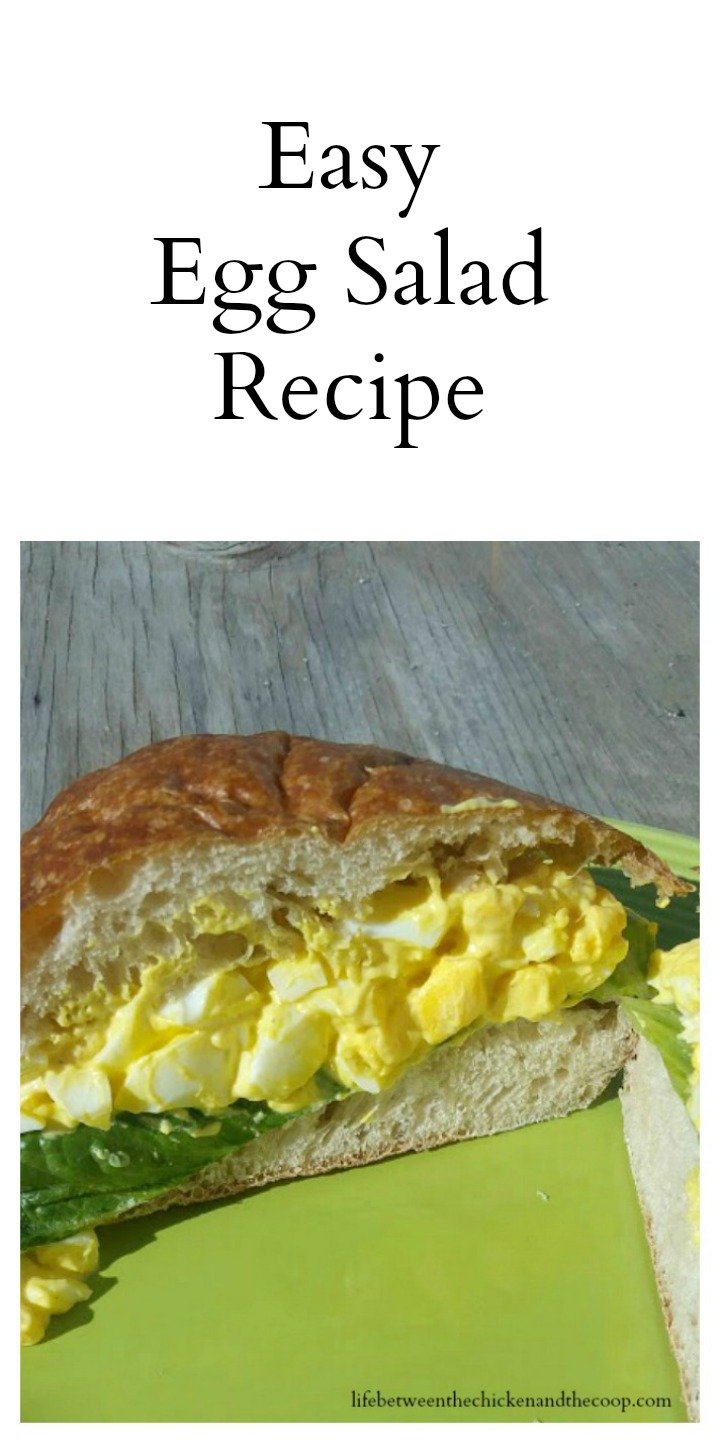 It is yummy!
And now on to the Funtastic Friday Link Party!

FUNTASTIC FRIDAY 122 LINK PARTY
(You may have had a problem submitting a link. Inlinkz tells me that all links identified as spam were prevented from linking up. Check your blog to make sure you don't have any malicious activity lurking beneath the code.)
Please follow the party hosts on social media.
MOST VIEWED
Teacher Appreciation Lunch Ideas Mexican Fiesta Sopapilla Cheesecake @ Easy Peasy Pleasy

HOST FAVORITES
Lacie's favorite – Easter Egg Golden Oreo Truffles @ If You Give A Blonde A Kitchen
Sherry's favorite – Easter Bunny Egg Cozy @ Knitting and so on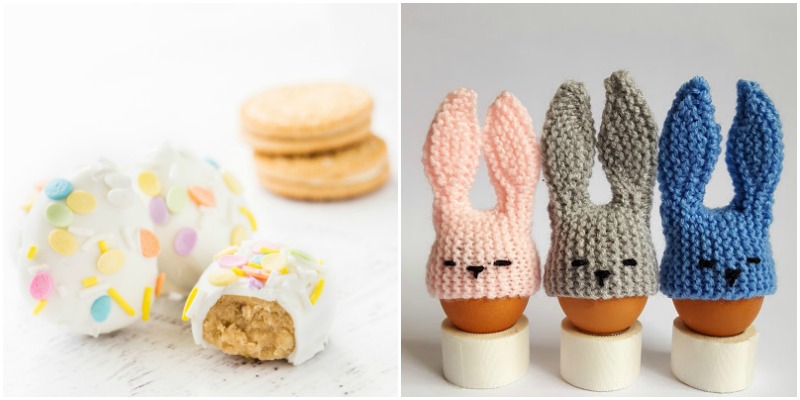 Angie's favorites – DIY Rustic Wedding Centerpiece Boxes @ The Interior Frugalista
Heidi's favorites – How To Build A Picture Frame + Free Printables @ Find It, Fix It or Build It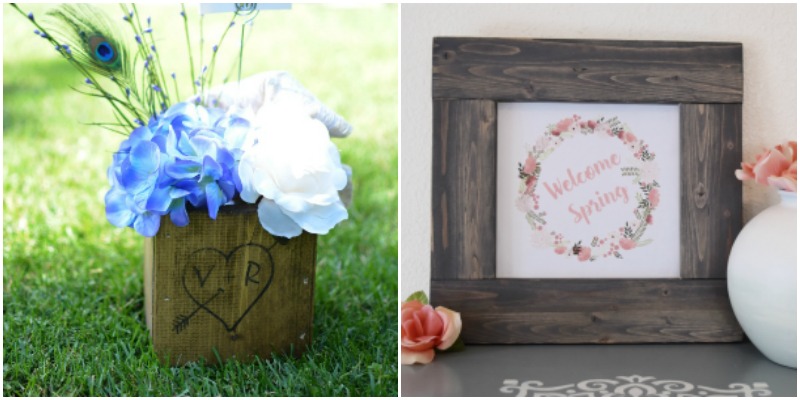 Debra's favorites – Teacher Appreciation Lunch Ideas Mexican Fiesta @ Easy Peasy Pleasy
Donella's favorite – Easy Carrot Coconut Glazed Bread @ cooking on the front burner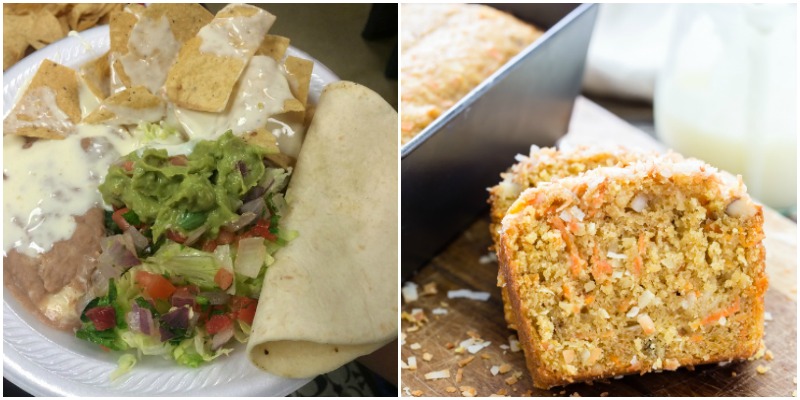 Kimm's favorite – Wood Veneer Bunny Napkin Rings @ Dukes and Duchesses
Liz's favorite – How To Add Style To Your Bathroom On A Budget @ Reinvented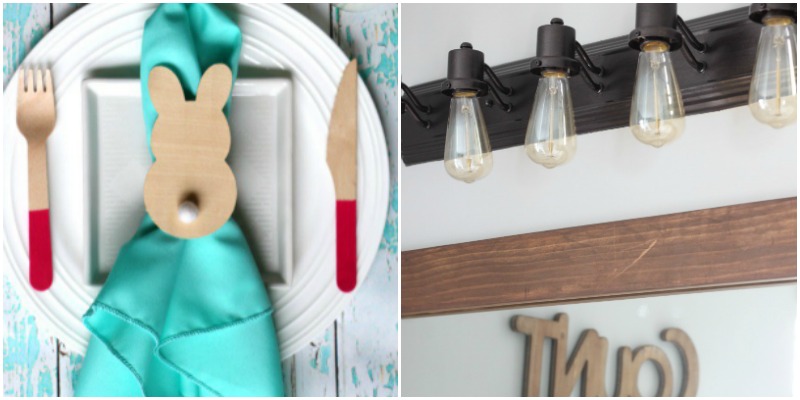 Donna's favorite – Best Vanilla Cupcakes @ If You Give A Blonde A Kitchen
Joyce's favorite – How To Make Pom Pom Garland @ i should be mopping the floor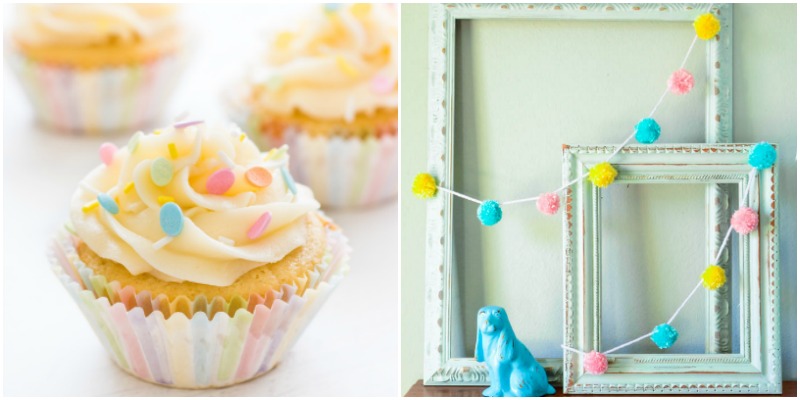 I was featured at the #FuntasticFriday link party! Click To Tweet
If you're linking up and joining the party, please grab a button or link back to Life Between the Kitchen and the Coop or one of the party hosts (right-click on image and save image to your computer):
If you're a featured blogger, please grab a button to place on your blog (right-click on image and save image to your computer):
All features are pinned to Olives & Okra's Funtastic Friday board.
We will also share your post on social media if sharing buttons are readily available on your post.
Help grow the Funtastic Friday link party. Tweet about the party, please!
Add your link! The #FuntasticFriday link party is live!
Click To Tweet
Disclaimer: By submitting a link to this blog hop, you are giving me permission to share and/or feature your blog post and image on social media and on my blog, Life Between the Kitchen and the Coop. All links shared will either link back to the blog hop (link party) or to your blog.
FUNTASTIC FRIDAY 122 LINK PARTY RULES
Post as many links as you like
Family friendly posts only
Old posts are welcome
Comments are greatly appreciated
Show fellow bloggers link love
3 Emergency Prep Tips!
I can tell you three things that you can do THIS WEEK to have better emergency preparedness in your home!