Around this time last year, my husband starting talking about how he would like to get some chickens. Now mind you we already had six kids including a 2 year old, full time jobs, and two dogs here at our little homestead! Now only half of the six kids reside here, but still…you know how it is when you are a mom and feel like you have too many balls in the air. I told my husband I would really like him to wait a few years (and if I was lucky, he might forget about it).
Not long after that, the other three kids were up from southern Utah for a visit. Shortly after they arrived my husband showed up with a box with four chickens in it. I admit it. I was ticked. Was he not listening when I said "no, thank you!"?
After a conversation about how I felt like he wasn't being considerate of my opinion I knew I had to at least give this a shot. I told him fine that we would keep the chickens, but that they were "his job" because I already had way too many things to do. He happily agreed.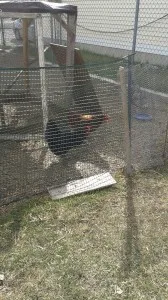 As time went by, the chickens found a place in my heart. I now enjoy them…the fresh eggs, watching them toodle around the yard, watching our toddler chase them…it all feels very "country" in an urban area that is…shall we say…not. My husband built them a coop out of a large wooden crate he was able to get from his job…he did a great job on it, too. By the end of last summer the girls were moved in to their little hen house. It was getting cold so we never got it painted…that is my husband's job for this summer. In the meantime, here is our little Miss Maya supervising the chickens…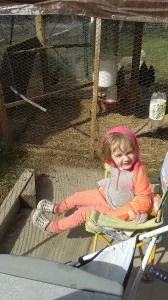 (Our first four chickens included a Silver-Laced Wyandotte, a Rhode Island Red, a Plymouth Rock, and an Australorp). Little Miss M (seen in the picture above) just loves chasing them around the yard!
If you love backyard chickens, recipes, and other great tips, be sure to Follow Me on Bloglovin'! See you there!
Deb