One of the things I like to make in the summer is this yummy
summer fruit salad
recipe
. It is a throwback to my childhood in Iowa. My step-mother used to make it a lot. I have tweaked her recipe a little, adding sliced bananas and modifying amounts on the sour cream and coconut, and I love it. For best results, you should make this summer fruit salad at least 12 hours ahead of time. When you look at the ingredients, sour cream in a fruit salad probably sounds strange, but if you are a fruit salad fan, you will love it!
This summer fruit salad is perfect for those hot days. It is cool and refreshing. It has been crazy hot here in Utah the last few weeks. Circling around 100 degrees. At our house we usually go out in the backyard to hang out in the evening, after it has cooled off to…oh, say 90 degrees. Yeah 90 (THAT is "cooled off"). I enjoy sitting on my (affiliate link)
backyard swing
on summer evenings, watching the chickens toodle around in the back yard while my four year old plays in her pool and the hubs works on the garden. That is just a little slice of heaven.
Summer Fruit Salad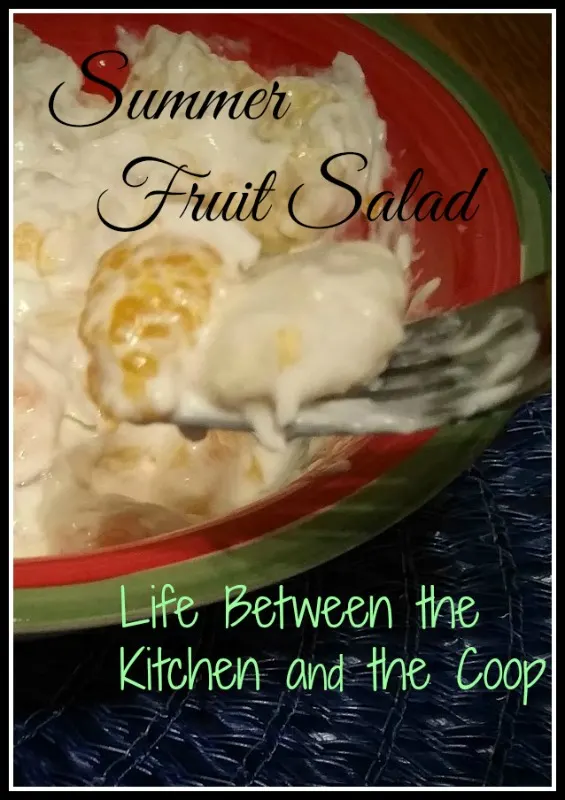 Ingredients:
2 cans (20 oz each) chunk pineapple, drained
1 can (15 oz) mandarin oranges, drained
1 1/2 bananas, sliced
1 cup coconut flakes
1/2 bag mini marshmallows
16 oz. sour cream
Directions:
Drain the pineapple chunks and the mandarin oranges well, then place them in a mixing bowl.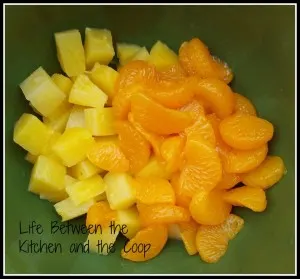 Add the remainder of the ingredients and fold together gently. Cover and refrigerate.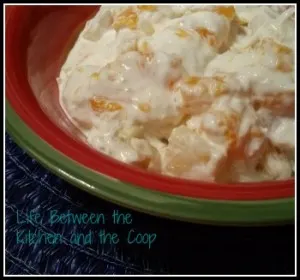 This summer fruit salad is a great addition to a picnic meal or As a barbecue side dish! I hope you love it! What are some of your go-to recipes for summer?
See you next time!
Deb