It is early February and this week it is 50-60 degrees, which is almost unheard of in Utah at this time of year. We have had so little snow. I am sure the ski resorts don't like it, but I do!!! 🙂 All of this warm weather has me thinking about planning the garden for this coming summer. We opened our last jar of home-canned salsa on Sunday for the Super Bowl. In the fall it felt like we canned tomatoes forever and I can't believe we are running out!!! We are sad because it is sooooo good!!! We gave away probably 5 or 6 jars, because of course when you do something you like you want to share it with others. Well, this year we are going to have to plant even more tomatoes because running out of that stuff is just UNACCEPTABLE. After eating that, the store stuff is just not going to cut it!!!
What are you going to grow in your garden this year? Or is it going to be your first time gardening? Here are a few tips to help you while you plan…
One of the most important things is to think about what you will use and what you plan to do with it. If you are thinking you will just eat as you go and give away what you can't use, you don't need to plant a lot. Most produce doesn't last very long (stating the obvious here!).
Figure out what grows well in your climate. How do you do that? Well, if you are lucky you can ask someone who gardens who lives in the same area as you. For example, my husband has the green thumb at our house. I am so thankful for all of the knowledge he has that benefits me! If you don't know someone near you that gardens that you can ask, search the web. The world is at your fingertips, my friend! I went to google and typed in "gardening in Utah" and lots of great sites popped up. You could do the same for your location!
If you are not interested in canning for food preservation, there are lots of things that you can do to preserve food without canning. There are things that you can dry (ie. fennel seed, parsley) or freeze (grated zuchhini, green beans). One food that doesn't really require preserving is spaghetti squash. We got a bunch from our garden last August. We have two left and they are still good…just sittin' there on the counter in a basket! Ever tried spaghetti squash, sliced in half lengthwise with some butter and brown sugar? Yum!
Are you going to be brave and make this the year that you try out canning and work on building up your food storage? Last year was my first time and it was not as difficult as I thought. My husband and I actually enjoyed doing it together! If you are thinking you might just try it, here is a post I wrote last year about what I learned—I want to give you a leg up and make it easy for you! YOU CAN DO THIS!!!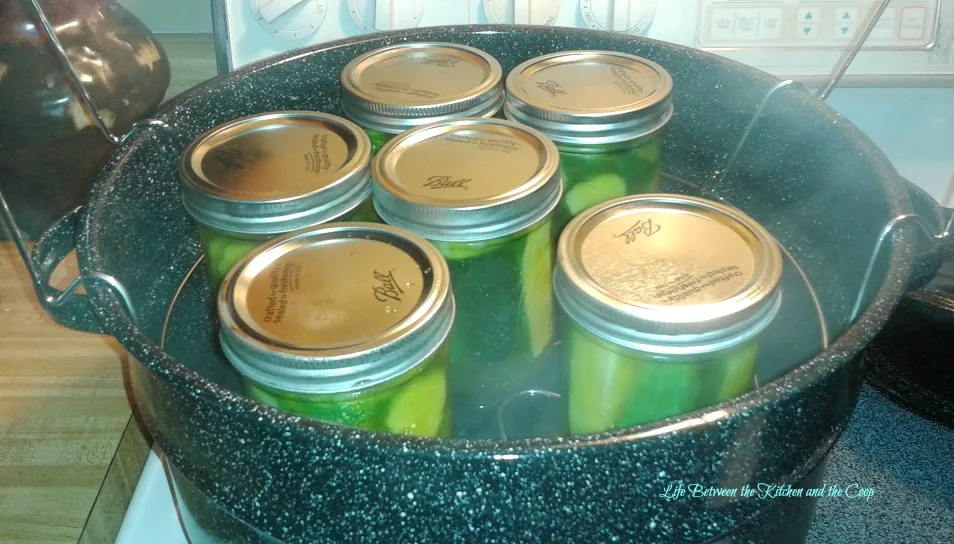 My husband and I will be canning again this year. The things we want to can definitely influence what we plan to put in our garden. As the gardening season approaches we will be writing more posts about gardening and preserving the food that you grow including canning, drying herbs, and more! Follow us on Pinterest, Facebook, or any of the other social media listed in the sidebar for more information! Thanks for stopping in and checking out Life Between the Kitchen and the Coop!
See you next time!
Deb