This post contains affiliate links which help support this site.
When you go to the store to get your groceries, do you put some planning into it? Do you know how to save money on food or do you just grab your purse and go? Did you know that if you take a few minutes and plan your grocery shopping you can save BIG money? Today I'm going to share some tips with you to help you do just that!
How to Save Money on Food

Plan your grocery list around sale ads
That doesn't mean that you should buy everything "on sale". That means shop the sales, but buy things that are really a good price. Make sure the sale price is actually a good deal! It's important to have an idea what things usually cost. If you buy an item because it is marked "on sale", but the price was inflated to begin with, you aren't necessarily saving money! If it is something you buy regularly, hopefully you have been paying attention to prices and have know what a good price for the item is. If it is something you don't buy often, check out the prices for it at a few other stores. After all, you have a smart phone, right??? Use it! Compare and see if it really is a good deal. Be sure to pay attention to unit price, too! The biggest bottle, box, etc. is not always the best deal!
Stock up when things are on sale at rock bottom prices and buy enough to get you buy until the next time the item will be on sale at a deep discount (usually 3-6 months).For example, every few months my grocery store has pasta packages on sale for 49 cents if you buy 5 or 10 packages. I always stock up when that happens and I never run out of pasta. (It's also a favorite of our adult kids when they come and shop in my food storage!)
Save Money by Shopping Store Clearance
Another one of my favorite ways to shop the sales is to shop clearance. Yes, perishable food does get marked down on clearance if it doesn't sell fast enough! (Like milk…we go through milk like crazy at our house, so I watch for clearance milk!)
Save Money by Shopping Case Lot Sales and Warehouse Stores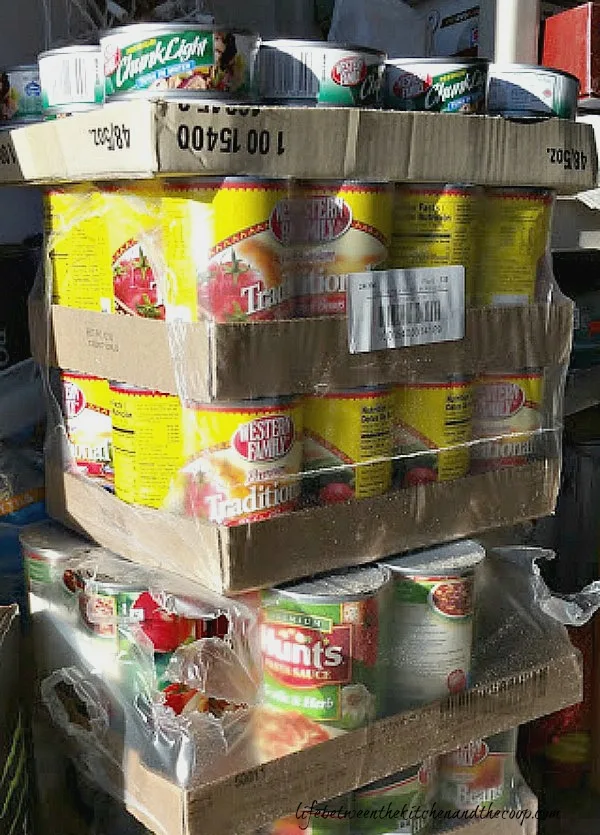 This can be even better than shopping the regular "on sale" items. Shopping case lot sales is a habit of mine. My grocery store has them a couple of times a year! Never heard of a case lot sale? If you haven't been to a case lot sales, it just means that you buy a case of an item to get it at a lower price. That is how I buy my peanut butter, black and pinto beans, canned vegetables for food storage, etc. Buying in bulk at warehouse stores like Costco or Sam's Club can also save you money, but again-it is important to pay attention to the unit price and make sure it is a good deal before you buy!
Ways to Save Money on Food Using Coupons
When I suggest you use coupons to save money on food, I do not mean "extreme couponing" (although if you have the time and want to do it, go for it!). For most people extreme couponing just isn't a practical use of their time, particularly since there are so many amazing money saving apps that do a lot of the work for you already! For example, Target has their Cartwheel app, Smith's has their own app, Walmart has Savings Catcher, and so on. If you don't shop at one of those stores, check with your local grocery store to see if they have an app to help save you some money!
You Can Save Money on Food by Using Savings Apps: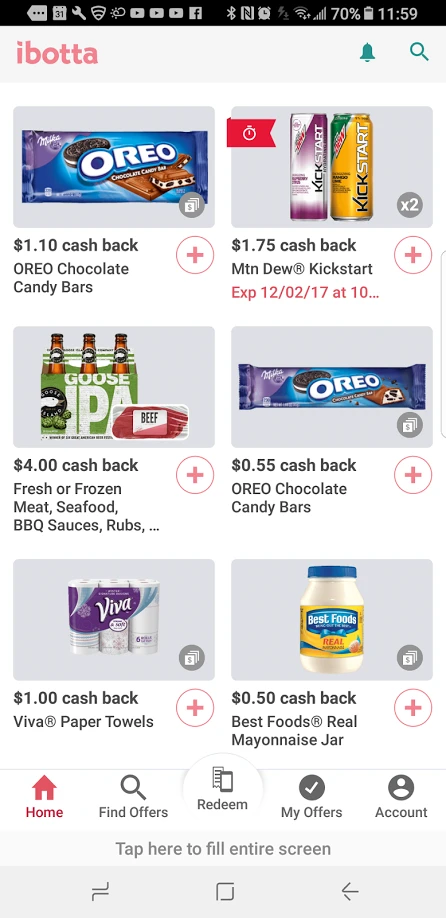 Check out Ibotta to receive cash back on scanned receipts!
Smiths, Savings Star, or other grocery store apps for special coupons that you can download to your account
Walmart app. My niece uses it for Walmart pay. At checkout she scans the QR and it runs her card. It saves all of her receipts on the app. It also automatically runs Savings Catcher and will automatically refund you if it finds a lower price.
Target Cartwheel. This can lead to especially great savings if you use it in conjunction with the Target Red Card (I'll tell you about that in a sec!)
SavingStar
Flipp
Checkout 51
Mobisave
Receipt Hog
Sprouts (If you shop at their store for produce)
You can find discounts for stores like Whole Foods on the RetailMeNot app.
Pssst…if you don't have a smart phone, don't worry! You can also download grocery coupons off of websites like coupons.com and grocery coupon network. (Pssst…some stores let you "stack" paper coupons with their online app coupons for extra savings. Then you will REALLY save a bunch of $$$)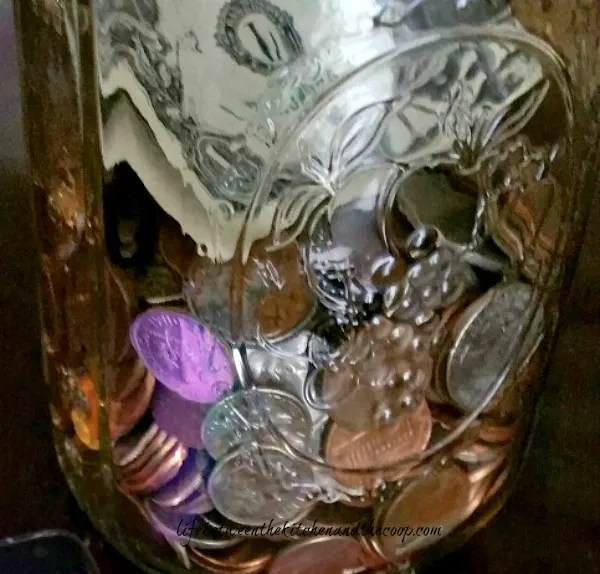 Save Money on Food by Having Meatless Meals
Having meatless meals a couple of times a week is a great way that you can also save money on food. After all, meat can be pretty expensive! Instead of meat, you can build your meal around beans or another form of protein . Easy meals like quiche, bean soup, and egg salad sandwiches can be very satisfying to your tummy and are still pretty cheap!
Save Money Buying Meat
There are 3 main ways that I use that save money on meat. First, like I mentioned before, have meatless meals a couple of times a week to help save a little bit on meat consumption. Second, you can order your meat in bulk through Zaycon Fresh. You buy it in bulk (by the case), fresh from the farm! They have some great sales and deals! Sign up and they will send you emails so that you can watch for those deals and when you see one, snag it!
Another great way to save money on your meat is to check the meat (and dairy) department at your grocery store first thing in the morning (for the store I go to, it seems to be early on Saturday mornings have the best clearance selection). Often you can get discounted meat that is nearing the "sell by" date. I love to stock up on meat that way and then throw it in the deep freezer!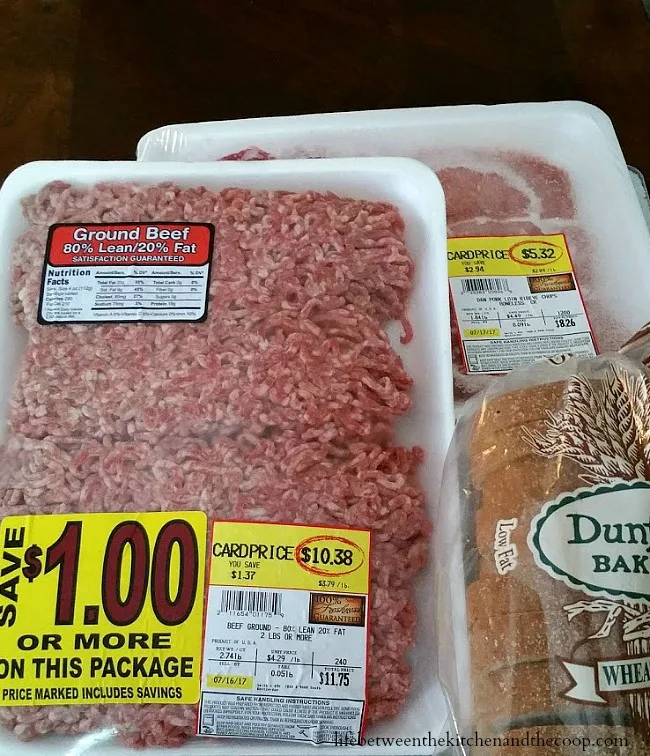 Save Money Buying Produce
Did you know that you can also save on produce? There are places where you can pick your own produce to get a cheaper price! Or if you shop for produce at Sprouts, check out their app for savings! In the summer, farmer's markets are another great place to find good deals.
Order Food Online to Save Money
If you want the convenience of delivery, it might be worth ordering your groceries online through Amazon Fresh. Check it out and look for great deals there!
Loving these tips? Tweet them to share with your friends!
[bctt tweet="Save Money on Groceries Now! #savemoney #money #shopping https://www.lifebetweenthekitchenandthecoop.com/?p=7524&preview=true" username="KitchenNTheCoop"]
Plan your meals
So I have told you how to save money on buying your groceries. That actually benefits you in other ways besides saving money. You now have your own little "grocery store" of all of the items you have stocked up on! Use those items to plan your meals! (After all, if you don't plan your meals what ends up happening? If you are like me, you probably stop at a fast food joint or order a pizza.) If you plan your meals for the week you will likely have the ingredients readily available, which will make you less likely to be tempted to go get take out.
Be sure you plan your meals around the things that you stocked up on when they were on sale. That means you will have to buy less stuff, which saves you even more money! Pssst….also, EAT your leftovers. Don't throw them in the trash. That is wasted money!
Another awesome side benefit of planning your meals and grocery list is then you can save time and go to the store just ONCE a week. I don't know about you, but if I end up going to the store because I ran out of something, I always end up buying way more than just that item. More money wasted! Can you relate?
Target Red Card
Have you met my friend, the Target REDcard? Let me introduce you, because she is FUN! At Target, if you get a Target REDcard, you automatically get 5% off of everything you buy with it. How awesome is that? I don't recommend adding another credit card to your wallet unless you are super religious about paying your balance in full each month, but did you know that Target REDcard can also be a DEBIT card? That means it just debits from your regular checking account and it still saves you an extra 5% on your entire purchase. If you are lucky enough to have a Target nearby that has groceries, you MUST get a Target REDcard. The savings really adds up, especially when you combine it with other discounts on Target's Cartwheel app!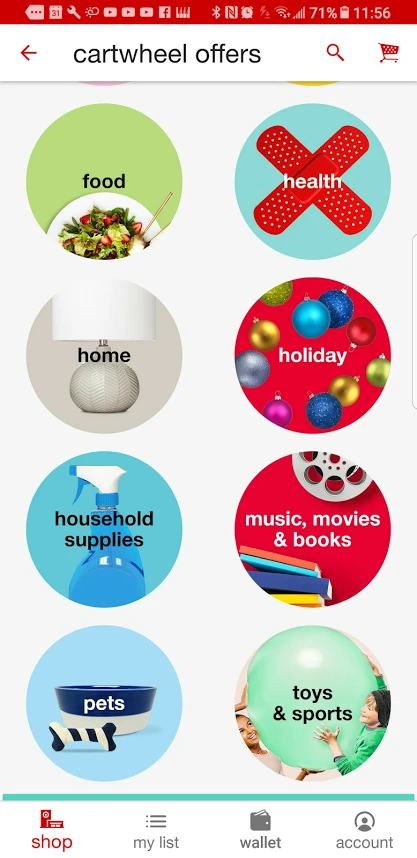 Some Other Tips to Save Money on Food:
Save Money on Food by Gardening and Preserving Produce That You Grow
Produce can be pricey and starting a garden is a great way to save money. Once you have grown your produce, you can preserve whatever you can't eat right away by canning, dehydrating, freeze-drying, etc. (If you think that something you'd like to try and you want to get started gardening so you have produce to preserve, my blog has a bunch of garden ideas-you should check them out!
Remember, when you shop for things that come in multiple sizes, shop by unit price (price per ounce). Biggest isn't always cheapest!
Buy your over the counter medicines like ibuprofen in bulk from Amazon.
Shop the dollar stores for things like spices. (Know your price points!)
If you notice a neighbor doesn't pick the fruit from their tree, ask if they mind if you pick it. If there is a lot, preserve it!
Don't go grocery shopping when you are hungry. That leads to impulse buying.
Only go to the store once a week.
If you are a coffee drinker, make your own fancy coffees. There are recipes all over Pinterest and it is lots cheaper!
These tips will help keep your budget in check!
See you next time!
Deb