Hi, guys! It's time for Funtastic Friday 102! Usually we (the hosts) get this posted Thursday evening, but yesterday was Thanksgiving, so I hope you will excuse me for being a little late! In case you aren't familiar with Funtastic Friday, it's a fun little collection of thumbnail pictures that link to all kinds of amazing, creative posts from other bloggers. We do all of the work of gathering them together for you! I host this fun little event every Friday with six other awesome bloggers. Hope you enjoy it!
It's Black Friday. Are you shopping today? Not this girl. I am avoiding stores like the plague! I may shop a little on Amazon, but that's it! Since I will be avoiding the stores and the crowds this weekend, I will be making Christmas treats instead! One of my daughters is home from college, so I am enlisting her and one of her friends to help me. We will be making a variety of yummy treats! By the way, if you need an idea for a treat to make to share with your family or neighbors, you should check out one of our favorite treats to make at Christmas – Almond Bark Peanut Butter cookies! They are so yummy and really easy to make!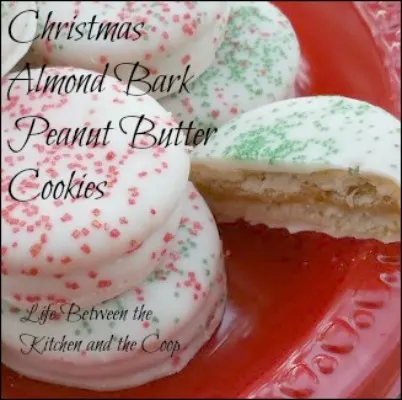 Before we get on with the Funtastic Friday party, I just want to say I hope all of you had a wonderful Thanksgiving full of family, friends, and good food. I also want to tell you how grateful I am for each of you who take time out of your busy day to take a few minutes to read my little blog. You guys are the best. It just makes my day when one of you comment on my blog posts or chime in when I post something on social media. (If you aren't following me on social media yet, there are buttons if you scroll to the top left of your screen. You can click them to follow me on Pinterest, Facebook, Twitter, Instagram, and others!)
Love Christmas crafts, recipes, DIY, and traditions? There's still time to join us for Wrapping Up the Holidays. The theme is gift wrap, cards, tree trimmings, recipes, holiday traditions, and family activities. There is no limit on the number of links you post as long as they are family friendly. Feel free to dust off older posts and share them, too!
Please follow the party hosts on social media.
MOST VIEWED
Our Kitchen Renovation @ Small House
HOST FAVORITES
Debra's favorites | DIY Etched Merry Christmas Plates @ Eccentricities by JVG | Creamy Tomato Spinach Tortellini Soup @ Cooking on the Front Burner | Triple Layer Pumpkin Cheesecake Pie @ Marilyn's Treats |
Donna's favorites | Slow Cooker Apple Pie @ Nancy on the Home Front | Grinch Hot Chocolate @ Cooking With Curls | 20 DIY Washi Tape Christmas Crafts @ The Crafty Blog Stalker |
Sherry's favorites | Cats and Tags @ Muscetta | Sausage Cornbread Stuffing @ Dad Whats 4 Dinner | A Repurposed Antique Cauldron for Christmas @ The Boondocks Blog |
Angie's favorites | Holiday Chalkboard Paint Charger @ Dazzle While Frazzled | Updated Farmhouse Light Fixture @ Savvy Apron | Glitter Ornaments @ Wesens-Art |
Kimm's favorites | Double-Axel Upcycling: Cheese Dome Ice Skating Pond | Christmas Wood Slice Art @ i should be mopping the flour | $2 Thanksgiving Pillow @ One Thousand Oaks |
Heidi's favorites | Faux Shiplap on the Fireplace Wall @ Reinvented | Vol Hoofd en Cactussen @ urolÿk | Nordic Style Wood Slice Christmas Ornaments @ kreativ k |
Lacie's favorites | Grinch Hot Chocolate @ Cooking With Curls | Old Window Christmas Decoration @ Pillar Box Blue | Free Printable Christmas Blub Banner @ i should be mopping the flour |
Mistie's favorites | Gluten-Free Dark Chocolate Brownies @ Courtney's Cookbook | Roasted Apple Cranberry Sauce @ Strength and Sunshine | Roasted Brussels Sprouts and Butternut Squash Bread Stuffing @ Dad Whats 4 Dinner |
If you're linking up and joining the party, please grab a button or link back to Olives & Okra or one of the party hosts (right-click on image and save image to your computer):
If you're a featured blogger, please grab a button to place on your blog (right-click on image and save image to your computer):
All features are pinned to Olives & Okra's Funtastic Friday board.
We will also share your post on social media if sharing buttons are readily available on your post.
Help grow the Funtastic Friday link party. Tweet about the party, please!
Disclaimer: By submitting a link to this blog hop, you are giving me permission to share and/or feature your blog post and image on social media and on my blog, Olives & Okra. All links shared will either link back to the blog hop (link party) or to your blog.
Funtastic Friday 102 Party Rules