Almond Bark Peanut Butter and Ritz Christmas Cookies
This week I made Almond Bark Peanut Butter and Ritz Christmas Cookies and I want to share the recipe with you!  They are easy to make and so delicious!  I LOVE the combination of sweet and salty!  They never last long at our house! With only 3 ingredients, I can't think of an easier holiday treat!
This time of year there is always lots of treat-making going on at our house in preparation for Christmas. Once made, I put the Christmas treats in freezer bags, press out the excess air and seal them.  Then I just toss them in the freezer til Christmas!  When I put out the treats on Christmas day it looks like I worked very hard to get ready for the family Christmas celebration, but my Christmas Eve and Christmas Day are actually quite relaxing because a lot of the work has already been done!  After all, moms like to get a holiday, too—right?!?
Almond Bark (Candy Coating) Peanut Butter Ritz Christmas Cookies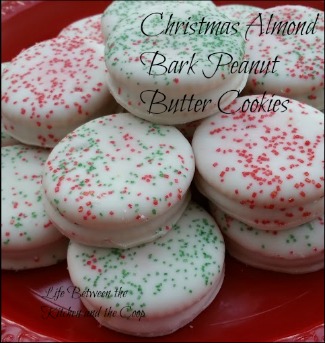 Almond Bark Peanut Butter and Ritz Christmas Cookie Ingredients
1 box Ritz Crackers
1 jar of peanut butter
2 packages almond bark, melted
Almond Bark Peanut Butter and Ritz Christmas Cookies Instructions
The first thing you will need to do is melt the almond bark.  The slow cooker works great for melting almond bark if you have one that is narrow-bottomed (it needs to be narrow-bottomed so that the almond bark will be deep enough to dunk the "cookies" under it).  If your slow cooker has a large surface area on the bottom you might want to use a double boiler instead. If you don't have a double boiler you can create your own:  You just fill a medium-sized saucepan half-way with water, bring it to a boil, then reduce heat to medium-high.  Put a medium-sized metal bowl on top of the saucepan of boiling water. Next you will put the almond bark in the metal bowl (see picture below).  The boiling water in the saucepan will heat  the metal bowl and melt the almond bark.  While it is melting, stir occasionally.  ***Be very careful not to burn yourself on any escaping steam!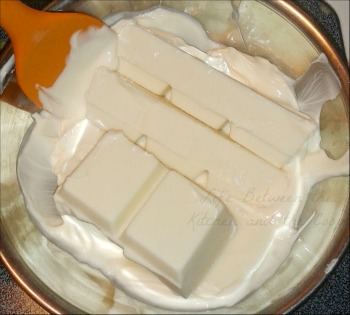 While the almond bark is melting, start making Ritz peanut butter "sandwiches".  To do that, you basically just put peanut butter on a Ritz cracker, then top it with another Ritz cracker to make a "sandwich".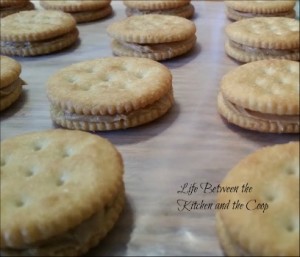 Once the almond bark has melted and is smooth, then you just dip the peanut butter Ritz cracker "sandwiches" under the surface of the melted almond bark one at a time (so that they are completely covered).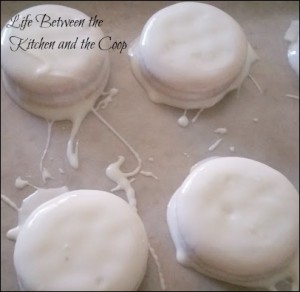 Once the peanut butter and Ritz sandwich is well-coated, slide a fork underneath it and gently lift it out of the almond bark.  Carefully set it on parchment paper or foil.  If you like, while the almond bark is still wet you can sprinkle it with colored sugar or some sort of Christmas-y sprinkles.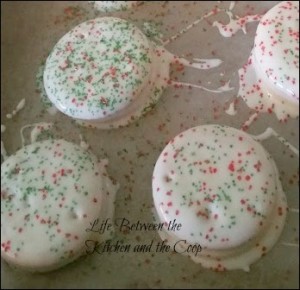 Once the Almond Bark Peanut Butter Ritz Christmas Cookies dry, you can freeze them in freezer bags or a plastic container and then get them out on Christmas.  Your family will LOVE this yummy Christmas treat!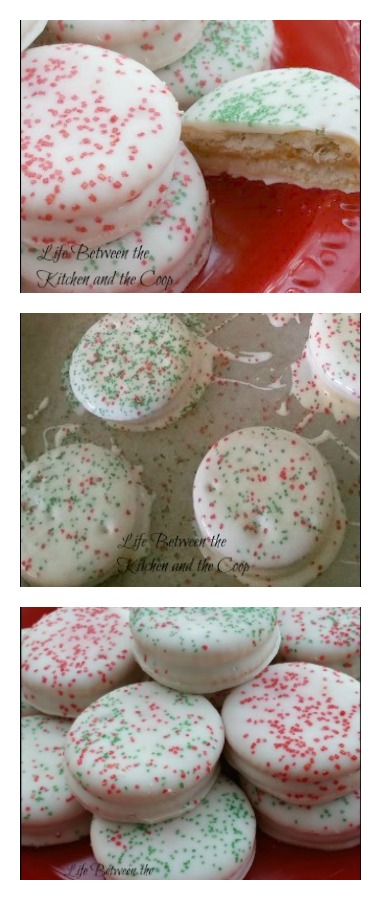 Warmly,
Deb
P.S.  If you like these Almond Bark Peanut Butter Ritz Cookies, you will love my Christmas Chocolate Peanut Butter Candy!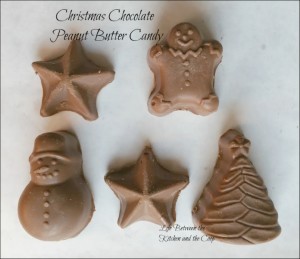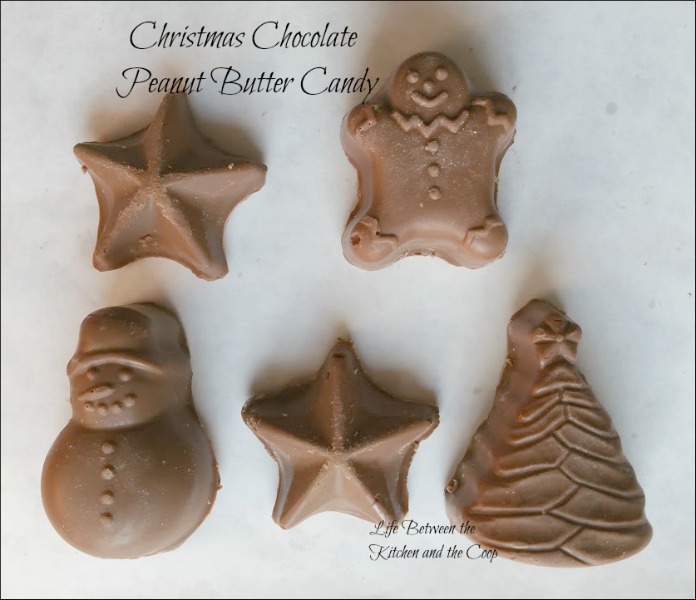 3 Emergency Prep Tips!
I can tell you three things that you can do THIS WEEK to have better emergency preparedness in your home!