When it is cold out, don't you want delicious, frothy hot chocolate from your favorite coffee shop! Well, I have the recipe for you!
No more fantasizing about coffee shops that would deliver (seriously, why doesn't anyone DO that?), but yet you don't want to pay their crazy prices either! Five bucks for a hot chocolate? Sheesh. The cheapskate in me has a really hard time with that concept! But, guess what? I finally found a solution!
(*Hint: I also use this as one of my "Christmas recipes"!
How to Make Delicious, Frothy Hot Chocolate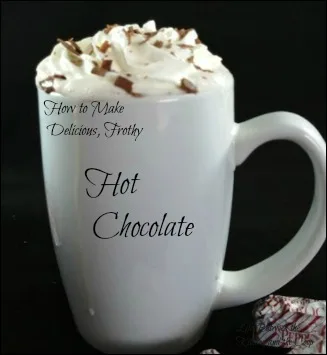 Best Hot Chocolate Machine Ever (in my opinion!)
You can stay in your budget and still treat your family to delicious hot chocolate that looks and tastes just as fancy as the stuff from the coffee shops! When my hubs got me a Nostalgia Electrics Retro Series Hot Chocolate Maker for me a couple of years ago, well…let's just say…I no longer have to go out in the cold OR pay crazy prices to get the chocolate, frothy hot chocolate of my dreams!
Words cannot express how much I love my hot chocolate maker. It is definitely in the top 5 on my favorite kitchen gadgets list! Check out the video later in the post to see it in action!
Here's an affiliate link if you want to check it out! ————————>
How to Make Frothy Hot Chocolate at Home
Once you have the machine…and trust me…you WANT this machine…all you need to make awesome, frothy hot chocolate that tastes like it came straight from a coffee shop for a fraction of the cost is:
4 cups of milk
1/2 cup of your favorite hot chocolate mix
can of whipped cream (you know the stuff you squirt out of the can)
a Hershey bar (doesn't matter what size…you only need a tiny bit for chocolate shavings)
All you do is put the milk in the Hot Chocolate Maker and add 1/2 cup of hot chocolate mix. Turn it to the "heat and froth" setting for 10 minutes. Then it is done! (If you don't drink it as soon as it is ready, after 10 minutes turn it to the "froth" only setting.)
Pour some hot chocolate in a mug, top with whipped cream, then garnish with chocolate shavings (instead of grating the Hershey bar, if you use a potato peeler you get chunkier pieces of chocolate like the picture below). If you like, at Christmastime you could garnish it with crushed candy cane instead of chocolate.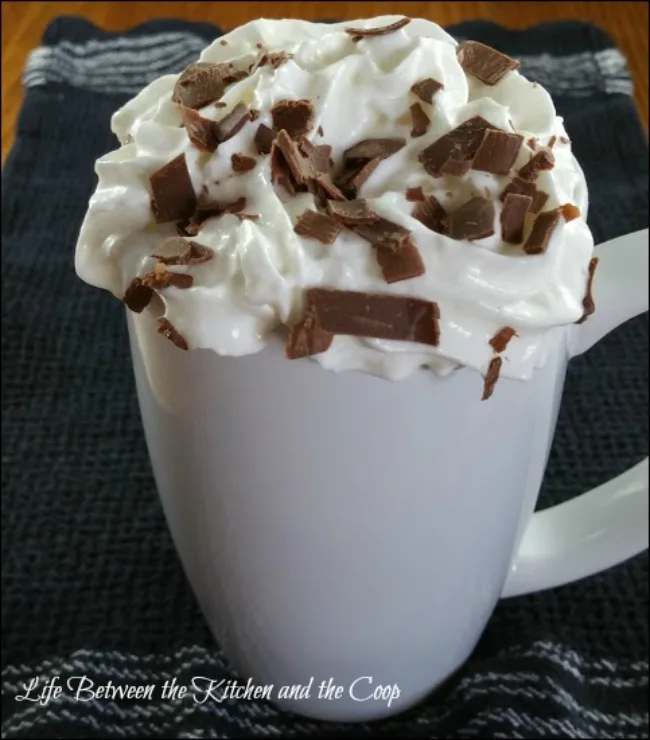 Here's a quick video recap on how to make delicious, frothy, coffee shop hot chocolate without the high price tag!

See? You CAN be kind to your budget and still have a delicious cup of hot chocolate that tastes like it came from your favorite coffee house! Enjoy!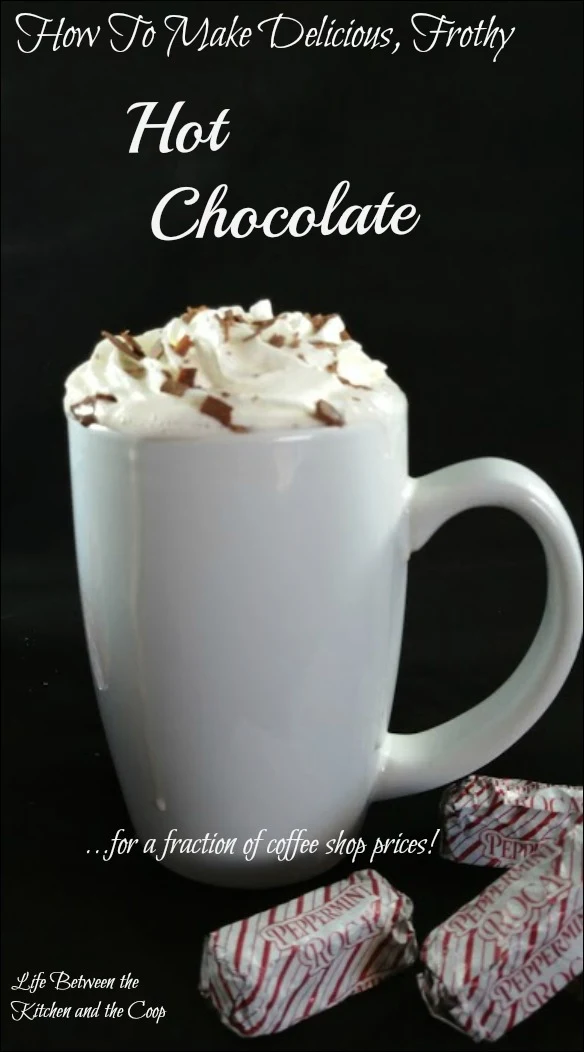 Before I sign off, I want to remind you to CLICK HERE and follow me on Pinterest! That way you can access all of our recipes and tips!
See you next time!
Deb
P.S. If you are looking for something else to warm you up this winter, CLICK HERE for the recipe for our Yummy Chicken and Black Bean Soup!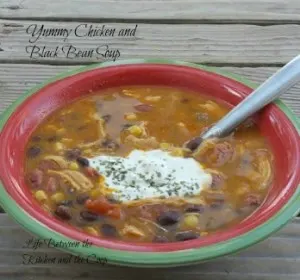 *affiliate window