Oh, wow. Just wow. I cannot believe what a slacker I was last week. Well…not a total slacker. I did an experimental recipe and it wasn't quite perfect yet, so I didn't want to post it, cuz well…what would be the point of that??? And my daughter, Katie, was home from college for a week and I wanted to spend mommy time with her, sooooo…the blog had to take a backseat. Sorry, guys! Anyway, without further ado, let me first announce the winner of the January 2016 Starbucks gift card drawing! Then I have a fun kitchen tip for you!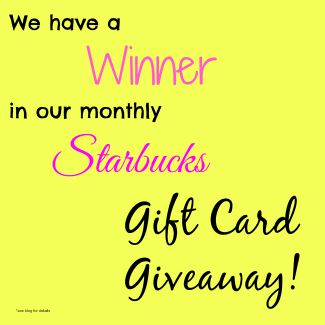 First of all, the January 2016 winner of the Starbucks $10 gift card is:
[email protected]—please watch your inbox for instructions on how to claim your prize! The rest of you, don't lose heart…if you are signed up for my monthly newsletter you are automatically entered in the drawing EACH AND EVERY MONTH! If you aren't already signed up for my newsletter, you can read about it and SIGN UP HERE! You can also sign up for the newsletter (and be registered to be in the monthly Starbucks gift card drawing) in the sidebar or in one of the optin boxes on this site! (Don't worry…I hate spam, too! I promise you will only get one or two emails a month from us. I won't flood your inbox!)
(affiliate)
Just for fun I thought I'd throw a little kitchen tip in this post—today I was making potato soup for the fam and I used a little gadget I have that I just LOVE! My mother in law, who is seriously like the queen of the kitchen, got me this awesome Stir Crazy Triangle Quick Sauce Stirrer Electric Blender Automatic Cooking Mixer several years ago and I LOVE it! This little thing dances in your saucepan. Yep…it dances! It stirs your gravy, rue, or whatever…the awesome part being that it frees up your hands for other things. You've got better things to do than stand there stirring, don't you? You have GOT to check this out! It is a total game changer! Here's a little video clip of it in action—now in the video I hadn't made the rue yet, so the soup wasn't thickened, but that isn't the point of the video so it doesn't really matter…anyway…check out this nifty gadget!
Love it! If you want one of these awesome things for yourself, YOU CAN GET ONE HERE!

That's it for today…I have a yummy recipe coming later in the week for you! See ya then! Oh…and don't forget to Follow Me on Facebook!
Warmly,
Deb
P.S. If you are a fan of awesome kitchen gadgets, you will want to check out this post!