Hi, guys! This is going to be a super quick post. I want to announce the winner of November's Starbucks Gift Card. In case you don't know, anyone signed up for my newsletter are automatically signed up for a monthly drawing for a $10 Starbucks Gift Card. Plus if you are signed up for the newsletter you will get the latest updates of recipes and tips from here at Life Between the Kitchen and the Coop! (Don't worry-we hate spam, too. We won't send you junk!)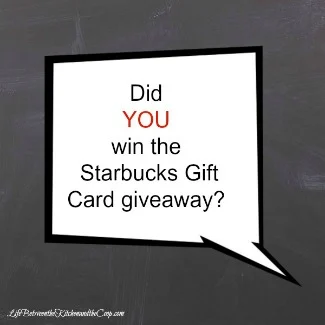 The winner is:
Linda (email address [email protected])
If that is you, send me an email at [email protected] right away to claim your gift card! If it's not you, no worries! There is always next month!
See you next time! Be sure to stop by tomorrow to check out the Funtastic Friday Blog Hop!
Deb
P.S. If you haven't signed up for our newsletter yet, you should so you can be entered in our monthly Starbucks Gift Card giveaways!