Hi! I am excited to let you know that we have another winner in our monthly Starbucks gift Card giveaway! In case you haven't heard, we have started a monthly giveaway of a $10 Starbucks gift card just for our email newsletter recipients! If you are signed up for our newsletter, you are entered to win…that's all you have to do! Plus, if you are signed up you will get the latest updates of recipes and tips hot off the press from us here at Life Between the Kitchen and the Coop! If you haven't heard about our giveaway, you can read about it here.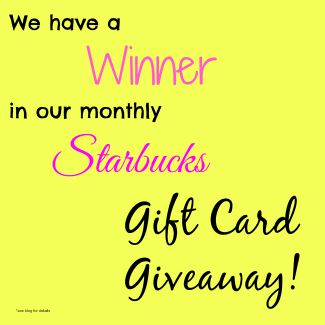 Now, I don't want to keep you in suspense, so I would like to announce that our Starbucks gift card giveaway is [email protected] ! Congratulations, Suzyqincolorado! You will receive an email from us about your win today!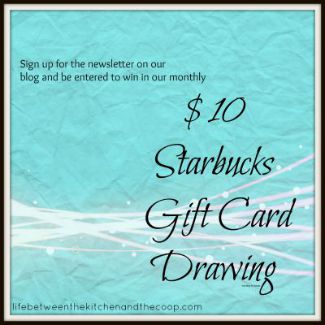 If you haven't signed up to get our monthly newsletter yet, do it now! Once you have signed up to be a newsletter recipient, then you will be entered in a monthly drawing to win a $10 Starbucks gift card every month! That"s all you have to do! Every month you have the same chance of winning…Sign up now! Maybe you will be next month's winner! And don't worry…we hate spam, too. We promise you will only get one or two emails a month from us…we won't flood your inbox with junk!
See ya next time!
Deb
P.S. Follow us on Bloglovin' !