Homegrown Slips to Grow Your Own Sweet Potato Vine
Looking for unique garden ideas?  Did you know you can grow your own sweet potato vine?  You just have to grow a slip off of an organic potato that you already have!  How cool is that?  They make for some wonderful fresh garden produce.  We live in Utah and my husband is a big sweet potato fan, so we grow them.  Last year when we were at the nursery getting a few starter plants, he asked about sweet potato starters.  The person working told him they didn't have any because sweet potatoes don't grow well in Utah's climate.  My husband then proudly proceeded to tell her that he had grown them successfully the previous year!  So humble 🙂
(After you read this post, be sure to stick around for Funtastic Friday 116 Link Party at the end of the post!)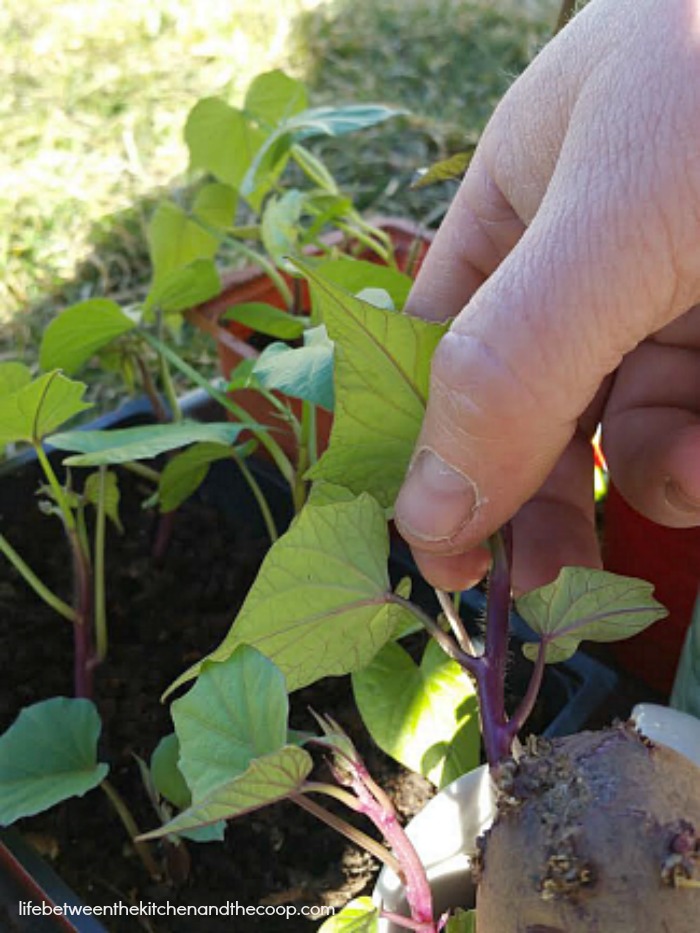 Since we weren't able to get sweet potato slips from the nursery last year, we had to make another plan.  You can order sweet potato slips from catalogs or online…or you can grow your own.  Last year he ordered some, but this year growing sweet potato slips has been a fun little project for us.  It is fairly easy to do.  Once you plant your slips you can just grow them indoors until it gets really warm outside.  Sweet potato vines grow best in a warm climate (warmth is very important!), with some sun and some shade.  Once it is nice and warm, you can transplant the sweet potato vines in your garden.
One of my college roommates, who is an amazing gardener, tried growing them in the Portland area and it was just to wet.  However, if you live somewhere that is nice and warm, you're golden!  If you want to try growing your own sweet potato slips, I can help you!  Let me show you how it is done!
How to Grow Slips for Sweet Potato Vines
Start with an organic sweet potato.  Yep, from the grocery store.  Make sure it is organic, though.  Avoid genetically modified sweet potatoes.  They may not work because they aren't designed to reproduce.  Smaller-sized (a couple of inches in diameter) organic sweet potatoes work better for growing slips than large ones.
Submerge half of the organic sweet potato in a cup of water, using toothpicks to hold it in place.  The other half of the sweet potato should be sticking out in the open air.  Let your slips grow in a warm place, like near a window where there is good sunlight or near a radiator that is in use.
You see those little purple sprouts coming out of the sweet potato?  Those will be the slips (they are purple because we grew purple sweet potatoes).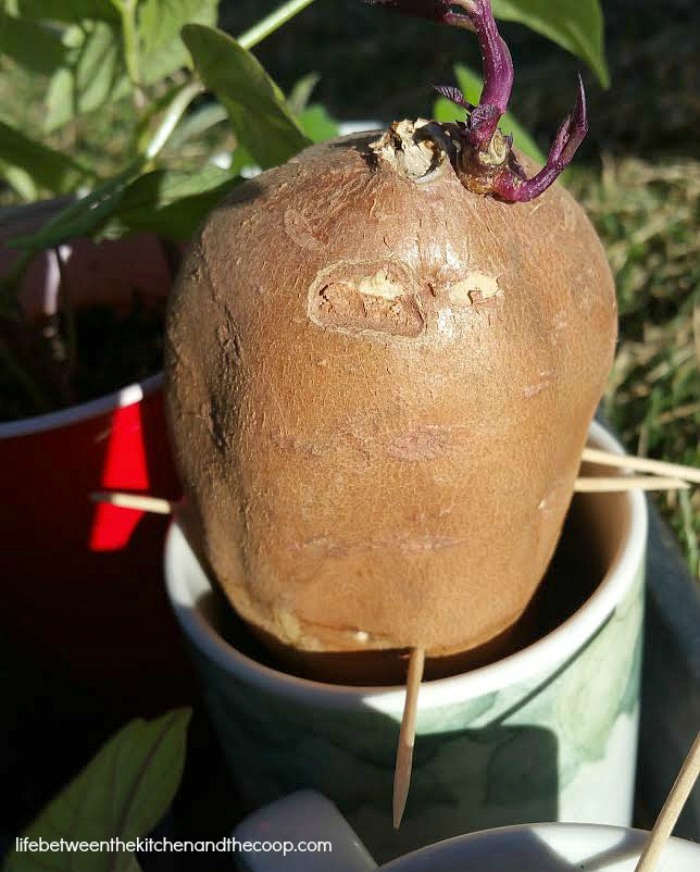 Remember:  Unless you live somewhere that is warm all year round, grow them in indoor containers until after last frost and you are sure it will stay plenty warm outside.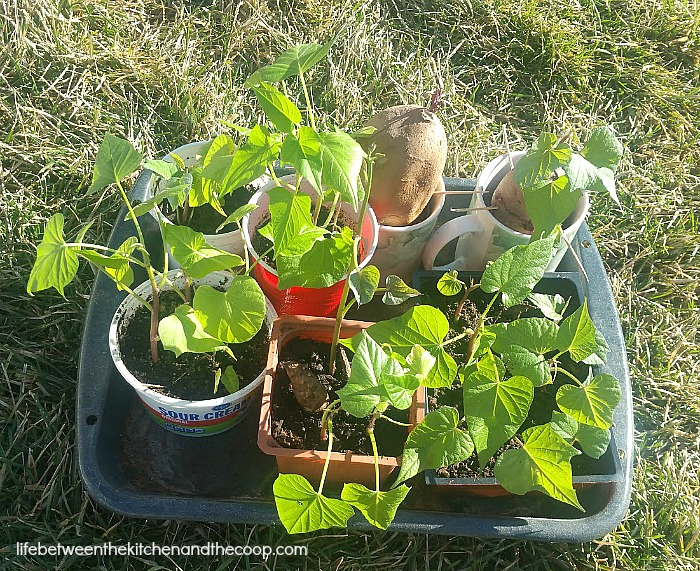 When the sprouts are have four or five leaves, separate them into slips that you can plant (that's what my husband is doing in the picture below-pulling the purple sprout off of the sweet potato).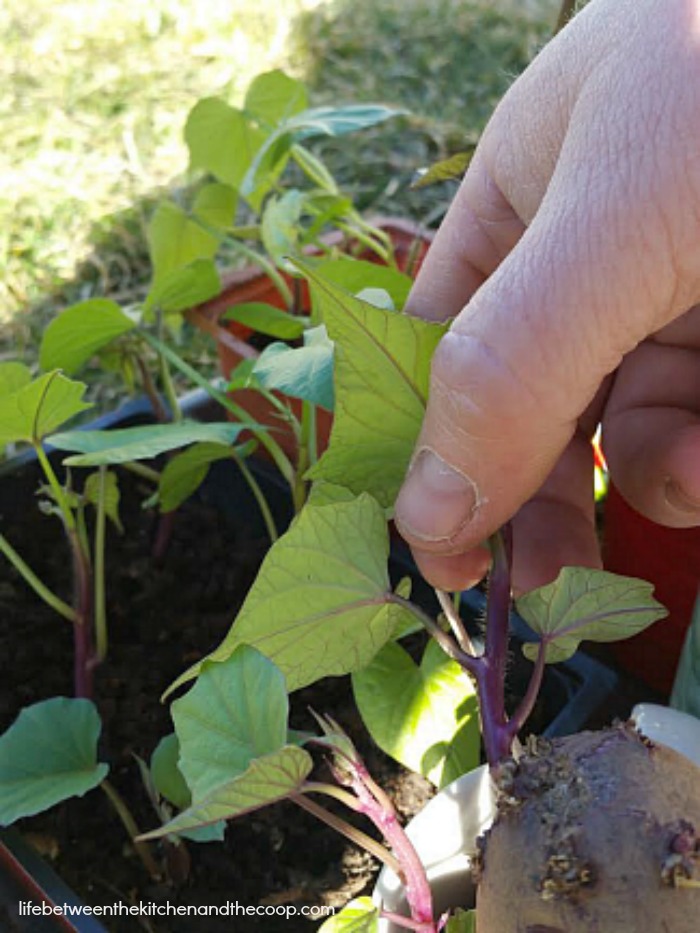 When the time comes to transplant them, the soil will need to be well-drained and loose.  Loosen the soil about 5 inches deep and a few inches around where you are planting the slips.  It is important that there is not significant resistance in the soil or they won't grow well.
When transplanting into the garden, we break off the bottom couple of leaves and then plant the slip in the soil with the upper 1-2 leaves sticking out of the ground.  (If you don't have the land for a garden, you can also grow them in large containers or flower pots.)
That's it!  Easy as that!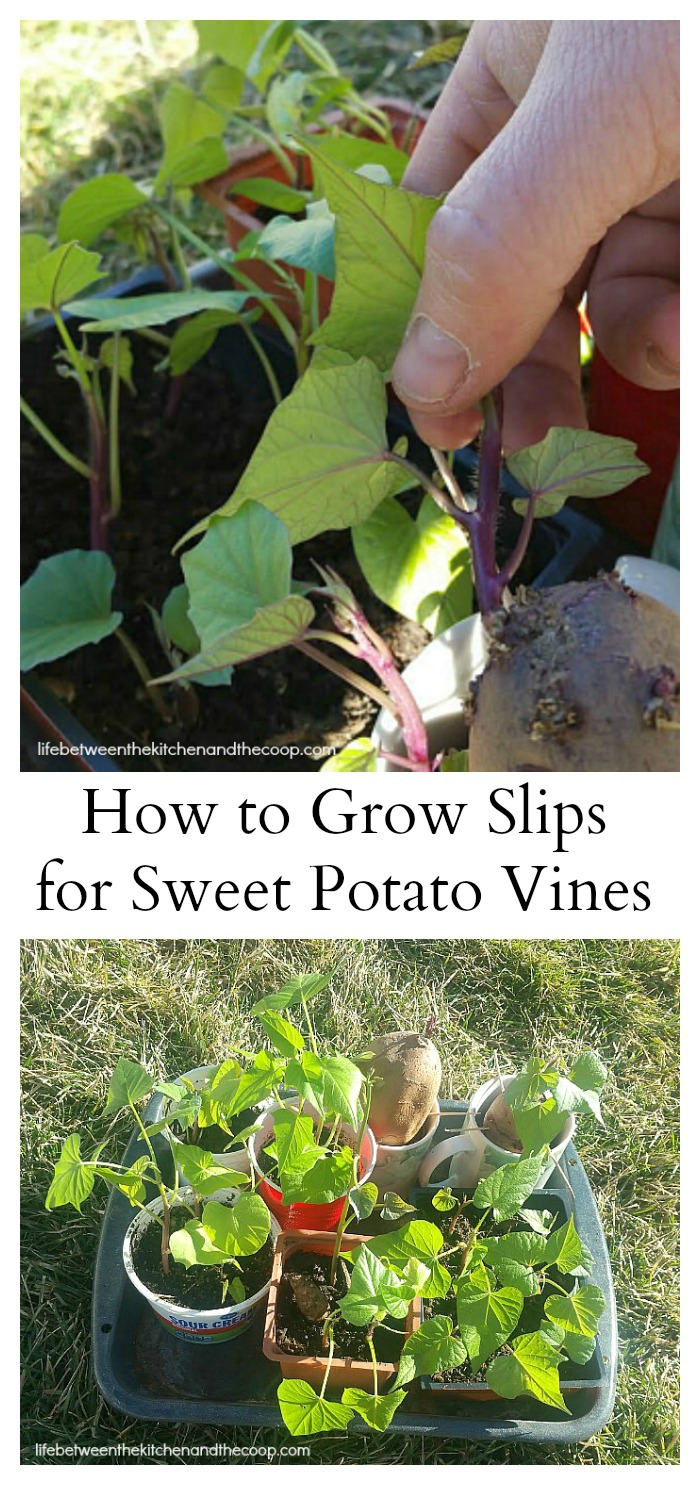 And now, on to Funtastic Friday 116!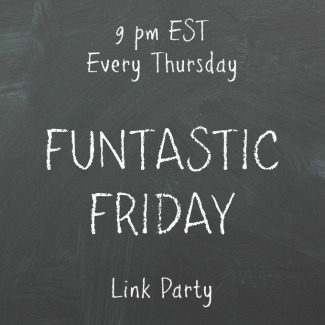 Welcome to Funtastic Friday 116!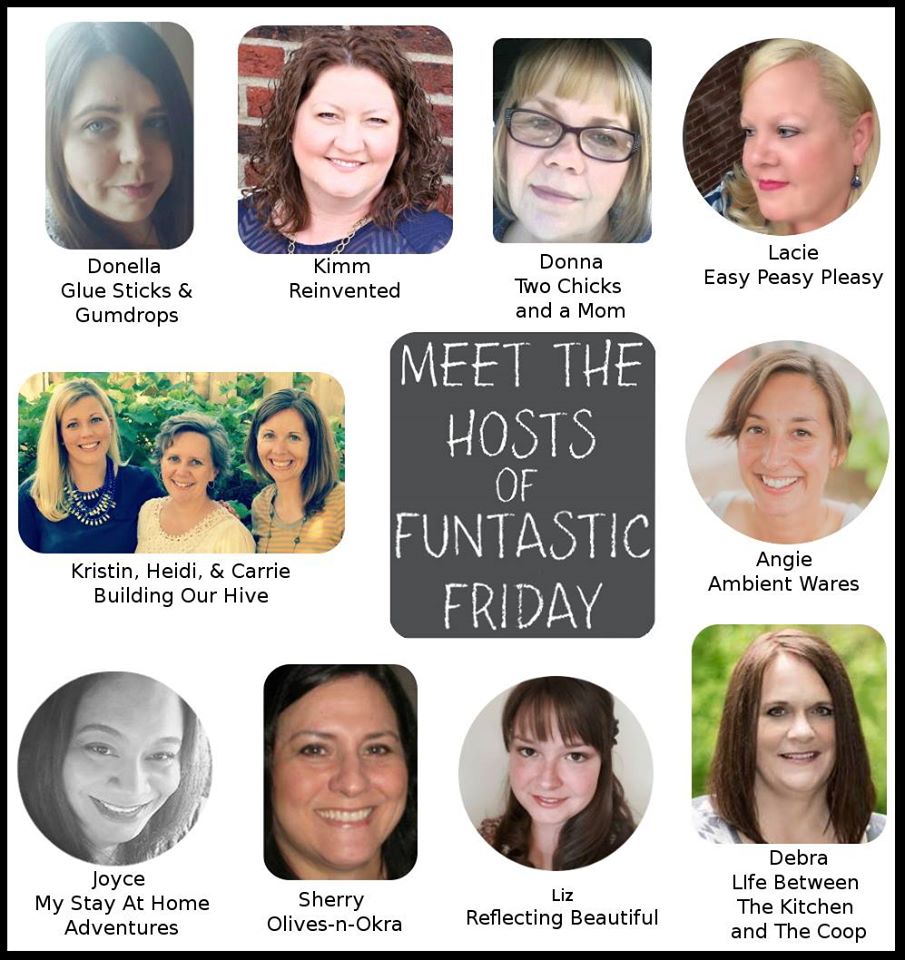 Please follow the party hosts on social media.
MOST VIEWED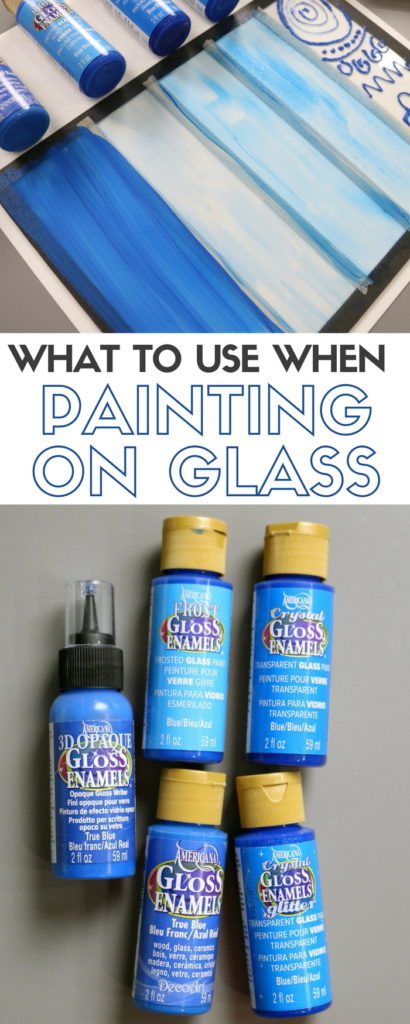 What Glass Paint To Use When Painting On Glass @ The Crafty Blog Stalker
HOST FAVORITES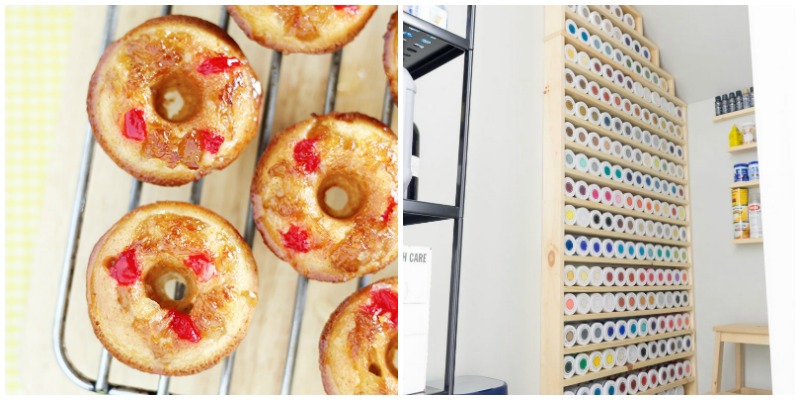 Heidi's favorite – Mini Pineapple Upside-Down Cake Donuts Recipe @ Home Cooking Memories
Angie's favorite – Craft Closet Update #4 @ By Brittany Goldwyn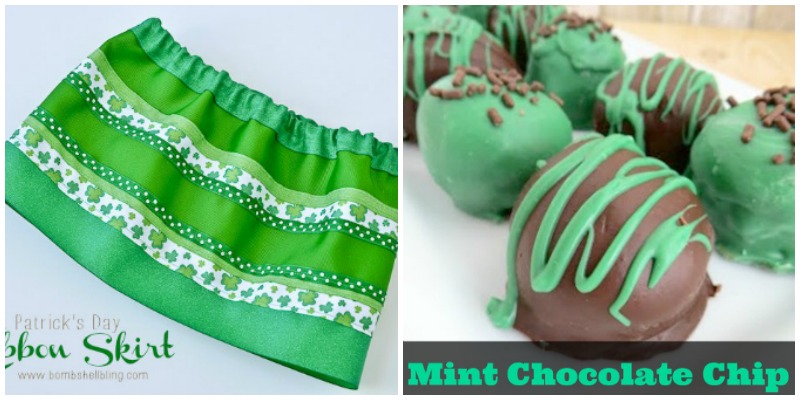 Donna's favorite – St. Patrick's Day Ribbon Skirt Tutorial @ Bombshell Bling
Liz's favorite – Mint Chocolate Chip Oreo Truffles @ More than a mom of three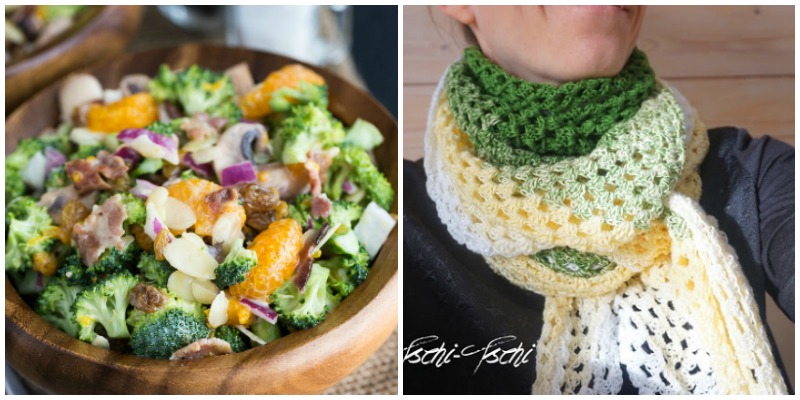 Lacie's favorite – Best Broccoli Salad @ Simply Stacie
Sherry's favorite – Half Granny Square @ Frau Tschi-Tschi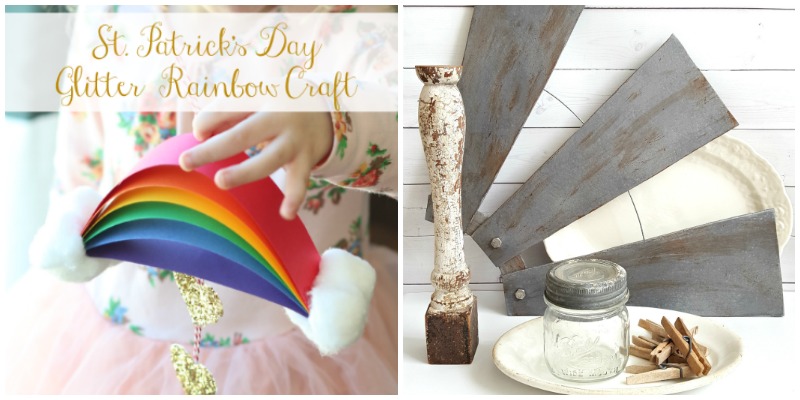 Donella's favorite – St. Patrick's Day Rainbow Craft @ Gluesticks
Kimm's favorite – Revamped Ceiling Fan Blades, Farmhouse Style @ Sadie Seasonsgood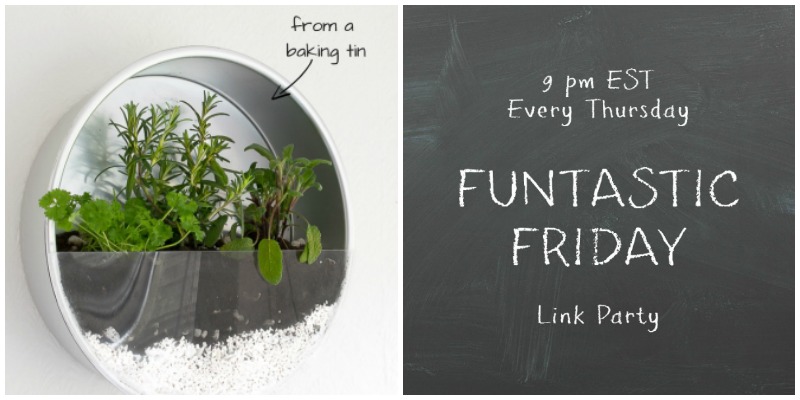 Debra's favorite – Make An Indoor Herb Planter – In 10 Minutes @ Grillo
If you're linking up and joining the party, please grab a button or link back to Olives & Okra or one of the party hosts (right-click on image and save image to your computer):
If you're a featured blogger, please grab a button to place on your blog (right-click on image and save image to your computer):
I was featured at the #FuntasticFriday link party!
Click To Tweet
All features are pinned to Olives & Okra's Funtastic Friday board.
We will also share your post on social media if sharing buttons are readily available on your post.
Help grow the Funtastic Friday link party. Tweet about the party, please!
Add your link! The #FuntasticFriday link party is live!
Click To Tweet
Disclaimer: By submitting a link to this blog hop, you are giving me permission to share and/or feature your blog post and image on social media and on my blog, Life Between the Kitchen and the Coop. All links shared will either link back to the blog hop (link party) or to your blog.
FUNTASTIC FRIDAY 116 LINK PARTY RULES
Post as many links as you like
Family friendly posts only
Old posts are welcome
Comments are greatly appreciated
Show fellow bloggers link love
3 Emergency Prep Tips!
I can tell you three things that you can do THIS WEEK to have better emergency preparedness in your home!